Five uncapped Indian players were suspended with immediate effect pending completion of an inquiry as a rattled Board of Control for Cricket in India cracked the whip on tainted cricketers in the wake of a television sting operation, which claimed to have exposed corruption in the cash-rich Indian Premier League.
The decision to suspend Mohnish Mishra (Pune Warriors), Shalabh Srivastava and Amit Yadav  (both Kings XI Punjab), TP Sudhindra and Abhinav Bali (both Deccan Chargers) was taken after a lengthy teleconference of top BCCI officials and members of the IPL's Governing Council.
Ravi Sawani, the former chief of the ICC's Anti-Corruption Unit who is now heading the BCCI's newly set-up Anti-Corruption Unit, will conduct a preliminary inquiry in the claims.
"The IPL Governing Council met on teleconference at 2:30pm and they recommended to the BCCI president for strict action against those players who were found guilty and found suspicious on the television footage shown on India TV," IPL chairman Rajiv Shukla told reporters.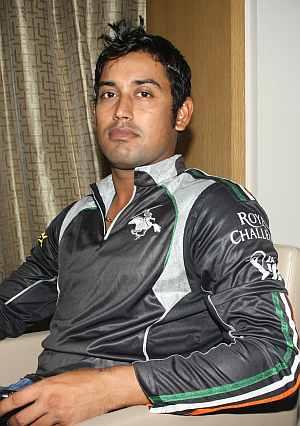 "Since it also involved matter relating to other matches and previous IPL, it was referred to the BCCI chief. The president after due consideration has decided to have a preliminary inquiry for which a commissioner has been appointed. Mr Ravi Sawani, who was the ICC ACSU chief and now advisor, will conduct the inquiry and he will submit a report to the Disciplinary Committee," he said.
"Pending inquiry the five players have been suspended from all cricket activities with immediate effect. We will await the report of the preliminary inquiry and proper action will be taken only after that," he added.
Four of the five players suspended played in the rebel Indian Cricket League.
Medium pacer Sudhindra, who played for Delhi Giants in the ICL, helped Madhya Pradesh gain promotion to the Ranji Trophy's Elite Division in the 2010-11 season.
He surprised everyone in his first season in the big league, ending the 2011-12 season as its highest wicket-taker and earning himself a contract with Deccan Chargers in the IPL.
Madhya Pradesh middle-order batsman Mishra too played for Delhi Giants in the ICL before gaining amnesty form the BCCI.
Signed by Deccan Chargers in 2010, the 28-year-old moved to the newly-formed Pune Warriors in 2011.
Uttar Pradesh left-arm seamer Srivastava was India's highest wicket-taker at the victorious Under-19 World Cup in Sri Lanka in 2000. After severing ties with ICL team Delhi Giants, Srivastava was signed up by Kings XI Punjab in 2011.
The 22-year-old Yadav, an all-rounder, bats right-handed and bowls off-spin for Goa. He has played 14 first-class matches, scoring three half centuries and taking 41 wickets at 23.75.
Yadav is on Kings XI Punjab's roster but hasn't made his IPL debut yet.
Left-arm spinner Bali, who was with Delhi Giants in the ICL, played 13 first class matches and he is currently not in any IPL team.
Srivastava claimed he is innocent and would put forward his side of story before the inquiry commissioner.
"I deny the charges but don't want to say anything more as of now. I will put forward my views before the inquiry commissioner. I will wait for that. I respect the BCCI," he said.
Television channel India TV on Monday claimed to have blown the lid off "murky deals" in the IPL among players, organisers, owners and big guns of Indian cricket.
That some tough measures would be taken against the players was evident when BCCI president N Srinivasan, who is currently at Kodaikanal, made it clear that no player would be spared if found guilty.
He admitted that he was surprised by the sting operation and reiterated the BCCI's zero tolerance towards corruption in cricket.
"We will not tolerate this nonsense. We have zero tolerance on corruption and you will not be disappointed by the action we take," he said.
"Some evidence has been found against some players," he added.
The sting operation, which was aired at prime time created a flutter in the Indian cricket establishment prompting the BCCI to react quickly. It took less than 24 hours for the cricket body to take action against the players.
The channel had claimed it conducted a sting operation in which many players confessed on hidden camera they get much more than their prescribed auction under the table.
According to the channel, its operation also revealed that spot-fixing is not only prevalent in IPL but also first class matches are fixed and women played an important role in match-fixing.
The IPL's Governing Council had sought video footage from the TV channel and is understood to have scrutinised the tapes before taking the decision of suspending the players.
Photograph: Hitesh Harisinghani