With Delhi Daredevils leading the pack in the current edition of the Indian Premier League, South African recruit Morne Morkel credited coach Eric Simons for the team's turn around.
Morkel, who is the highest wicket taker in the tournament so far with 19 scalps to his credit, said Daredevils' bowling has flourished under former India bowling coach, Simon's guidance.
"Simons had a great time with the Indian team. He has a huge amount of experience and has really helped us to fine tune our skills," the pacer said.
Led by Virender Sehwag, the Daredevils are a completely transformed side this year, winning eight of their 10 games to stay comfortably at the top of the table.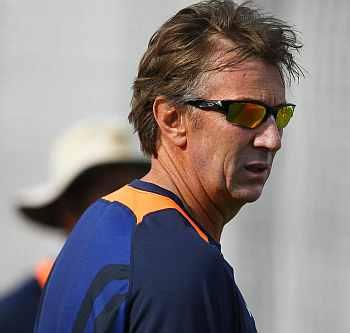 The Daredevils had finished at the bottom of the table last season, while they have managed 16 points so far from the tournament this year and have looked to be the most settled side.
"Simons' experience is reflecting on the performance of the team. The fast bowlers are hunting in pairs and we are enjoying each others' success," Morkel said on the sidelines of a promotional event.
Asked about the team's upcoming match against Kolkata Knight Riders (KKR), the South African pace spearhead said it is going to be an important tie for his side.
"It is going to be a crucial match for us. The clash between the two top teams will always be entertaining. The Knight Riders are doing well this season and Gautam (Gambhir) is also in good form," he said.
Asked if the loyalty will be split for Monday's encounter as it will be a sort of home coming for KKR skipper Gautam Gambhir, Morkel, said, "Gambhir can be local boy but Daredevils are the home team."
He also said that there was no place for complacency in a tournament like this.
"IPL is a long tournament. Intensity may fall but surely we won't be complacent," he said.