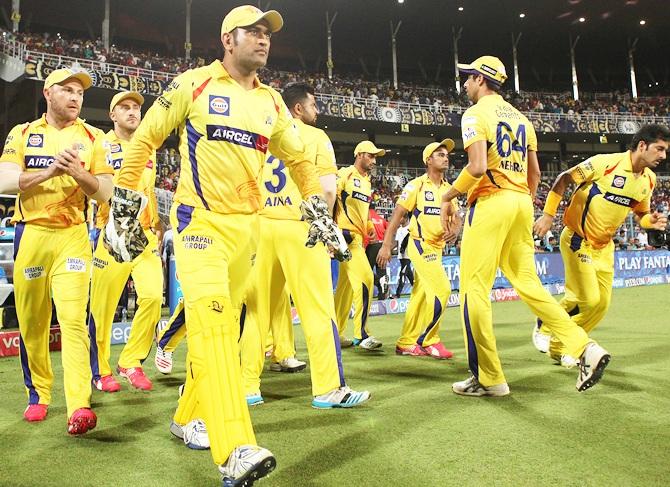 IMAGE: Mahendra Singh Dhoni and Faf du Plessis will continue as teammates, but for a new team, Pune. Photograph: BCCI
Mahendra Singh Dhoni will play for Pune in the next edition of the Indian Premier League.
India's limited-overs' team captain was, as expected, the first player sought at the IPL Players' draft, in Mumbai on Tuesday, and bought by New Rising.
The new franchise doled out Rs 12.5 crore from a full purse of Rs 66 crore to secure his services.
The other new franchise, Rajkot, wasted little time in opting for Suresh Raina as their first choice.
It is imperative here to mention that Dhoni and Raina had played together for the same team - Chennai Super Kings - since the inception of the Indian Premier League in 2008.
It will be interesting to see them face each other in the next edition of the Twenty20 league, which will be held from April 9 to May 29.
Dhoni will be joined at Pune by Ajinkya Rahane and Ravichandran Ashwin.
The Sanjeev Goenka-owned franchise also secured the services of Australia captain Steve Smith.
For starters, Smith played for Pune Warriors before it was disbanded.
South Africa's T20 captain Faf du Plessis was Pune's fifth pick, and will be with with his Chennai captain yet again.
Rajkot, as expected, opted for Ravindra Jadeja as their second pick. They had to shell out Rs 9.5 crore for his services, though.
New Zealand captain Brendon McCullum, Australia all-rounder James Faulkner and West Indies utility player Dwayne Bravo were also snapped up by the Rajkot franchise.
For those keen on details, both new franchises exhausted the maximum Rs 39 crore they were allowed to from their auction budget of Rs 66 crore.
They will head into the February auction in Bangalore with Rs 27 crore in their kitty.
Shane Watson remained unsold and will now go into the auction in Bangalore with the likes of Chris Morris, Dwayne Smith, Mike Hussey, Sanju Samson and Stuart Binny.
For the uninitiated, Goenka's New Rising won the bid for the Pune franchise while Intex won the bid for Rajkot after a reverse bidding process in Delhi on December 8.
The bidding process for the two new franchises was necessitated following the suspension of Chennai Super Kings and Rajasthan Royals for the next two editions for the involvement of some of their officials and co-owners in the 2013 IPL spot-fixing scandal, which was probed by the Supreme Court-appointed Justice (retd) R M Lodha committee.
Pune had the choice of picking the players first.
The players picked in the draft:
Pune: Mahendra Singh Dhoni, Ajinkya Rahane, Ravichandran Ashwin, Steven Smith and Faf du Plessis.
Rajkot: Suresh Raina, Ravindra Jadeja, Brendon McCullum, James Faulkner and Dwayne Bravo.