AB de Villiers blasted a whirlwind 17-ball 47 at the death after Tillakaratne Dilshan's 54-ball 71 to help Royal Challengers Bangalore notch up a sensational five-wicket victory over Deccan Chargers in their Indian Premier League match in Bangalore.
De Villiers emerged as the game changer as he smashed five fours and three sixes to help Royal Challengers score 72 runs in the last 3.5 overs and overhaul Deccan's target of 182 with seven balls to spare at the M Chinnaswamy stadium.
In the 18th over, de Villiers tore apart his countrymate Dale Steyn, smashing two sixes and as many fours to accumulate 23 runs. He then followed it up with two fours and a six in the first three balls of the penultimate over to take his team on the threshold of a much-needed victory.
Chasing 182 to win, Dilshan single-handedly led the run chase and forged a 91-run opening partnership with Chris Gayle (26) to set the foundation but the hosts slipped to 117 for 4 before de Villiers played a blinder to take RCB to the fifth position in the points table.
Earlier, Shikhar Dhawan smashed a strokeful unbeaten 73 to help bottom-placed Deccan Chargers put a challenging score on board.
Opener Dhawan cracked 10 fours and one six in his 52-ball innings and forged 86 runs and 82 runs with Daniel Harris (47) and Cameron White (45) respectively.
Chasing the daunting total, Dilshan began with a flourish smashing Dhawan twice to the fence. In the next over, he fiercely pulled Steyn for a boundary.
Dilshan looked in an agressive form even as he exquisitley punched pacer Veer Pratap Singh between mid off and cover for a boundary in third over of RCB innings.
Running in hard in his second over, Steyn nearly had Chris Gayle when the ball missed the stumps as the West Indian batsman went for a big heave over long off.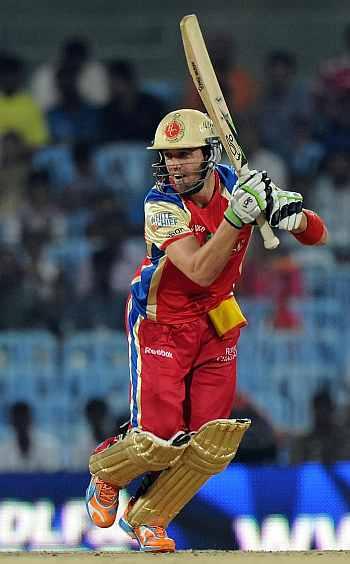 Dilshan came into his elements when he came down the track and smoked Veer Pratap Singh for a maximum and then in the next over played his favourite Dilscoop off right-arm medium pacer Anand Rajan for a four taking him to 35 runs in no time. Gayle got his first boundary by glancing Rajan to fine leg fence.
Dilshan then blasted Ashish Reddy for a boundary before sweeping him for a six to take Royal Challengers to 56 for no loss at the end of seven overs. The Sri Lankan raced to his 50 in 29 balls after he pulled Amit Mishra to deep mid wicket boundary.
With pressure mounting on RCB, Gayle unleashed his power by depositing the ball for his 100th IPL six off Mishra.
However, Rajan produced a beauty, castling the RCB opener up for 26 runs with the score reading 93-1 after 11 overs.
RCB reached 100 runs in 12.3 overs after Virat Kohli pulled Ashish Reddy to deep square leg fence.
Deccan came back into the game after Mishra scalped two wickets in 14th over. He removed Kohli, beautifully caught by Steyn at wide long off for a paltry nine runs, and then Asad Pathan for four.
Mishra completed his magnificent spell with figures of two for 28 runs in four overs.
At the end of 15 overs, RCB needed 69 runs off six overs with required run rate peaking at 13.80 runs per over. Dilshan then lost his leg stump to Veer after scoring eight boundaries and two sixes in his 54-ball innings of 71.
Mayank Agarwal then clobbered Veer Pratap Singh for a six and a four plundering 17 in 16th over to take RCB to 130 for four.
Needing 52 runs in last four overs, Agarwal and Villiers took Ashish apart by smoking him out of the park. But, Reddy came back strongly sending Agarwal back in the dugout for 18 runs. He was plumb in front of the wicket.
Needing 39 runs off last 18 balls, de Villiers kept Royal Challengers in the hunt in the 18th over by taking star South African bowler Steyn to the cleaners scoring 23 runs. He continued the carnage in the 19th over, before J Syed Mohammad sealed the match with a four.
Earlier, inform opener Dhawan began the campaign for the Chargers with a flourish, smashing two boundaries in Zaheer Khan's first over who conceded eleven runs.
Dhawan and his partner Harris garnered eleven runs more in Abhimanyu Mithun's first over. Dhawan first flicked one to deep mid wicket fence and then Harris creamed another to deep extra cover fence for four.
Harris once got into act in the fifth over, thrashing Zaheer for six as Mayank at deep square leg fence leaped to catch the ball but in vain.
Dhawan then welcomed Prasanth Parameshwaran by whacking the ball to deep mid wicket fence for a four in sixth over.
Coming in place of skipper Daniel Vettori, Muttiah Muralitharan bowled a tight first over as he bamboozled Harris who failed to pick up the wily Sri Lankan.
Harris brought up the fifty for Chargers in 44 balls, hitting Dilshan for a six. He again whacked the Sri Lankan part-timer to a six and a boundary, accumulating 17 runs.
Royal Challengers finally broke the formidable partnership when Kohli swooped down like a hawk and threw the ball to the bowler Syed Mohammad who ran Harris out for 47 runs. The Australian had two boundaries and four sixes in his 41-ball innings.
In the 17th over, White smacked 16 runs off Mithun. First he hit him for a six and then clobbered him for a boundary bringing up a vital fifty-run partnership with Dhawan.
Dhawan then accumulated 14 runs in the 18th over of the innings, while White massacred Zaheer for a six in the next over as Chargers went to 167 for one at the end of 19th over.
White departed in the last over when he was snapped by Parameswaran of his own bowling after making 45 crucial runs off just 24 balls with two hits to the fence and three sixes.
In the last over, Chargers smashed 14 runs.