Veteran Brad Hodge brought all his T20 experience into play as he single-handedly guided Rajasthan Royals to a four-wicket win over Sunrisers Hyderabad in a thrilling low scoring Eliminator of the Pepsi Indian Premier League in New Delhi, on Wednesday.
Chasing a target of 133, Hodge hit Darren Sammy for two consecutive sixes in the final over to finish the match with four balls to spare and ensure his team's qualification to the next edition of Champions League T20.
Rajasthan Royals will take on Mumbai Indians in Qualifer 2 in Kolkata on Friday, with the winner taking on Chennai Super Kings in the IPL final on Sunday.
The 38-year-old clobbered his way to a 29-ball 54 not out as Royals pulled off one of their most significant victories after the IPL spot-fixing scandal broke out with the arrest of three of their cricketers including S Sreesanth.
Hodge came in at 57 for five but never looked under any kind of pressure as he hit five clean sixes apart from the couple of boundaries.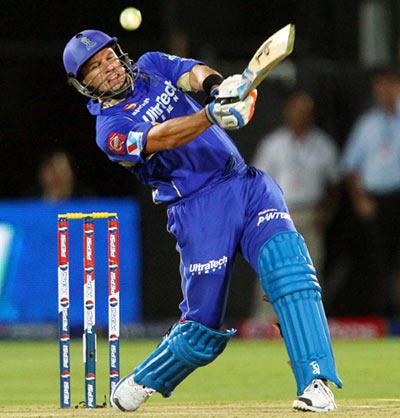 Skipper Rahul Dravid (12) started with three boundaries but closed the face of the bat to an Ishant Sharma delivery which found the leading edge for the point fielder to take the catch.
However, Shane Watson kept on belting boundaries -- five of them -- as the Royals raced to 50 in the seventh over before the Aussie all-rounder was sent back due to an inspirational piece of fielding by Sammy.
Watson pulled a half-tracker from leggie Karan Sharma which looked sailing towards the 'cow-corner' stands and to everyone's astonishment, Sammy leapt up and took a magnificent catch. The timing of his jump was immaculate as it looked as if he plucked a fruit from a tree.
After performing with the bat and on the field, it was time to roll over his arm and Sammy did not disappoint either.
First, he cleaned up Dishant Yagnik (0) with a fuller delivery and then bowled a cutter which breached Stuart Binny's defence (2). In between the two dismissals, Amit Mishra foxed Ajinkya Rahane (18) to commit early and got a caught and bowled in his favour.
From a comfortable 50 for one, Royals slumped to 57 for five, having lost four wickets with the addition of seven runs in the space of 21 deliveries.
Hodge was cautious to begin with, but in the 14th over bowled by Karan, he took 18 runs which included a straight six and a slog-sweep over deep square leg followed by a pulled boundary.
In the next over from Mishra, he thumped another one over long off to bring down the equation to 34 from five overs.
Dale Steyn, coming back for his second spell, bowled three deliveries outside the off-stump before getting one to come back sharply as he found Sanju Samson's (10) pads.
James Faulkner hit a couple of spanking cover drives to bring the equation down before Hodge finished it with a flourish.
Earlier, Rajasthan Royals produced a disciplined bowling performance as they restricted Sunrisers Hyderabad to 132 for seven.
All the Royals bowlers did a splendid job as Sunrisers batsmen could never really force the pace during the entire 20 overs save West Indies skipper Darren Sammy (29) striking a few lusty blows during the fag end of the innings.
Shikhar Dhawan, who made 33, was the other significant contributor although his innings was an uncharacteristic one by his standards as the slowness of the track did not help his cause either.
While Vikramjeet Malik (2/14) provided twin breakthroughs, James Faulkner (1/28) and Siddharth Trivedi (1/18) consistently hit the right length on a track that was totally different from the one on which Chennai Super Kings batsmen ran riot in the Qualifier on Tuesday.
Himachal Pradesh medium pacer Malik was rewarded for his wicket-to-wicket bowling as he removed Parthiv Patel (1) and Hanuma Vihari (1) off successive overs.
Parthiv closed the face of the bat to a delivery that landed on the good length spot and Sanju Samson, stationed at extra cover, ran backwards to take a tumbling catch.
In his very next over, Malik removed Vihari with a back of the length delivery which climbed on the batsman who offered a simple catch to mid-on fielder Kevon Cooper.
Two down for only three runs, it was skipper Cameron White (31), who joined Dhawan as they started the damage control, adding 52 runs for the third wicket in 8.3 overs.
Dhawan, who was a spectator all this while, finally got into the act with a couple of cover driven boundaries -- one each off Faulkner and Malik.
White also played a perfect straight drive off Malik apart from a cracking a square cut. But the perennially low and slow Kotla track provided quite a challenge for Dhawan and White as the ball did not come onto the bat. The six overs of Powerplay yielded only 27 runs.
Credit goes to the Royals bowlers for keeping the Sunrisers batsmen under tight leash during the first 10 overs which produced only 48 runs.
None of the Royals bowlers tried any variations. They kept it straight, either pitching it on the three-quarter length.
The relentless pressure saw White trying to pull a length ball from Siddharth Trivedi only to present a simple skier to Cooper fielding at wide mid-off.
It was inexplicable to gauge Dhawan's approach as he was happy playing a lot of dot balls with an occasional single here and there.
To break the shackles, Dhawan did try some innovations. With the fine leg fielder brought up, Dhawan scooped Faulkner over the fielder to get a boundary.
However, when he tried it off the very next delivery, he did not get the required elevation as Trivedi at short fine-leg took an easy catch. It was then left to Sammy to give the innings some impetus towards the end.
Photograph: BCCI