'I'll say that I was worried on those two or three days but credit to the boys that they responded really well to that as well.'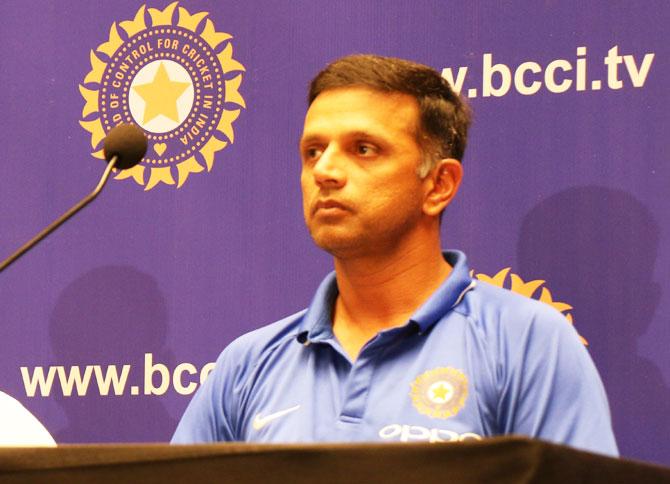 IMAGE: India U-19 coach Rahul Dravid in Mumbai on Monday. Photograph: Satish Bodas/Rediff.com
In Rahul Dravid, BCCI picked the right man to coach the India Under-19 team. It's not a view formed with the benefit of hindsight but rather an acknowledgement of the respect that the former Indian captain commands, and deserves.
From the pictures beamed into our living rooms and posts on our Twitter and Instagram feeds, we saw that the coach and his players share an easy-going relationship, more like that of an older brother with his younger siblings.
With one difference, though: discipline was always going to be an important factor in the team's growth process.
"There were loose curfews. Sometimes the boys would follow it.
"What has impressed me is their level of maturity and their confidence levels. They are also faced with challenges in the age of social media. It brings its own level of scrutiny and media attention, and they are having to deal with it and they are finding their own ways to deal with it," Dravid said at a media conference in Mumbai on Monday.
But the team management, Dravid in particular, did have a few stressful moments.
"Especially that week during the IPL auction was a bit of a stressful week because we had to be realistic about it, we have to understand that sometimes people's minds will go there. We accepted the fact that they were going to watch the IPL auction or follow it on social media but once that was done, they came back to practise and they switched on. I'll say that I was worried on those two or three days but credit to the boys that they responded really well to that as well," Dravid said with a faint smile.
The India Under-19 bowling coach Paras Mhambrey reiterated Dravid's point.
"These guys are mature. That time around the IPL auction was a challenging phase for us. Obviously, IPL is a big tournament. Everyone wants to play in it.
"It's not only the money or the hype, these guys are aware that it is also an opportunity for them to rub shoulders with the top players in the world. They'll be associated with some top coaches. I think they are aware that this will only help their game. But they showed maturity when they went on the field and after that. They have a very good head on their shoulders," Mhambrey asserted.