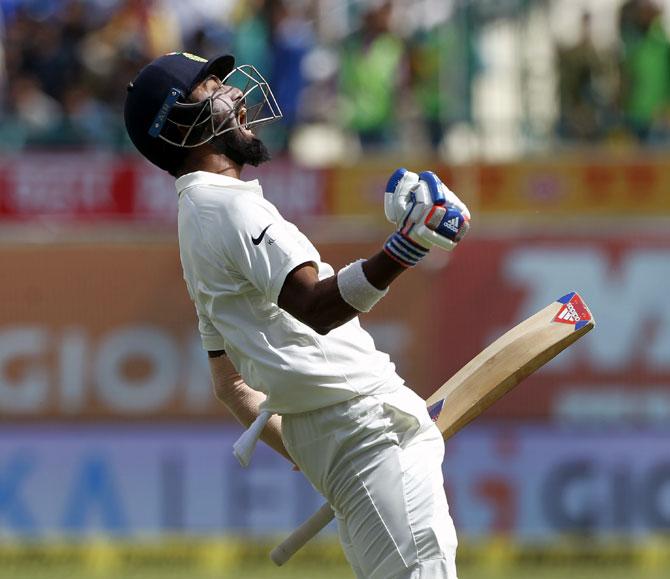 IMAGE: KL Rahul celebrates. Photograph: BCCI.
Indian players dominated the bidding wars as KL Rahul and Manish Pandey laughed their way to the bank with multi-million dollar deals but England all-rounder Ben Stokes once again emerged the costliest buy in the Indian Premier League auctions, in Bengaluru, on Saturday.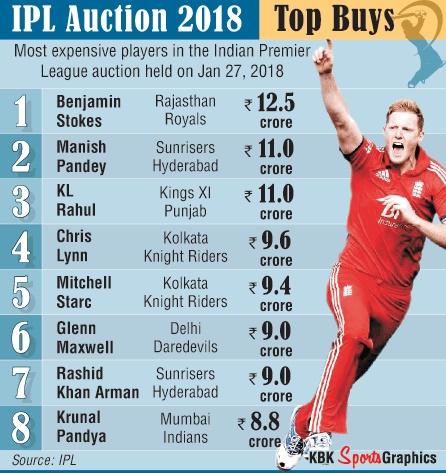 Despite all the off-field controversies, Stokes was snapped up for a whopping Rs 12.5 crore ($ 1.96 million) by Rajasthan Royals after Kings XI Punjab and Chennai Super Kings also engaged in a fierce bidding war for him.
The franchises were smart in their choices with most of the current India players attracting significant interest. Stylish opener Rahul and middle-order batsman Pandey bagged deals worth Rs 11 crore ($ 1.73 million) from Kings XI Punjab and Sunrisers Hyderabad respectively.
With their prices sky-rocketing, the two players' original franchises RCB and KKR didn't use their Right To Match (RTM) cards.
Chennai, however, didn't bid vigorously for Ravichandran Ashwin, who will now ply his trade for Kings XI Punjab at a salary of Rs 7.60 crore ($ 1.19 million).
Some of the proven T20 specialists like Sanju Samson also earned big bucks as Rajasthan Royals bought him back for Rs 8 crore while Robin Uthappa's pyrotechnics earned him a callback from KKR at Rs 6.4 crore ($ 1 million approx).
But none came close to Stokes, who has been struck with controversies of late and was dropped from the England Ashes squad following a pub brawl. He has even been charged in the matter now.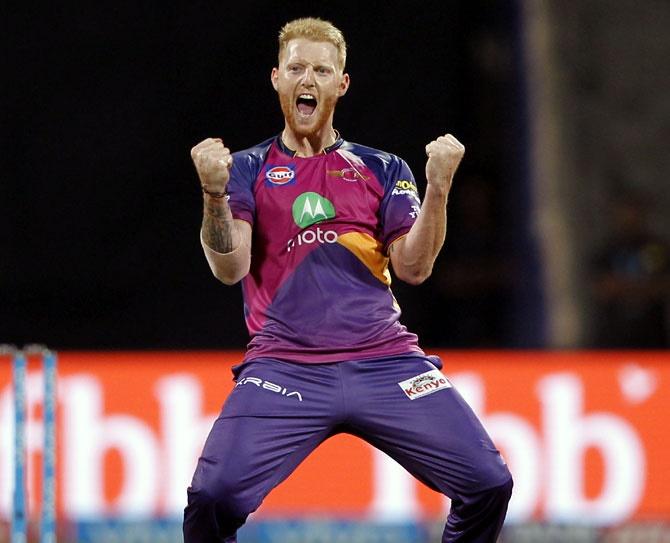 IMAGE: Ben Stokes was influential member of the Rising Pune Supergiant . Photograph: BCCI
Stokes had been bought for Rs 14.5 crore ($ 2.28 million) by Rising Pune Supergiants during the last auctions, and proved to be a worthy buy with his all-round performance taking the team to the final.
There were multiple bids from Kings XI Punjab, Chennai Super Kings but Steve Smith, Stokes' captain at the Pune franchise, wanted him desperately and thus his owners respected his wish.
"As far as we are concerned the ECB has cleared him for auction. We are prepared for legal consequences too. He will be a very important part of the team. We are like a start-up company. We are restarting," Royals executive chairman Ranjit Borthakur said.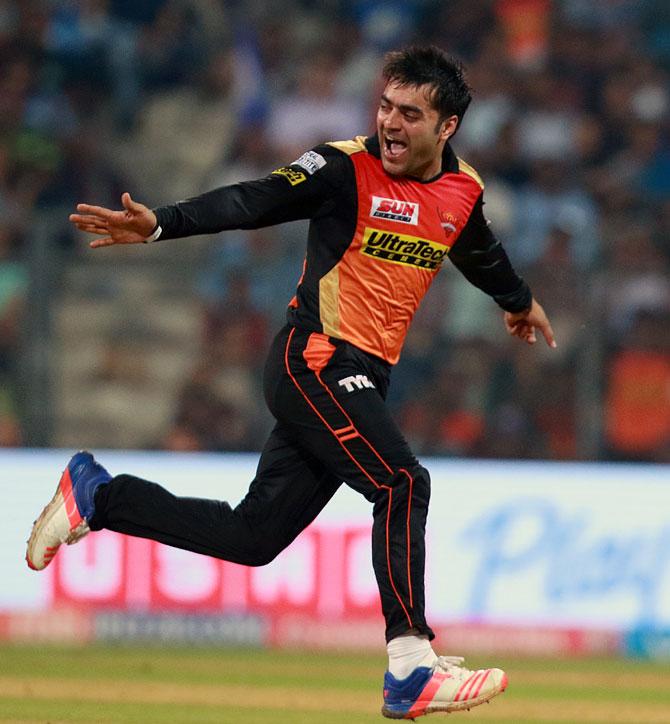 IMAGE: Rashid Khan celebrates a wicket during IPL-10. Photograph: BCCI
Afghanistan leg-spinner Rashid Khan Arman's reputation as one of the most sought after bowlers in the shortest format was once again affirmed as Sunrisers Hyderabad used their Right To Match (RTM) card to buy him back for Rs 9 crore ($ 1.41 million).
The Karnataka players had a field day at the auctions with India discard Karun Nair also triggering a bidding war before Kings XI Punjab got him for Rs 5.60 crore ($ 880,000).
Kedar Jadhav, one of Mahendra Singh Dhoni 'Go To Man' during his last stint as India captain, also fetched a healthy price of Rs 7.80 crore for his all-round qualities of batting, round-arm off-spin and back-up wicket-keeping. He was snapped by the Dhoni-led Chennai Super Kings.
Leg spinners were in demand as Karn Sharma got Rs 5 crore ($ 786,000) from CSK, Yuzvendra Chahal Rs 6 crore ($ 943,000 via RTM) from RCB and Kuldeep Yadav Rs 5.8 crore ($ 912,000 via RTM) from KKR.
Even uncapped Rahul Tewatia was picked up for Rs 3 crore ($ 471,000) by Delhi Daredevils.
Among the wicketkeepers, Dinesh Karthik once again bagged a lucrative Rs 7.4 crore ($ 1.16 million) deal with the KKR.
Wriddhiman Saha went to Sunrisers Hyderabad for Rs 5 crore ($ 786,000) but Parthiv Patel went unsold.
Interestingly, it wasn't a great day for veteran Harbhajan Singh as Chennai Super Kings roped him at his base price of Rs 2 crore ($ 315,000).
Another predictable aspect was Australian players getting premium bids with Mitchell Starc being picked by Kolkata Knight Riders for Rs 9.60 crore ($ 1.5 million).
The other big buy among the 16 marquee players was Glenn Maxwell, who was back in the Delhi Daredevils fold after five years for Rs 9 crore ($ 1.41 million) after intense bidding.
While KKR decided to let go Gautam Gambhir at Rs 2.80 crore ($ 440,000) to Delhi Daredevils, they used their RTM to buy back Chris Lynn for Rs 9.60 crore ($ 1.51 million).
However, West Indian swashbuckler Chris Gayle surprisingly went unsold despite his well-established T20 batting credentials. England Test captain Joe Root also went unsold but his teammate, all-rounder Chris Woakes, was picked by RCB for Rs 7.40 crore ($ 1.16 million).
Notable Indian players to go unsold after the first round were Ishant Sharma and Murali Vijay.
Daredevils, however, got their probable captain in Gautam Gambhir at a dirt cheap rate. Similarly, another veteran Yuvraj Singh got an opening bid from Kings XI Punjab for Rs 2 crore.
Dwayne Bravo was taken for Rs 6.40 crore by CSK using the RTM card.
Kieron Pollard was bought by Mumbai Indians, who used their Right To Match (RTM) card for Rs 5.40 crore ($ 850,000), while Sunrisers Hyderabad bought back Shikhar Dhawan for Rs 5.2 crore ($ 817,000) after heavy bidding from KXIP.
Faf du Plessis was retained by CSK for only Rs 1.60 crore while Rajasthan Royals used RTM to retain Ajinkya Rahane for Rs 4 crore ($ 630,000).
Kane Williamson was back at Sunrisers Hyderabad for Rs 3 crore ($ 472,000).