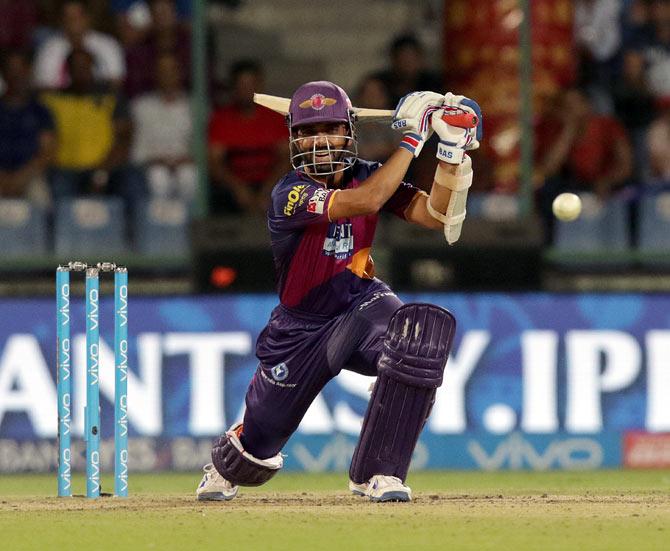 IMAGE: Ajinkya Rahane guided Rising Pune Supergiants to victory with an unbeaten half-century. Photograph: BCCI.
While it is generally his captain Mahendra Singh Dhoni who has made this habit of hitting the winning runs – in some style too, Ajinkya Rahane had that honour in Rising Pune Supergiants' match against the Delhi Daredevils. At the Feroz Shah Kotla on Thursday night, he helped his team past the finish line with a boundary off Mohammed Shami. The opener scored 63 not out off 48 balls as he took Rising Pune Supergiants to their third win of Indian Premier League 2016.
IPL PHOTOS: Pune outclass Delhi to keep hopes alive
Rahane spoke about anchoring the innings and building partnerships that helped chase down a competitive score.
Catch Rahane in a special chat with IPLT20.com after the game.
Excerpts:
Happy to help the team past the finish line?
I am really happy the way I batted. The plan was that one batsman has to be there till the end and it was my day today. So I am happy that I made it count. I felt that the first six overs were very important because the ball was coming very nicely on to the bat and after that it got slower and slower. So after the first six overs, I decided that if I bat till 15th or 16th over we have a good chance to win and that's what I did. Then (there were) the partnerships with (MS) Dhoni bhai and Thisara (Perera) in the end. The partnership with Saurabh (Tiwary) before that was very good, and the 59-run partnership at top-of the order with Usman (Khawaja) was very important.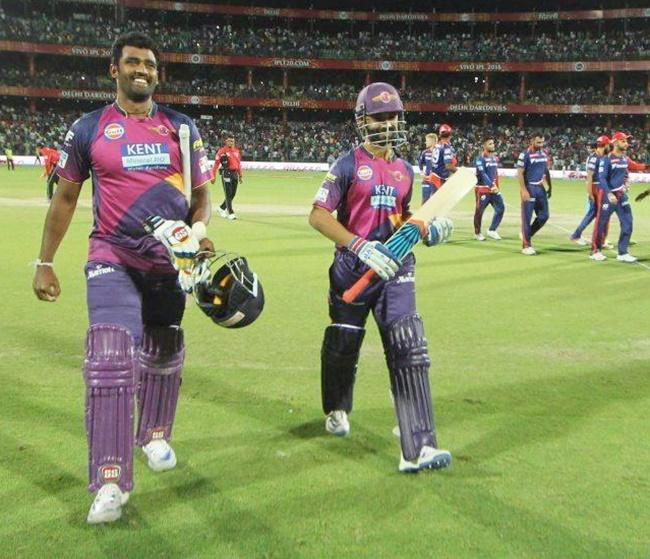 IMAGE: Ajinkya Rahane with Thisara Perera. Photograph: BCCI.
What was it like to be opening with Usman Khawaja since you were batting together for the first time?
We enjoyed each other's company but it was challenging for both of us. Running between the wickets was very challenging because we were batting together for the first time. Hopefully we will get used to each other's company and will do well in coming matches.
What did you make of the target? Knowing that Delhi have been successful in defending totals, how did you plan the chase?
I think 162 was a par score. Our bowlers did a fantastic job in the middle overs and we knew that if we get a good start and bat well in the first six overs, (then) we will be able to chase that target easily.
Today's knock was your fifth half-century of the season. How do you feel on a personal note?
I am feeling happy at the moment, especially tonight because I was there till the end and that's what I wanted to do, play that winning shot for my team. The coming five games are very important and it will be important to play one game at a time and give our best in each and every game.
Is anchoring your role for this team as well?
Yes. If I get set, (and in the) first six overs (I make) around 15-20 not out, my job is to bat till the end. I will look to bat till the end and other players will bat around me.
Was there something in the wicket for the spinners?
(There was a) Little bit. There was not much turn but the wicket was slightly slow. Like I mentioned earlier, after the first six overs it got slower. Something was there for the spinners.
Good to be back to winning ways?
Yes, it feels nice to win a game. For us each and every game from now on (is important) and we will take it one game at a time, not look to far ahead and give our very best.