Pune Supergiants have opted for Visakhapatnam as their home ground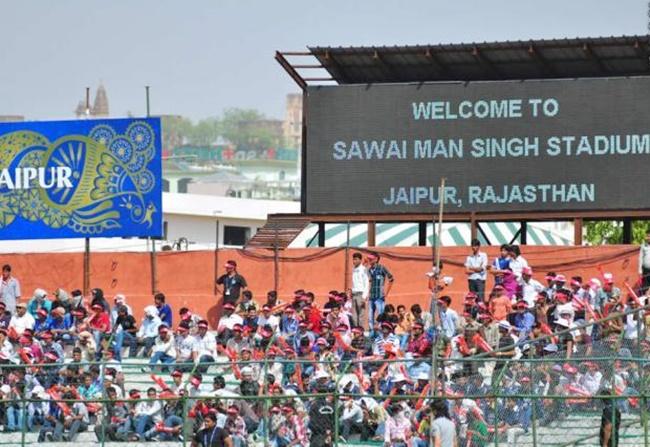 IMAGE: Jaipur's Sawai Man Singh Stadium. Photograph: BCCI
Defending champions Mumbai Indians have opted for Jaipur's Sawai Man Singh Stadium as their home ground in the 9th edition of Indian Premier League cricket tournament after the Board of Control for Cricket in India (BCCI) decided to shift all matches of the cash-rich league from the drought-hit Maharashtra.
"We had given Mumbai Indians three options --- Jaipur, Kanpur and Raipur. The Mumbai Indians told us that they would like to play their home matches at the Sawai Man Singh Stadium in Jaipur. Accordingly, the Indian Premier League and IMG officials will be going to Rajasthan, on Monday, in order to to speak to the state government," IPL chairman Rajeev Shukla said.
The other Maharashtra franchise Pune Supergiants have opted for Visakhapatnam as their home ground.
While Jaipur used to be the home ground of the now suspended Rajasthan Royals, the state cricket association has been under suspension but Shukla had earlier mentioned that suspension of the state association does not mean suspension of the venue.
In fact, Rajasthan state team played their home matches of the Ranji Trophy under the aegis of the BCCI at the sawai Man Singh Stadium.
It has been learnt that logistical considerations and creation of an easy fan base are the primary reasons that prompted Mumbai Indians to zero in on Jaipur, which has had the experience of hosting IPL matches during the first eight seasons of IPL.
Shukla also said that they will appeal to the Bombay High Court so that the May 1 match between Mumbai Indians and Pune is allowed to be staged as it will be right after Pune's match on April 29 against Gujarat Lions.
Shukla, who is also the president of Uttar Pradesh Cricket Association informed that the two scheduled IPL matches in Kanpur is expected to be held as per schedule on May 19 and 21, next month.
"There were some issue regarding the intensity of the floodlights and that has been sorted out. Within a couple of days, the concerned people will be coming for an inspection. I am confident that the matches will be held in Kanpur as per schedule," Shukla said.