'It's great to have Rohit at the other end. He's a very calm character'
'He had everything under control, and the way he was playing he obviously had a lot of confidence'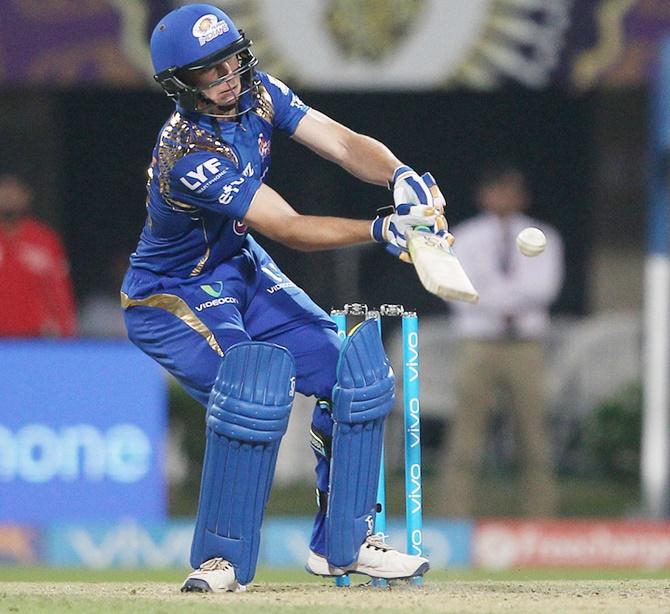 IMAGE: Mumbai Indians's Jos Buttler plays down the leg side for four during the match against Kolkata Knight Riders at the Eden Gardens, in Kolkata, on Wednesday. Photograph: BCCI.
Englishman Jos Buttler says his Mumbai Indians captain Rohit Sharma's calm demeanour rubbed off on him as he played a part in their side's comfortable six-wicket win over Kolkata Knight Riders in an Indian Premier League match, in Kolkata.
Rohit's 'Eden' love affair continues as Mumbai down KKR
Rohit hit an unbeaten 84 while Buttler contributed a quick-fire 22-ball 41 in Mumbai Indians victory as the side bounced back last night from their defeat in the tournament lung opener.
Crediting Rohit for calming him down, Buttler said, "It's great to have Rohit at the other end. He's a very calm character. He had everything under control, and the way he was playing he obviously had a lot of confidence that he will be there till the end and win the game."
"That obviously rubbed off on me that he was in such good form and was so calm, I think that got the adrenaline going. It really settled me down," Buttler said.
Buttler had faced a heartbreak when England lost to West Indies in the World Twenty20 summit clash here earlier in the month but he said he was happy to be back 10 days later in the colours of Mumbai Indians.
"Thanks for reminding me. It's nice to come back and win (the IPL match). Obviously it was a huge disappointment. We were determined to bounce back well after the first game (against Pune), that was a fantastic run chase," he said.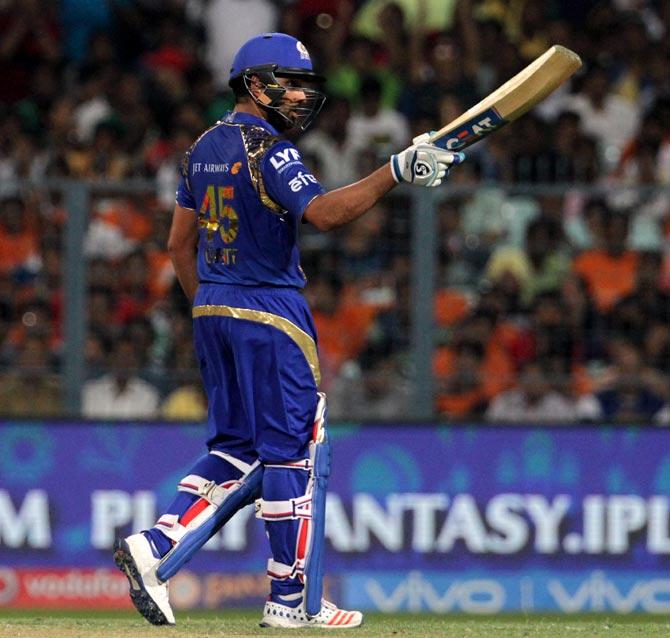 IMAGE: Rohit Sharma celebrates after completing his half-century against Kolkata Knight Riders. Photograph: BCCI.
Playing in his maiden IPL after an excellent World T20, Buttler scored a duck in his debut against Rising Pune Supergiants but he turned it around in style against KKR, on Wednesday night, smashing a 22-ball 41 in a crucial 66-run partnership with Rohit.
"In the World Twenty20 we played at the same venue a couple of times, so obviously did not experience all the conditions. Personally, I've been playing well for a few months.
"Coming into the World T20, I had a decent tour to South Africa in ODIs and T20s. Having played my first IPL game and seen what's it all about there was less surprises today. I was sort of more focussed on cricket today as opposed to having that wall factor of the crowd and the razzmatazz of the IPL," said Buttler.
Buttler admitted the Mumbai players were under pressure at the start of the match against KKR.
"We thought we were under pressure to perform tonight and they (KKR) scored a pretty big score. The fantastic opening partnership really laid the foundation to get there till the end, and it was a masterstroke to send in Mitchell McClenaghan. He got a few sixes away it really gave us some momentum," he said acknowledging the New Zealand left-hander's eight ball-20 studded with three sixes.
Having received throwdowns from none other than the World Cup winning Australian captain Ricky Ponting the other day, Buttler said it really was an unreal feeling, something that played a key role in his impressive batting.
"You pinch yourself that someone like Ponting is throwing balls to you. It's obviously one of the great things of IPL. To meet these guys, have a specific routine that I would like to go through before I bat is a key part. It builds my confidence. To have a guy like him doing that, passing on some information obviously makes you feel good and comfortable and is key to perform the next day."