Brendon McCullum got the Indian Premier League off to a heady start with a swashbuckling century in 2008; he also recorded the fastest Test century in his last international match in February 2016.
A phenomenal batsman across formats, the former New Zealand captain is considered one of the most inspirational leaders in cricket.
Throughout his career, McCullum has brought a lot of excitement to the game and now, as part of the newly-formed Gujarat Lions outfit, he looks forward to helping the Suresh Raina-led team make their mark in the Indian Premier League.
Catch the senior batsman in conversation with IPLT20.com.
Excerpts from the interview: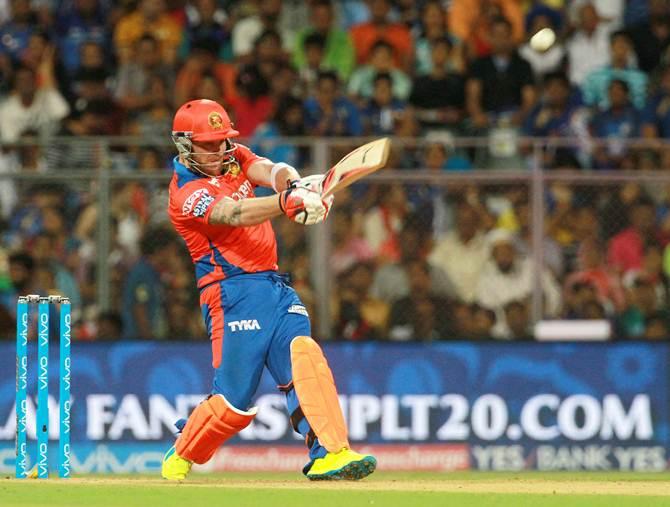 IMAGE: Gujarat Lions's Brendon McCullum at his aggressive best during IPL-9. Photograph: BCCI.
From scoring a blistering 158 in the first game to now as the tournament enters its ninth season, how do you see the tournament?
It's been an amazing tournament all the way through. It's grown bigger and bigger every year. There are obviously different support bases and fan bases not just in India, but all around the world as well developed over the course of nine years. I think it's been an amazing invention and I have been very lucky I think. International cricket is also lucky for its existence because I think it has changed the game in a lot of respects.
What do you remember of the 158-run innings?
It was just so long ago but I just remember coming in ... and it was a big show, the first game and never seen anything like it as a New Zealander.
Coming into the inaugural IPL, I remember the Indian fans, a packed house in Bangalore, just huge expectations, and the hype and the glitz and the glamour of it all. And then I was so nervous, sort of at the start of the game, and it wasn't until I just freed up and just went out and tried to play the game - just try and watch the ball and I had to manage to get some great partnerships on the way and made the best of what we got.
We have watched you take bowlers apart in all three formats. How does the batting vary over the three formats seeing as you also finished with the fastest Test century?
There are definitely different nuances to the game, but I think what T20 cricket, and IPL as well, has done is it has freed guys up to be able to play more aggressively in one-day cricket and Test cricket as well. It has flowed into those forms of the game. You have to obviously play differently to the games (formats) over longer periods of time. But (it helps build) a lot of the skills and your ability to play under pressure because in the IPL you play in front of big crowds and there is lot of expectation and that assists you as well for your international cricket.
When T20 began it was perceived as 'slam-bang' kind of game. But now we see batsmen taking the matches away with cricketing shots. Can you explain the change?
I think it is up to us to become better players. The skill levels have to go up. We are seeing players develop more shots and bowlers have become smarter as well in how they operate and it just adds in you becoming a better player. I think that pushes up your skill levels and it frees guys up in knowing they can play more aggressively now than they used to they can operate at a higher level of risk which I think T20 has certainly done.
While we saw the likes of Rahul Dravid succeed by playing proper cricketing, we now also see the likes of Virat Kohli and Joe Root win matches playing that way. Your view?
Those guys played at a different level altogether, they are incredible cricketers. I think that it is not just about slamming and bashing the ball. For certain players like me it is; but for genuine good cricketers they can go and back their basics and just play their own game. For a young kid coming in to T20 they need to work out what style of play they want to play, style of player that they want to be and just be real strong all the way through the careers.
What are the challenges to building a new team, especially when there are also more settled outfits around?
Yes, there are going to be challenges but there are also strengths as well because you can start from the ground up. You can come in with fresh ideas and you can build your culture from day one rather than perhaps having a pre-existing culture or even sometimes some poor experiences of the past can also weigh you down as well. So that's an exciting thing about being part of a new franchise. We have got to go out there and play entertaining cricket, build a really strong support base because of how we play. The way we carry ourselves and the exciting style of cricket that we play, hopefully we go on to win the tournament, but we can't guarantee that. But what we can guarantee is we can go out there and be nice and positive; play the game for the right reasons and hopefully build a good fan base as well.
In a short period of time team we see the Gujarat Lions have put together strong line-up. What are the strengths of your team?
The way that the team has been put together has been very smart. I think if you look at that line-up we have got lot of very aggressive batsmen, but it is coupled with some skilled touch players as well. The likes of Dinesh Karthik and Suresh Raina and then there are a lot of aggressive players around those guys. That is a pretty strong batting line-up. But also we have got a lot of good options with the ball as well. There are some young and exciting Indian players and some good leg-spinners, which in T20 cricket is just pure gold. We got some really good strengths overall. It's just how we come together and play for a common cause when we are out there.
Being the senior statesman in the side can you tell us about your role in the Lions team?
We have got a good group of experienced guys as well and they will feed off each other. My role is not just about scoring runs at the top and field, well but try and assist Suresh in building a strong culture and assist him with the captaincy along the way. And I think he will do a fantastic job. I think that I can be there to assist guys like Suresh, who is an absolute great bloke and who is very determined to build a strong culture within this group as well. It's nice when you are an experienced player you can sit in behind and assist him all the way.
You would have been asked this often in recent times, but how do you look back on the past few months?
It's been an interesting year having retired from international cricket. I had a great time in the last three years of my career which were among the greatest three years of my life. It was a really cool time to be involved and obviously building the New Zealand team and having some success there and just being part of a team which you always hoped to be a part of. The fun that we had as a group (was good). We weren't always successful, but we played the game in the right spirit and for the right reasons and we had a great time along the way. So I look back on it fondly. And I will be a long time supporter of all those guys and the environment at the moment.
As a batsman and as an experienced captain how would you help a bowler who is going through a good phase?
The thing is that you are not going to have a good day everyday, whether you are a batter or a bowler. You have to just get better everyday, learn your skills, stick to your strengths as well. Sometimes bowlers can get a little bit caught up and worry about their weaknesses and so too with a batter. But my motto is just to stick to your strengths. You have your good days and try to move on quickly when you have your bad days.
With innovations and the game evolving at a quick pace how do you see that the cricketers have coped with the continuous challenges?
I think they have coped really well. We seen amazing cricketers who start their careers in T20 and then be able to transition into wonderful Test players. You see a guy like Davy (David) Warner - he established his career as a T20 player and what he has been able to do is be picked into the Australian team and won them games. He has been able to transfer his game into those formats of game and be incredibly successful. It's a huge positive.
Have the Lions come-up with a mantra yet?
We just want to be as positive and entertaining as we possibly can. Have a lot of fun along the way, carry ourselves really well and play a nice aggressive brand of cricket. If we can do that, stick to that under pressure, then we are going to be a tough team to beat.