'I am very lucky that I have been picked up in the IPL tournament. I had a couple of years here already and to be playing for a different franchise and experiencing different parts of India is fantastic'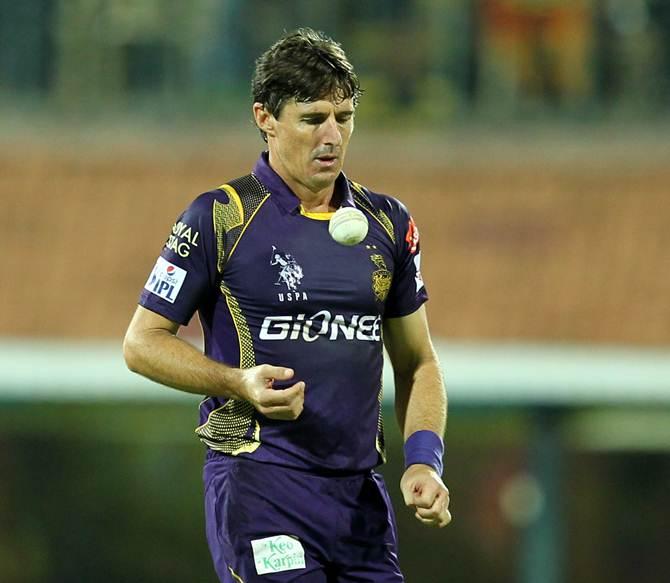 Kolkata Knight Riders's Brad Hogg bowls during the match against Chennai Super Kings. Photograph: BCCI
Kolkata Knight Riders spinner Brad Hogg, who came up with a brilliant spell after replacing Sunil Naraine, said the mystery spinner's absence from the team is disappointing.
"All I can say is feeling sorry for Sunil. I think it is disappointing that he has gone away. All of a sudden he has been put on the spot again. It is one of those, as a cricketer; I am not happy with the situation that Sunil and we are in at the moment. He has got a wonderful skill," said Hogg, after Chennai Super Kings beat Kolkata Knight Riders by two runs on Tuesday night.
West Indies player Narine was on Wednesday barred from bowling off-spinners in all matches organised by the Board of Control for Cricket in India, including the ongoing IPL.
Kolkata Knight Riders' ace spinner underwent a biomechanical analysis in Chennai after being reported for suspected illegal action again during the IPL tie against Sunrisers Hyderabad in Visakhapatnam on April 22. After reviewing the footage of the game and analysis in Chennai, the BCCI decided to ban his off-spinners.
At 44, Hogg, is the oldest cricketer to play in the IPL, and enjoying his cricket.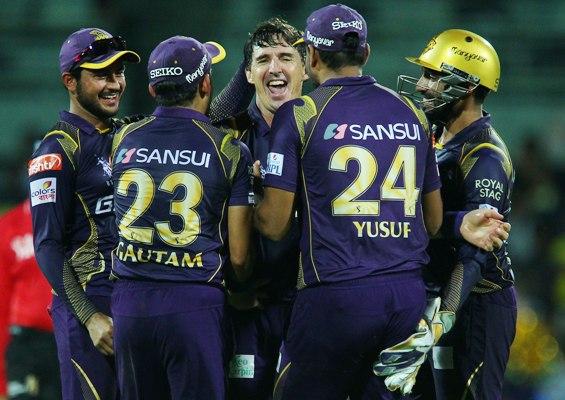 Kolkata Knight Riders' Brad Hogg (centre) celebrates the wicket of Chennai Super Kings' Ravindra Jadeja with teammates. Photograph: BCCI
"As far as my role, at the end of the day at my age, I am enjoying my cricket. I am very lucky that I have been picked up in the IPL tournament. I had a couple of years here already and to be playing for a different franchise and experiencing different parts of India is fantastic. It is no different to any other team that got a great bunch of players," said Hogg, who bowled a miserly spell of 4-0-18-1 as Chennai were restricted to 134-6.
Hogg admitted it was disappointing to lose narrowly.
"It is disappointing always to lose such close contests. But, at the end of the day, we have to go back and believe in our skills. Everyone has got skills. Everyone talks about form. I am not a believer in form. It is all mental and it is always up there here (in the mind). We have got another five top games in 10 days. I think we just got to believe that our skills are good enough," insisted the Australian.
"It takes a couple of shots for a batsman to turn around and likewise a couple of wickets for a bowler.
On his team not scoring a single boundary between the seventh and 17th over, Hogg said, "I think we required 78 runs off 80 balls and we really dug for ourselves. We sort of discussed that. The opposition was dictating the scoreboard for us to slow down. We are going to go out in the next game and play the way we want to play," he added.
He was all praise for the Chidambaram stadium pitch.
"The pitch was pretty good. It assisted all and had a bit of pace and swing and also held up little bit for the spinner. So everyone played a part in the game. Full credit goes to the curator. I thought, batsmen too had chances to make runs and bowlers had chances of getting wickets. It is one of those nice part of contest," said Hogg.