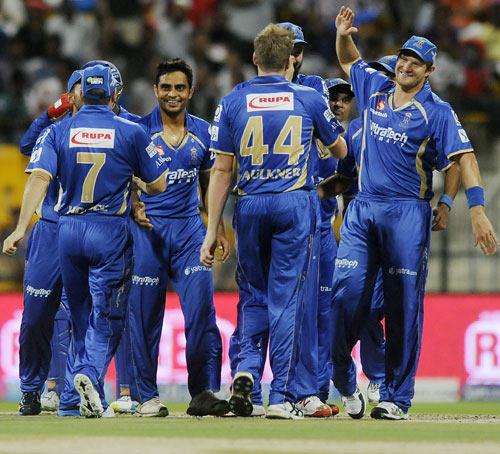 Rajasthan Royals players celebrate a wicket. Photograph: BCCI
In fresh controversy to the already tainted Indian Premier League, a Rajasthan Royals player has claimed to have been approached by a Ranji player to fix Indian Premier League matches.
The Rajasthan Royals, without revealing the name of the player, confirmed the development in a statement on Friday, stating: "Over a month ago, a player from Rajasthan Royals was approached inappropriately by a player (who was not part of the IPL) in connection with the Indian Premier League 2015 matches. Maintaining high standards of integrity, the player informed the Rajasthan Royals management of this inappropriate approach. In keeping with applicable IPL Regulations, Rajasthan Royals management immediately reported the incident to the Anti-Corruption & Security Unit (ACSU) of the BCCI. Rajasthan Royals commends the player for having reported this incident immediately and for his honesty and uprightness. His dedication to maintain the highest standards of integrity needs to be lauded."
"Rajasthan Royals in keeping with its zero tolerance approach immediately reported the incident further to the ACSU/BCCI for further process. Rajasthan Royals will continue to provide full support and assistance to the BCCI to ensure that the game of cricket is played
in the right spirit. This incident does highlight that if players and other officials cooperate and disclose information or approaches immediately, the game can be kept clean and free from undesirable elements and activities," the statement further read.
In a stunning revelation, the RR player informed the anti-corruption team of the Board of Control for Cricket in India (BCCI) about the offer, according to reports.
The Anti-Corruption & Security Unit took up the matter and during questioning, the player revealed that his Mumbai-based Ranji teammate offered him money to follow a pre-decided pattern of play.
The 2008 champions of the cash-rich T20 league will play their first game of the season against Kings XI Punjab in Pune on Friday.
Earlier, former India captain and RR mentor Rahul Dravid had called for exemplary punishment to tackle fixing and request players to be extra vigilant to avoid the infamous spot-fixing episode which curtailed the career of former India pacer S Sreesanth.
As a fall-out, the Supreme Court ordered N Srinivasan to step down as BCCI president.