Kolkata Knight Riders' mentor Wasim Akram. Photograph: BCCI
With no team as yet assured of a last four play-off berth, Kolkata Knight Riders mentor Wasim Akram described this Indian Premier League (IPL) season as the most interesting in its eight-year history.
"Good sides are participating. We are still not sure who will qualify for the last four. It has been the most interesting IPL as far as points table is concerned," said the former Pakistan captain ahead of the crucial contest between Knight Riders and hosts Mumbai Indians at the Wankhede Stadium.
Akram, saying it's obvious that his team – who are the defending champions - will go to the top if they win, sounded cautious about the opposition's abilities especially in their backyard.
"It's stating the obvious. But we are playing Mumbai Indians in their den. They are a good side and in good nick. They won five games on the trot before losing the last game. Pressure will be equally on both sides," said the former Pakistan left arm pace ace.
KKR's Bowling coach Wasim Akram(R), Batting coach Jacques Kallis(C) and coach Trevor Bayliss. Photograph: BCCI
Knight Riders are on 15 points, one behind leaders Chennai Super Kings and a win will take them past the latter on the table. Akram was all praise for captain Gautam Gambhir and said he has been aggressive in his outlook right through.
"We don't rely on one batsman or bowler. Our captain is leading from the front and in my opinion he's one of the best captains in IPL. He goes after wickets, does not go for dot balls.
"Even in 15th or 16th over if a new batman is there, there will be a short leg and slip in place, at least for a couple of balls. He's putting pressure and makes good changes. Everyone in the team knows his role.
"Coach Trevor Bayliss is a very simple person and likes to keep it simple. Less is more in a team sport," he added.
Akram said the quality and variety in the Knight Riders' bowling unit has made his task simple.
"KKR's bowling is exceptional. My job is very easy. If you have fast bowlers like Umesh Yadav, Morne Morkel, Andre Russell, Azhar Mehmood, and if you have spinners like Piyush Chawla, Sunil Narine, Hoggy (Brad Hogg), Shakib ul Hasan, I don't go out and change their action. My job is about field set up and to prepare Plan A and Plan B against the top batsmen of the opposition."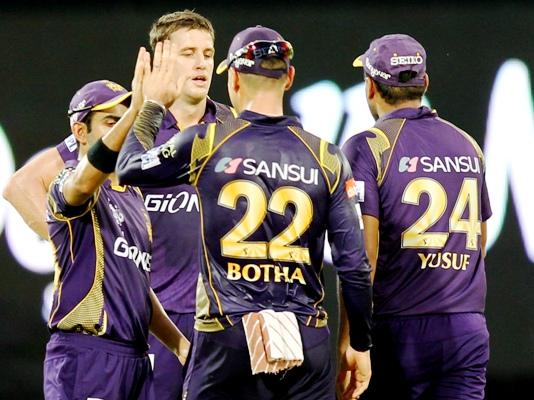 Morne Morkel of Kolkata Kinght Riders celebrates a wicket. Photograph: BCCI
He said pacer Morkel has been given a break to recharge his batteries.
"They are professionals, they have to condition themselves every day as there's hardly any off season. But in between they need some gap. That's why we have given Morne Morkel a couple of games off, to get some rest. He was bowling well. He was the best fast bowler," said Akram defending the fact that Morkel has played in only five games so far.
At the same time he was critical of Sunrisers Hyderabad for keeping out Morkel's fast bowling partner for SA, Dale Steyn for his off and on appearances in his IPL.
"If I have Dale Steyn in my team he will be playing every game, but it depends on what sort of combination they go in with. If you pick eleven players from any side in the world, the no. 1 bowler is Dale Steyn. I am not having a go at their coach or franchise. Probably he's not in the scheme of things for them. If he had been with us he would have played every game. He's the best bowler in world cricket right now."