This year's auctions will wrap up in one day; auctioneer Richard Madley will man the gavel just like last year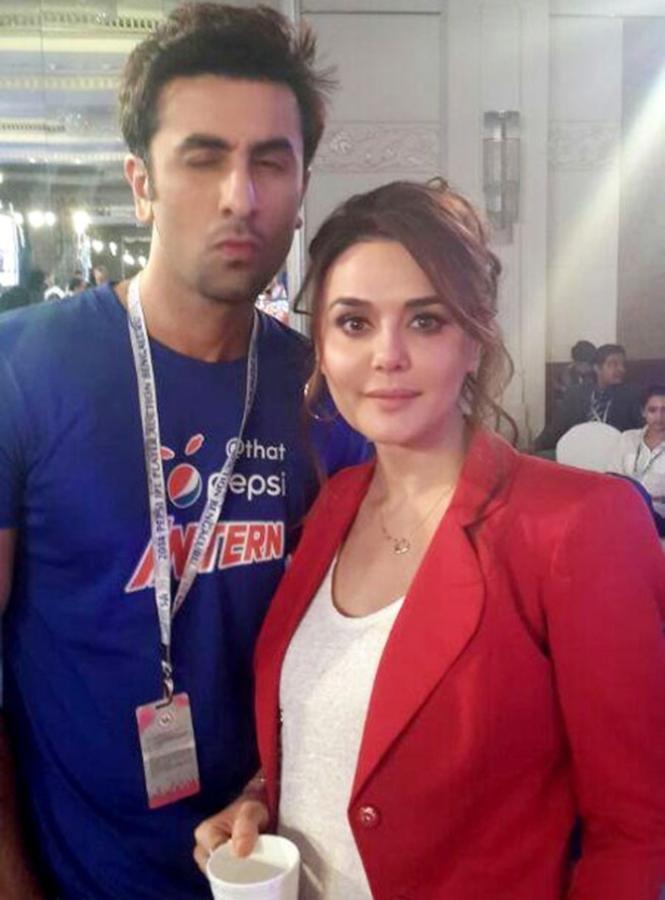 Actor Ranbir Kapoor with Kings XI Punjab co-owner Preity Zinta at the Indian Premier League 7 auction. Photograph: Twitter
Starting Indian Premier League 2015, the big cricket tournament, will be the auctions for players on February 16 at Bengaluru.
Unlike the process in 2014, which spanned over two days, this year's will wrap up in one day. Manning the gavel this year as well will be professional auctioneer Richard Madley.
It is not known how many players will be involved, since the Board of Control for Cricket in India has pushed the deadline for franchises to give the final list of retained players to Wednesday.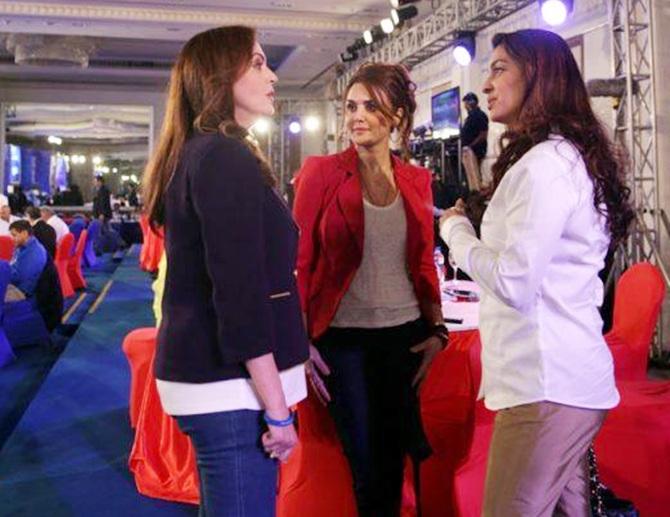 Preity Zinta of Kings XI Punjab, centre, Juhi Chawala of Kokata Knight Riders, right, and Nita Ambani of Mumbai Indians during the IPL 7 Player auction. Photograph: BCCI
The teams have a total salary purse of Rs 63 crore for the 2015 season (five per cent increase over the 2014 one). The salaries of those retained will be deducted from this amount. As of now, the collective sum available for auction is Rs 134.65 crore.
So far, a total of 123 cricketers, 79 Indians and 44 from abroad, have been retained by the franchises for the 2015 Pepsi Indian Premier season, and five Indian cricketers have been traded during the window for player trade this year.
Delhi Daredevils have released the highest number of players as of now, at 13 (of the total 23), leaving them with the heftiest auction kitty of Rs 40 crore. These include seasoned Dinesh Karthik and Kevin Pietersen. They were the top two in terms of cost to the team last year.
Karthik was acquired for Rs 12.5 crore (second highest bid in 2014) and Pietersen cost the Daredevils a handsome Rs 9 crore.
Last year's costliest player, Yuvraj Singh, also failed to make it to the list of those retained by Vijay Mallya's Royal Challengers Bangalore (RCB). Singh, who fetched a bid of a staggering Rs 14 crore, will find himself among those to be auctioned again this year. Also in the player auction pool with him are Albie Morkel, Muttiah Muralitharan, Ravi Rampaul, Sachin Rana, Shadab Jakati and Tanmay Mishra. RCB have Rs 21 crore in this year's auction.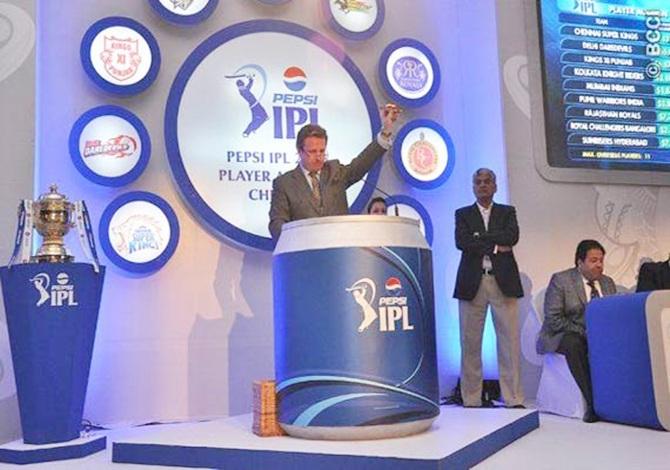 Indian Premier League opening auction. Photograph: BCCI
Releasing 10 from its 2014 squad of 24 players, Sunrisers Hyderabad have an auction purse of Rs 20.85 crore.
The players let go are Aaron Finch, Amit Mishra, Amit Paunikar, Brendan Taylor, Darren Sammy, Irfan Pathan, Jason Holder, Manprit Juneja, Prasanth Parameswaran, Srikkanth Anirudha and Venugopal Rao.
Mumbai Indians, who won the IPL in 2013, have released 10 players and expanded their wallet for this year's auction to Rs 10 crore. We will see Michael Hussey, Praveen Kumar, Ben Dunk, Pragyan Ojha and Zaheer Khan up for bidding on February 16.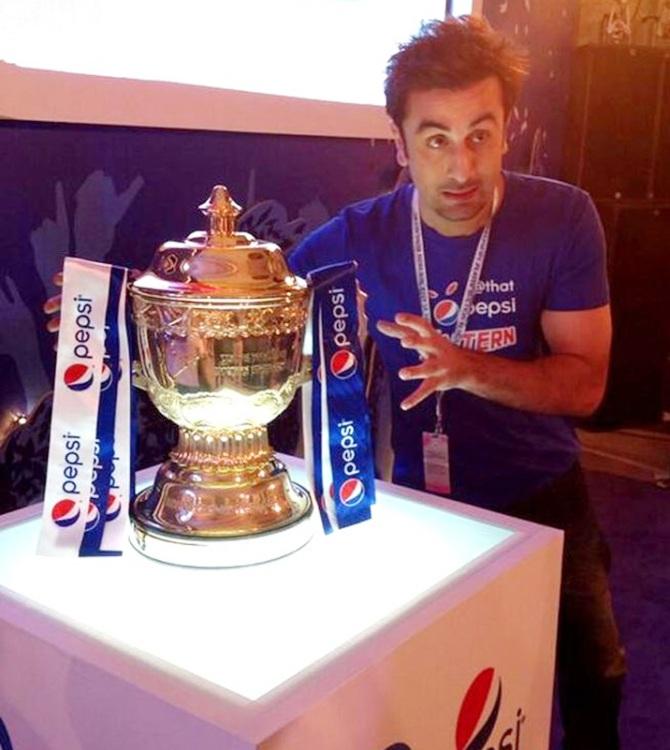 Bollywood's heartthrob Ranbir Kapoor poses with IPL trophy. Photograph: Twitter
Chennai Super Kings have retained most of their 20 member squad of 2014, releasing four. The MS Dhoni-led team has the smallest wallet among the eight teams this year, with Rs 5 crore.
Rajasthan Royals, Kings XI Punjab and Kolkata Knight Riders have each released three and have at their disposal Rs 13 crore, Rs 11.8 crore and Rs 13 crore, respectively, for the auction.
The final list is expected this week. The money available to the teams might change if there is a significant change in the list of released or retained players.