In awe of his coach Gary Kirsten, Delhi Daredevils pacer Nathan Coulter-Nile says the South African has provided him a never-before-experienced insight into cricket in general and his bowling in particular.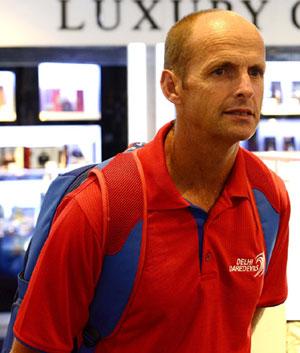 "Gary has been really good. He is always willing to come to you and have a chat and has always got an open door, which is fantastic.
"His insight into cricket is like nothing I have seen before. He has a lot of game awareness, which I haven't really thought too much about," Coulter-Nile, who did well to pick up two scalps in the four-wicket win over Kolkata Knight Riders in the IPL, said.
"Gary literally sat me down and talked about how I construct my overs and stuff, which I have never thought about. To sit down and actually think about what I am doing is probably the biggest thing I can grasp," he told the IPL's official website.
Delhi lost their tournament-opener against Royal Challengers Bangalore before bouncing back on Saturday night.
"Of course! First win for the boys and that is a huge positive. It was a good all-round performance by the guys.
"The batting performance was good right from the very start with Mayank Agarwal getting us off to a flier. He was fantastic and so were Dinesh Karthik and JP Duminy who got us home beautifully," said the bowler.
Coulter-Nile played for the Mumbai Indians last year.
Asked how the transition has been so far, he said, "It has been an amazing time with the Delhi Daredevils. They are a great bunch of guys and I couldn't have asked for a better team."
On whether Delhi Daredevils will help hims grow as a cricketer, Coulter-Nile said, "Delhi Daredevils is the place, which will help me grow as a cricketer.
"Apart from me, there are a lot of other youngsters who will come through as better cricketers and I can promise you that. I don't think anyone here will leave Delhi Daredevils without improving their game."