Now that IPL 2014 is over, our data journalists take a look at who the VFM batsmen and bowlers were in the tournament.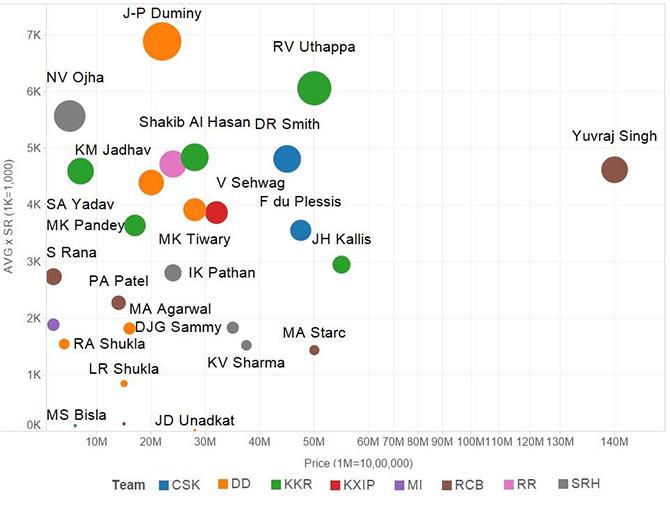 IPL Auction Price compared with Batsmen's performance

Robin Uthappa proved to be a big hit in the seventh season of the Indian Premier League as he played a stellar role in Kolkata Knight Riders' title win. He was bought by Kolkata Knight Riders for Rs 5 crore and he proved to be worth every penny as he finished as the highest run-getter in the tournament, with a massive haul of 660 runs in 16 matches with five half-centuries.
On the other hand, Yuvraj Singh, who was purchased for a record Rs 14 crore by Royal Challengers, failed to live up to expectations. The left-hander totalled 376 runs from 14 matches with three fifties.

The chart above shows details about the performance of a batsman against the price paid for him at the IPL Players' Auction. We define the performance of a batsman as the product of Average Runs x Strike Rate.

Here the X axis represents the auction money paid to each batsman, where 1M=10,00,000. The Y axis represents the performance, where 1K=1,000.

Also, the size of the circle represents the player's performance (bigger circle implies good performance). Each colour shows details about the team.

IPL Auction Price compared with Bowlers' performance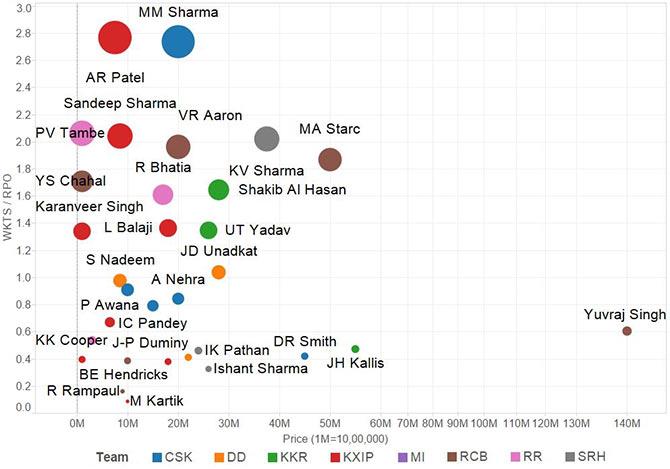 Lesser known bowlers like Akshar Patel and Sandeep Sharma took the IPL by storm with a string of impressive performances for their franchise Kings XI Punjab, who finished as the runners up.

Left-arm spinner Patel claimed 17 wickets at an astonishing economy rate of 6.13, while young pacer Sharma was Punjab's top wicket-taker in IPL 7 with a rich haul of 18 wickets in 11 games.

The chart above tries to compare the performance of a bowler Vs the auction money paid to him. We define the performance of a bowler as the division of Wickets taken by him / Runs per over given by him. Each colour represents a Team and the size of the circle gives the performance of the bowler. Increase in size of the circle implies good performance.

The X axis gives the auction price for each bowler (1M= 10,000,00) and the Y axis represents the wickets taken by a bowler for the runs he gave (WKTS/RPO).

The money paid for the players who have been retained in the same team from the earlier season (2013 IPL) has not been disclosed and are not considered in our analysis.

So who are the players who were worth the money paid? Leave your comments in the Discussion Board below!

Credit: Rediff Labs Team