Deccan Chargers have lost a few close matches in their last three outings in the Indian Premier League and allrounder Daniel Christian feels the team needs to be more consistent.
The Kumar Sangakkara led side was defeated in their first two matches against Rajasthan Royals and Kolkata Knight Riders before tasting victory over Royal Challengers Bangalore but they couldn't carry the momentum and lost to Kings XI Punjab in their last match.
Asked what is affecting the performance of the team, Christian said they need to be more consistent and finish the game well.
"We lost a few close matches, beside the Punjab match, it could have been anybody's game. There is no problem, we have a good team but we need to be more consistent in our all round performance," the Australian said on the sidelines of a promotional event.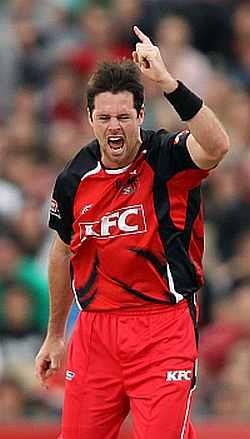 Deccan takes on Delhi Daredevils at the Feroze Shah Kotla stadium on Wednesday and Christian reckons rival openers Virender Sehwag and David Warner would be one of the threats.
"They have a very good team. Warner and Sehwag would pose a big threat and we need to get them out tomorrow as soon as possible. Hopefully we will sent them back early and restrict them to a good score," he said.
Christian said the biggest challenge for the teams is to get the chemistry going.
"All teams have many new players and it is perhaps the biggest challenge to get the chemistry going. The team that gels faster will win more matches," he said.
Compatriot Cameron White also exuded confidence on the eve of tomorrow's match and said the team has some good players who can bowl in any condition.
"We have two good fast bowlers in Dale Steyn and Ishant Sharma and also two very good spinners who can bowl in any wicket. In T20, it is just a matter of getting a wicket or two and the game changes," he said.
Asked if there were any particular strategy being discussed as there is a good chance of captain Sangakkara leaving before May 5, White said he was not aware of any specific plans and hoped the Sri Lankan stays for the most part of the tournament.
"He is a great captain, he can win matches single-handedly and I hope he doesn't need to go so early and play as many matches as possible for Deccan," he said.
Dwraka Ravi Teja, who plays for Hyderabad in Ranji trophy, said there was no pressure on the team and they are looking forward to the Delhi game.
"We are not too far away, we played well in all the matches. We have no pressure and if we can play to our potential we can win tomorrow.
"I am coming down the order and have scored a few runs. Hopefully I will perform better in the coming matches," he said.