Hard-hitting New Zealander Ross Taylor on Saturday admitted Rajasthan Royals has not been up to the mark but said they would look to exploit the home conditions to bring their IPL campaign back on track on Sunday.
"Yes our performance in all three departments of the game has not been up to the mark lately but the home conditions might help us getting in winning mode," Taylor said.
Asked why none of the Royals batsmen barring Johan Botha, who has two fifties under his belt, has been able to hit a half-century, Taylor said nobody gets out deliberately and they just have to convert the starts into big scores.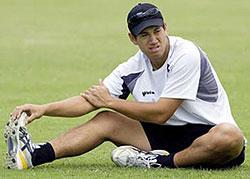 "Nobody gets out deliberately. We have been trying and few of us have reached 30-40s but we need to score big to win matches. This format is full of uncertainties and we might win the next few matches riding on the home conditions," he added.
Taylor also admitted he was not in the kind of form that saw him butcher Pakistan with a whirlwind 131 in the World Cup but said he was confident of his ability.
"I am not in the kind of form of the World Cup where I smashed the Pakistani bowling. There in the New Zealand team I was having a role of a finisher. Here I have a different role but I am looking it as a new challenge. I have confidence in my ability," he added.