Australia all-rounder Steven Smith has to?undergo surgery on his ankle and will not be available to play in the Indian Premier League for struggling debutantes Kochi Tuskers Kerala, coach Geoff Lawson said on Thursday.
"Mr Smith is having an ankle operation. We won't be seeing him," Lawson told reporters here on the eve of their third match against hosts Mumbai Indians at the Wankhede stadium on Friday.
- Watson boost for Royals, Lee for KKR
Smith took part in the recently-concluded three-match ODI series between Australia and hosts Bangladesh, which the visitors won 3-0.
- Indian Premier League 2011 coverage
Another all-rounder John Hastings, who also was a part of the touring Australian squad is, however, scheduled to join the Tuskers later in the day, Lawson added.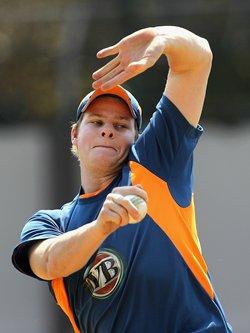 Kochi lost their first two ties in the IPL – to Royal Challengers Bangalore and Pune Warriors -- and Lawson said it was small mistakes committed by their new ball bowlers, R P Singh and S Sreesanth, that proved costly.
"They are small mistakes but enough to cost us two games. We have to accept it. They bowl 20 balls on the spot but not the other four. We need to fix it up and see that they bowl all 24 balls in the right areas," said the former Australia pace bowler.
"We are playing some very good cricket. We got into trouble with the new ball but we fought back superbly last night (against Pune at D Y Patil). This team will not roll over. We will fight every game.
"It would be nice to stop those small mistakes. We are not going to play the perfect game all the time, but it would be nice to cross over the line," he said.
Captain Mahela Jayawardene, who is returning to the ground where he made a superb hundred for Sri Lanka against eventual champions India in the World Cup final on April 2, said he would try to overcome his patchy form.
"It's a good wicket. Hopefully, I will get to spend more time here. It's important to try and win the game. They (Mumbai) are a good team and in form. It would be a big challenge for us," he said.
He also admitted that the team committed a few mistakes in the first two ties.
"We made a few mistakes, not similar mistakes. (We) did not handle the situation properly. The challenge is to win those close games," he said.
About the impending battle his batsmen will have against his country's top pacer, Lasith Malinga, Jayawardene said they need to be positive.
"He's been in good form. He's bowling his yorkers in the right areas. It's important to respect him, but not to get overawed. He's got just four overs. At the same time we have to stay positive as he cannot always get it right," said the veteran Lanka batsman.
"We have to play out his four overs carefully. There are 16 other overs (to take advantage of)," he pointed out.
"It's a tough tournament. We don't want to miss the bus (qualify for second stage). We want to get the things sorted out. The way we played the first two games, we were not far away," he said.
The Sri Lanka sports minister has called all the players who are playing in IPL and are part of the touring party to England to get back by May 5 for a short camp and Jayawardene said they would have to comply with the board's decision.
"Nothing serious as what we see in the papers. They (Lanka cricket board) are in the midst of the dialogue (with Indian counterparts). It's not something in our control. When they call us we have to oblige. Nothing has changed," he commented.