S Sreesnath may have irked Mahendra Singh Dhoni on quite a few occasions with his on-field antics, but Kochi Tuskers Kerala skipper Mahela Jayawardene is at ease with his behaviour so far in the IPL.
"Honestly, he (Sreesanth) has been ok. He has toned down a bit. We did not play him in a few games because of conditions but he bowled brilliantly in the last two games. Sometimes, you need to leave him to be a little aggressive and at times you need to talk to him," Jayawardene said of the maverick Kerala pacer after his side's seven-wicket win over Delhi Daredevils at the Feroz Shah Kotla in New Delhi on Monday.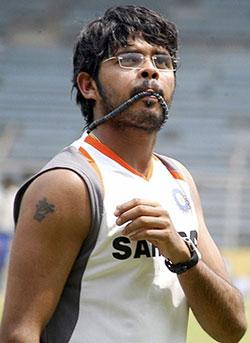 With this win, Kochi jumped up to the sixth position in the table with eight points from nine games, and Jayawardene hoped this victory brings some consistency in his side's performance.
"We would love to have that consistency in Twenty20 but if you see we have lost some games in the last two overs. Hopefully, with this win we can get some momentum," the Sri Lankan said.
After playing their last match on a low and slow Nehru Stadium pitch at home, he heaped praise on the track.
"The Kochi wicket was tough for us inspite of being the home team. But this was a good wicket. We thought 160 was a par score."
Jayawardene also lauded his bowlers for restricting Daredevils to a mediocre 140 for six on a batsmen-friendly wicket.
"Our guys bowled to a good plan which we couldn't do in Kochi."
The Kochi skipper said his counterpart Virender Sehwag's early dismissal was vital to his side's fortune.