Australian cricket legend Shane Warne, one of the best spinners to have graced the game, bows out of the game later tonight.
The Rajasthan Royals captain is playing his final professional match, against the Mumbai Indians at the Wankhede stadium, in Mumbai.
- Saluting Rajasthan's one-man army Shane Warne
Incidentally, Mumbai is captained by India's master batsman Sachin Tendulkar, who Warne describes as "consistently the most awkward opponent" but also a good friend.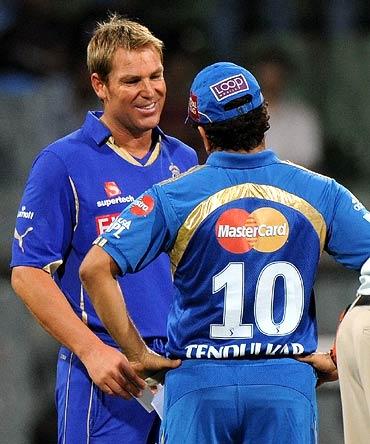 Warne captained Rajasthan to an unexpected IPL title triumph in 2008 despite not having big stars in his squad. But this year the team was unable to live up to their captain's expectations and failed to qualify for the play-offs.
- Warne, Hurley and Spinners bowl over Mumbai
It is the last time that Warne and Tendulkar are facing-off against each other, and, needless to say, both are keen to finish on top.
This is what Warne wrote about Tendulkar in his column in the Telegraph on Friday.
- Four years on, lustre fades from IPL
"We have been good friends for a while -- even if it's not so friendly when we are out in the middle -- and one of the pleasures of playing in the IPL has been the chance to spend a little time with him. My final match, in Mumbai this evening, will in fact be against Sachin's team, the Mumbai Indians.
"It's funny how things work out!"