Gautam Gambhir, named captain of the national team for the West Indies tour, is still not sure how bad his shoulder injury is as he still awaiting the result of MRI scan, done to measure the extent of damage.
If the report turns out to be adverse, Gambhir could miss the Caribbean and Suresh Raina may be asked to lead the side.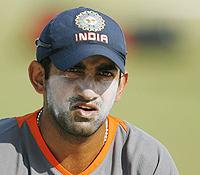 Gambhir had suffered the injury in the last league match against Kolkata, on May 22.
"Absolutely yes (had gone for an MRI). I haven't got the report. I still need to speak to the physio I have not spoken to him, will speak to him once I reach the dressing room since he never wanted to discuss with me before the game. I will go and discuss with him now," said Gambhir after the Knight Riders were beaten by four wickets by Mumbai Indians in the IPL Eliminator.
Gambhir said he had hurt the right shoulder while making a sliding stop in the previous game.
"It's (right shoulder) hurting. During the last game I fell while sliding. After that I threw one ball," said Gambhir who threw with his left hand to run out Mumbai Indians' Rohit Sharma with a direct hit at the non-striker's end stumps in Wednesday's game.
"I went for the MRI but still don't know the report exactly what it is. Once I discuss with the physio who has the report but never wanted to discuss the report with me before the game. After the game he will discuss with me," he added.