Cricket great Sam Loxton, a member of Australia's 1948 Invincibles team, has died at the age of 90.
Cricket Australia spokesman Peter Young announced the news ahead of the third day of the trans-Tasman Test in Brisbane, Fox Sports reports.
"Cricket Aust regrets to advise we have been informed Sam Loxton, one of the Invincibles, died overnight in Qld," Young posted on Twitter.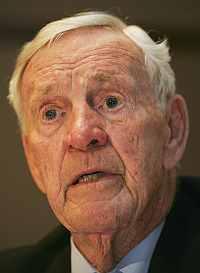 Loxton, who passed away on Friday in Queensland, was an all-rounder who made his debut against India in 1948 and was part of Australian legend Sir Don Bradman's team that went through the 1948 Test tour of England undefeated.
Bradman described the Loxton''s play as "the very essence of belligerence" and said that "his whole attitude suggests defiance and when he hits the ball it is the music of a sledgehammer".
Loxton scored 101 against South Africa in Johannesburg in 1949 for his only Test hundred amongst his 554 Test runs at 36.93.
His Test career finished after the 1950-1951 Ashes series, but he continued to play first-class cricket with Victoria until 1958.