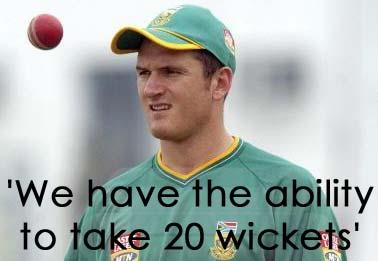 Graeme Smith had played only eight Test matches when he was appointed captain of South Africa. The selectors, looking for fresh ideas after a dismal showing in the 2003 World Cup, opted for his powerful persona keeping the future in mind. At 22, he was the youngest player to lead the Proteas.
Smith's arrival at the helm heralded a new era for a team that did not try too hard to come out of former captain Hansie Cronje's shadow. He criticised this attitude and did not spare even the stars, demanding more commitment from them. The new selection policy meant the team suffered from constant changes, but Smith did well to lead in the transition period without much fuss.
On a difficult tour of England, he led from the front, scoring consecutive double hundreds, including a 259 at Lord's in a match-winning cause.
With his captaincy taking the spotlight, his batting average of 56.60 in Tests is often overlooked. It is something he will be looking to enhance on the current tour of India.
In an e-mail interview with Deepti Patwardhan, South Africa's captain spoke about the challenge of playing in India and his captaincy.
With Kanpur out of the way, what is South Africa expecting from the next game in Kolkata? 
Kanpur was an opportunity for a number of our new, younger players to experience Test cricket in India. There were a few nerves early on but they settled down well and the performances from most of the guys were superb.
We are very excited about playing at Eden Gardens in front of such a huge crowd. We have a good record at the ground and would like to maintain that. I think the pitch might offer a little more spin and the ball will go around in the mornings.
How is the team coping with the cricket frenzy in the country?
We are thoroughly enjoying the passion and frenzy of the cricket-mad people of India, I must admit, although we had heard about the passion for the game. Those of us who have not been here before are amazed; we are trying to experience as much of the culture as possible but we, unfortunately, don't have enough time!
The team drew a lot of flak for the slow batting. Was it a deliberate ploy to tire out the Indian bowlers or did the team play too defensively?
Very few of us have played in India before so we did bat with a certain degree of caution in Kanpur, certainly not negative though. I thought we played with great patience on a pitch that did not make shot-making that easy. We prepared very well under conditions similar to those in India, so the work has paid off so far.
You are a young captain looking after an even more inexperienced team. Does it take too much time and energy from you to concentrate on your batting?
No, not at all! I have a good support team around me and I am able to focus on batting and captaincy without too much difficulty.
With new faces constantly coming into the side, how is the team able to maintain its morale?
We've had a lot of changes for this tour, so we have been able to build from a new base. The morale, right from the very first day we got together in Pretoria three weeks ago, has been superb. A number of the new guys like Hashim [Amla], Zander [de Bruyn], [Tsolikele] Thami , Alfonso [Thomas] and Boeta [Dippenaar] were playing together under Ray [Jennings] with the South Africa  'A' side for six weeks and had a great vibe going.
Teams have found India one of the toughest sides to beat at home. How big a challenge is the tour for you, personally?
Yes, India is one of the toughest tours, and, therefore, presents a huge challenge for us. I love a challenge, that's why I play the game. I have gained a lot of experience in a very short space of time as captain with seven away tours, including three to the subcontinent.
I think those experiences have helped me mature as a captain and prepare me for the challenges of playing India.
Has the South African team also planned meticulously like the Aussies for the India tour?
Yes, we had a week-long camp in Pertoria at the UCB's High Performance Centre. The pitches were prepared to try and simulate those in India and by the end of the week were spinning huge! We also used a heat and humidity chamber to test our ability to deal with extreme conditions, and Gary Kirsten shared some of his thoughts with us on batting in India. It certainly was the best prepared I have ever been for a tour.
The bowling department, except for Shaun Pollock, looks frail in experience. Do you think the team has it to take 20 Indian wickets in the match?
We took ten wickets in Kanpur on a featherbed pitch. I think our bowling is looking good; in the right conditions we certainly have the ability to take 20 wickets.
What changes has Ray Jennings brought about since his appointment as South Africa coach?
Ray has brought an energy and passion to the set up. He has also given responsibilities to the senior players. Shaun, for example, deals with the bowlers and Jacques Kallis with the batsmen. While he might be seen as a tough man, Ray has also instilled a sense of fun and enjoyment in us, which is something that I think we had lost for a while.
If you were to rewind the clock, would you still take up the job of captaincy at such an early stage of you career?
Most certainly! I said at the time of my appointment that I was up for the job and that I had always wanted to captain my country. Yes, it has been hectic, but I'm sure any captain will tell you the same, regardless of his experience in the game.
You had a word with Stephen Fleming after the New Zealand series? Was there any particular advice of his that stuck?
Stephen and I had dinner together at the end of the series in New Zealand and chatted about a number of cricketing issues. I am very definitely my own captain and I don't have any particular favourite captain.
Did the back-to-back hundreds in England help you settle down better as a captain and batsman?
Yes, I think it did help, although it was a pretty hectic time. I gained a lot of confidence from those innings.
How much of a say does a captain have in matters of team selection in South Africa?
We have a selection panel of four, with Omar Henry as the convener. Ray Jennings is on the panel as well. I am consulted, but, ultimately, the final say is with the panel and particularly the convener.
You are seen as an outspoken captain...
I don't see myself as outspoken. I believe in honesty and openness.
Somerset has offered you a contract for next summer. What do you expect to glean from the experience in England?
Nothing is signed yet. I do think that a season of county cricket would be a very good experience for any young cricketer. Playing as regularly as they do and under such differing conditions would be a great learning experience, I think one would also learn from the deep culture of cricket in the UK, talking to players and ex-players can only broaden one's mind.