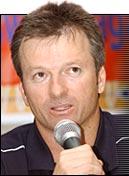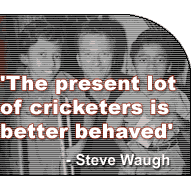 Australia's Test captain Steve Waugh was in Bangalore on Monday, August 18, to raise funds for Parikrama, a non-governmental organisation that educates street and slum children. At the fundraiser, Waugh answered a wide variety of questions posed by former Indian athlete Ashwini Nachappa. Excerpts from the tête-à-tête between the two:
Ashwini Nachappa: You started out in life as a shy, introverted person and later became one of the greatest cricketers of our times. How did that transformation take place?
Steve Waugh: I am still a pretty shy, introverted person. But cricket has given me massive opportunities. When you are playing cricket you get to tour the world, see different people and different sides. You get to see so many countries. The first time I came to India I was pretty confounded. There are a billion people here. We have in Australia something like 28 million people. So it has been a very different experience here. I think that has helped me a lot.
AN: If you were not playing cricket, what would you have been doing?
SW: That's a pretty difficult question to answer. I don't know. I went to college, but I wasn't very successful at that. I went to a music and drama class. I walked out of that in about two hours. Then I finally started playing cricket at 19. So I am really not sure what I would have done. One thing is that I would have been always involved in charity of some kind. Right now, I am involved with a charity in Calcutta. The thing about charity is that you always get much more than what you put in.
AN: You have said that when you play cricket you feel like you are 20. You certainly don't look more than 25.
SW: Well, you got to keep the media on their toes. They are always saying I am too old. I certainly feel 20, I don't see myself as a 38-year-old cricketer. I see myself as someone who enjoys playing the game, is fit, and goes out to play his best in every game like before.
AN: What drives you? What do you want to achieve?
SW: I love competition, I love to go out there and play every game so that it will be my best. I believe that my best match will be the next one I will be playing. Honestly, I don't know what it will be like -- maybe it might be my best game, maybe it might be my worst. But that is the best part about sports, you don't know what is going to happen next.
AN: It is not difficult to reach the top, but it is difficult to hold on to it. You have turned Australia into one of the best cricket teams in the world. How did you manage it?
SW: We have been through some tough times as well. In 1985 we were struggling to find our feet in international cricket. But if you enjoy the game, if you enjoy representing your country and respect your teammates, then you can overcome the problems. We enjoy playing for our country. There may be just 12 of us playing cricket for Australia, but there are millions of people back home who watch us play. I think we owe it to them to play well. And once you have set the standards, then you have to work to keep them up. You cannot drop below the standards that you have set for yourself.
AN: In the sporting world, the sledging that has been happening recently has made people wonder if it is a gentleman's game after all. What do you think about sledging?
SW: I don't think there is that much sledging going on. I think it is overstated. There is a bit of it, but I think the present lot of cricketers is definitely better behaved. Much was made of the sledging incident involving Glenn McGrath during our tour of the West Indies. But I can tell you that we played the game in the right spirit. We encourage each other as teammates and together try to put pressure on the opposition. That is important.
When I talk of 'mental disintegration' of the opponent, I mean through our body language, posture, etc. I think too much is made of sledging. Our current side is very well behaved most of the times. Also when you are the best side in the world you tend to get scrutinised more often for what you do.
AN: What does it take to keep a team motivated for so long? Do you support the infusion of fresh talent into the team?
SW: As long as it is not at the expense of the older guys, yeah, I support it. I think the present Australian team has an excellent work ethic. You don't have to tell them to go to the gym or to practise. They are very proactive and work hard.
What you have to remember is that partnerships are important. As a game cricket is about enjoying each other's company and having fun. Sometimes the sport gets too serious. We go there to play and we want the players to play as naturally as possible. Yes, there are guidelines to be followed, but we want them to play their natural style and enjoy themselves on the field.
AN: How do you maintain a balance between cricket, family, your writings and charity work. I believe the tour diaries that you publish after every series have all become bestsellers.
SW: I like to stay busy. I don't like to be idle. I like to be always stimulated by a challenge. I never expected to write books someday. If you told my English teacher that, she would have laughed. But I have written some. So, you have to learn and put yourself in a vulnerable position, where you can make mistakes. If you don't do that, you can't grow as a person.
AN: You are involved with a charity in Calcutta that works for children. What is it about and how did it happen?
SW: Fate is the answer I give when people ask me how it happened. I got involved with it at that time because it felt right. We were playing at Eden Gardens in Calcutta, which is one of my favourite grounds -- I love to play there. However, the series wasn't going too well. I came back to my hotel room one of the days and found a letter under the door. You get many letters everyday, but this one was different. It felt genuine and touched a chord. It was an invitation to visit a rehabilitation centre for children who parents are afflicted by leprosy.
I didn't know much about leprosy, but I had been interested in the way it develops and the implications of it. I met Rev James Steve who showed me a facility where they had 250 kids and I was impressed. Then I wanted to see where these kids come from, so we went to a lepers' colony. I didn't know what to expect, but it was entering a completely different world. There were no sewage pipes, no electricity, people had open wounds, and the kids were running amuck. They had no other place to go, there was nothing for them to do. I asked the reverend why there was no facility for the girls, where did they go? I was told the girls by the time they are 11 or 12 years old are on the streets selling their bodies for money to help their families. So we decided to start another project that would help the girl children. I have been helping them raise money for it.
AN: What do you see yourself doing in the future?
SW: Cricket will always be an important part of my life. I also will be doing a lot more charity work. It is emotionally very satisfying. I also have three kids, so as they grow up, life will take a different direction.
Transcribed by Priya Ganapati