'Today the PCB officials have brought embarrassment for Pakistan and its cricket. The government must order them to return home immediately'
'Nothing is to happen because this MoU is meaningless unless the PCB has got a clause inserted that if India does not play for whatever reason it can approach the international court for sports arbitration'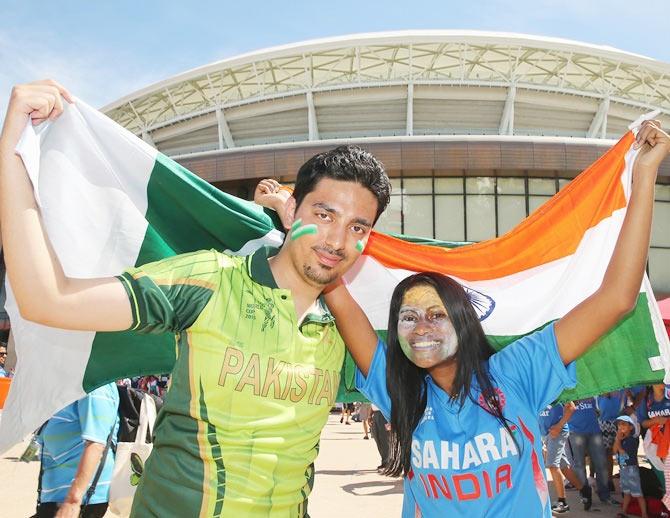 IMAGE: Pakistan and India supporters pose with their national flags. Photograph: Scott Barbour/Getty Images
Amid increasing pressure on the Pakistan Cricket Board at home to review it's cricketing ties with India, a senior member of its Indian delegation has left for Dubai after talks were stalled with the Shiv Sena activists barging into BCCI headquarters in Mumbai.
The PCB's Director Media and Communications, Amjad Bhatti, confirmed to PTI that Najam Sethi, a former Chairman and current head of the executive committee in the board, had left India for Dubai.
Bhatti however said that PCB Chairman Shaharyar Khan had reached New Delhi from Mumbai and was scheduled to have some meetings with Indian government officials and some other high profile personalities.
"I can confirm that Najam Sethi has left for Dubai and perhaps chief operating officer Subhan Ahmad is with him. But Shaharyar Khan will remain in New Delhi till Wednesday and return home later that night," Bhatti said.
The PCB delegation's planned meeting with the new President of the Indian Cricket Board Shashank Manohar, was derailed on Monday in Mumbai when Shiv Sena activists stormed the BCCI offices at the Wankhede stadium just before the meeting was to take place.
Bhatti said that contrary to speculation, the PCB delegation had gone to Mumbai on a proper invitation from Shashank Manohar.
"They were invited to India to discuss cricket matters of mutual interest and to find ways to restore cricket ties between the two countries," the PCB official said.
After Monday's incident and contradictory statements raising doubts over whether the PCB delegation were officially invited for meetings, pressure has grown on Shaharyar and the PCB to review its ties with India.
"I think, today the PCB officials have brought embarrassment for Pakistan and its cricket. The government must order them to return home immediately," Zaka Ashraf a former Chairman of the PCB told PTI.
Zaka Ashraf, who was the PCB chairman when Pakistan toured India for a short one-day series, said he was surprised at the way the meeting with the BCCI officials was arranged.
"Shaharyar Khan has been to India several times to meet with BCCI and their government officials. This time again he went there even after the recent events unfolding in India against Pakistanis," Ashraf said.
"From what I am seeing on television channels apparently the BCCI didn't invite them for formal talks on the planned series. So there is a need to find out what was the purpose of this visit to Mumbai of all places. Pakistan cricket's image has already been damaged enough and the government must ask these officials to return home immediately," Ashraf said.
Ashraf, who was PCB Chairman in 2012, also dismissed the Memorandum of Understanding (MoU) signed between the two boards under which the PCB is trying to convince the Indian board to play a bilateral series in the UAE in December.
"Nothing is to happen because this MoU is meaningless unless the PCB has got a clause inserted that if India does not play for whatever reason it can approach the international court for sports arbitration," he said.
Ashraf said when he was Chairman he had told the Indian officials clearly that Pakistan would only support the Big Three governance system in the ICC if such a clause was inserted into any MoU.
"Even at that time the Indian board officials tried to convince and coax me into signing a MoU, because they wanted the Big Three idea to pass through without any resistance. But I told them clearly I would not take them on face value and they must have the clause in the MoU in writing," he added.
Another former Chairman Khalid Mahmood also said that the PCB had let down the Pakistani people with its existing policy of dealing with India in cricket matters.
"We have been running after the Indian board all year to play the series and they have made it clear they are not interested. We can't have this charade continue anymore at the cost of our self respect and pride," Mahmood said.
Ashraf and Mahmood both stressed on the need for the PCB to review its policy towards India and think twice about playing them in ICC events.
Mahmood also said the ICC was powerless to do anything.
"If the ICC can't ensure the safety of one of our umpires, Aleem Dar, and withdraw him from the India and South Africa series I don't know on what basis they can allow India to host the World T20 next year," Mahmood said.
Pakistan's former captain Rashid Latif also called on the PCB to stop going after the Indian board and announce they wouldn't play them in the World T20.
"If India say they can't play against us on political grounds than how come they agree to play with us in ICC events," Latif questioned.
"I think the PCB should also announce they will not play India in any ICC event until the matter of bilateral series is resolved."