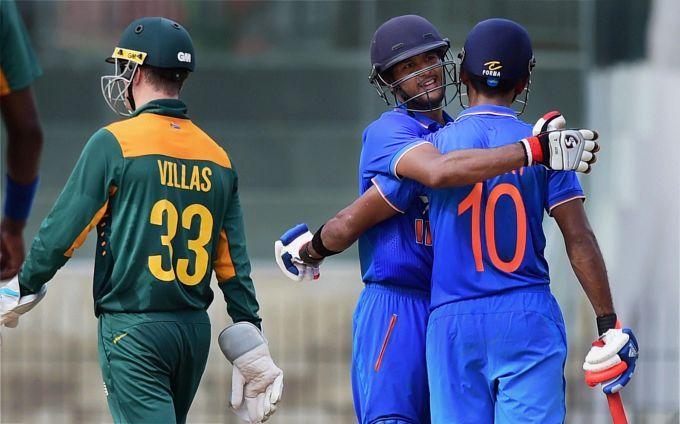 India 'A' players celebrate after hitting a boundary. Photograph: PTI
In a bizarre turn of events, India 'A' will replace South Africa 'A' in Monday's tri-series match against Australia 'A' after six of the cricketers were left indisposed owing to the sapping Chennai heat and stomach ailments.
It has been learnt from sources that South Africa 'A' team management requested India 'A' coach Rahul Dravid for a change in schedule as at least six of their players are not fit to take the field against Australia 'A'. Dravid accepted their request and thus India A, instead of playing on Tuesday, will now play tomorrow against the Aussies.
The plight of the South African side was understandable when India 'A' team's 12th man Mandeep Singh came in to field after Quinton de Kock suffered a hamstring pull.
Even before that South Africa A's video analyst Coertzen was seen fielding in place of left-arm seamer Mthokozisi Shezi, who fell ill. Coertzen almost pulled off a miraculous catch in the deep. His effort earned him praise from the legendary Sunil Gavaskar, who was on air at that point of time.
There was another interesting development as the boundary ropes were taken atleast 10 yards behind from where they were during the last match between India 'A' and Australia 'A'.
It has been learnt that Aussie batsman Joe Burns' whopping 14 sixes during that match is one of the reasons. There were atleast 4 or 5 such sixes, which could have been catches if not for the ropes.
In fact, Dravid supported the decision to increase the boundary distance during an interview with former India leg-spinner Laxman Sivaramakrishnan.
"If you see the game, everything is loaded in favour of batsmen. So I am happy that they have increased the distance of boundary ropes and that will also give spinners some chance to fight," said Dravid during the flash interview.