The Indians were left with a lot of soul-searching to do after the Victoria Bushrangers scored a massive 518 -- built around a record 264 by Brad Hodge -- on the third and final day of the tour-opening cricket match which ended in a draw at the Melbourne Cricket Ground on Thursday.
With Victoria deciding to bat through the third day before declaring on 518 for eight, minutes before the tea break, the Indians hardly had time to make up for their first innings lapses.
| | |
| --- | --- |
| | Also Read |
| | |
In fact, the first innings disaster returned to haunt them as they lost two wickets, including that of Virender Sehwag (20), before making 116 for two.
Ramesh, who made 87 in the first knock, logged a few more points for his Test selection with 36 while Aakash Chopra remained unbeaten on 55.
But it was Hodge who continued to hog the limelight at the MCG. He rewrote the record books while compiling 264, which was studded with 39 fours and a six.
There was also some drama in the final half hour as the Victorians wanted to walk off with six overs remaining.
The two Indian batsmen decided to stay put with no signal coming from the dressing room.
Obviously the Indians, chaffed at Victoria's continuation of their innings this morning, wanted to make their own point. But they finally decided to call it off, strangely though, with an over remaining.
Chopra, who hit two fours in an Andrew McDonald over, reached his half-century in 146 minutes off 112 balls and hit eight fours.
Rahul Dravid, coming in at the fall of Ramesh, remained not out on one.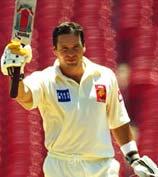 The day clearly belonged to Hodge, who made the highest ever score by an Australian batsman against a touring side in a first class game in 75 years.
Hodge's innings was second only to Bill Woodfull's 275 for Victoria against MCC on the 1928-29 tour. Only two scores have been bigger than Hodge's against India in any form of cricket in the last 14 years. Graham Gooch had struck 333 against India in the Lord's Test of the 1990 England tour and then Sanath Jayauriya made a hectic 340 in Colombo in 1997.
Resuming at his overnight score of 153 in the team total of 348 for five, Hodge batted for 500 minutes  for his 380-ball knock. He completed two century stands during the day for his team, putting on 171 and 135 runs for the sixth and seventh wicket with Ian Harvey (71) and skipper Cameron White (39).
The Victorians decided to deny the Indians a chance to indulge in some useful batting practice by continuing this morning. They not only smashed the confidence of the bowlers to bits but also inflicted the second failure on opener Virender Sehwag, who fell leg before wicket to Brett Harrop for 20.
Hodge showed no signs of tiredness or lack of appetite as he tore into the bowling this morning, realising 111 of the 170 runs which were made from 44 busy overs today.
A feature of Hodge's batting today was the number of straight hits he smashed down the ground against the Indian pacemen. He finally fell when a thickish edge of his drive against part-time off-spinner Virender Sehwag went high and landed in the hands of Rahul Dravid in the lone slip.
The other two wickets to come India's way were that of Harvey (71) and White (39).
While Harvey fell to a questionable leg before decision to Laxmipathy Balaji, White nibbled at an away going delivery of Zaheer Khan to give the left-arm paceman his first wicket of the match.
Sehwag hit a few flashing drives before suffering yet another failure but Ramesh and Chopra looked in complete control before the left-hander hooked a catch in the deep.
Scoreboard
Indians (1st innings): 266 for nine decl
Victoria (1st innings):
Jason Arneberger c Dravid b Nehra 8
Matthew Elliott c Chopra b Harbhajan 48
Brad Hodge c Dravid b Sehwag 264
Jonathan Moss run out 42
David Hussey c Dravid b Nehra 21
Andrew McDonald lbw Harbhajan 1
Ian Harvey lbw Balaji 71
Cameron White c Patel b White 39
Peter Roach not out 0
Brett Harrop not out 0
Extras: (b-1, lb-8, w-1, nb-14) 24
Total: (for 8 wkts decl in 134 overs) 518
Fall of wickets: 1-21, 2-85, 3-192, 4-231, 5-232, 6-383, 7-518, 8-518.
Bowling: Zaheer 24-5-75-1, Nehra 29-6-91-2, Balaji 29-4-122-1, Harbhajan Singh 37-5-159-2, Virender Sehwag 9-2-30-1, Sachin Tendulkar 2-0-10-0, Ganguly 4-0-22-0.
Indians (2nd innings):
A Chopra not out 55
V Sehwag lbw Harrop 20
S Ramesh c Joseland b McDonald 36
R Dravid not out 1
Extras: (b-1, lb-2, nb-1) 4
Total: (for 2 wkts, 42 overs) 116
Fall of wickets: 1-24, 2-114.
Bowling: Matthew Innes 10-3-27-0, Brett Harrop 12-3-34-1, Jonathan Moss 8-3-18-0, Andrew McDonald 6-2-15-1, Andrew Hussey 5-0-17-0, Peter Raoch 1-0-2-0.