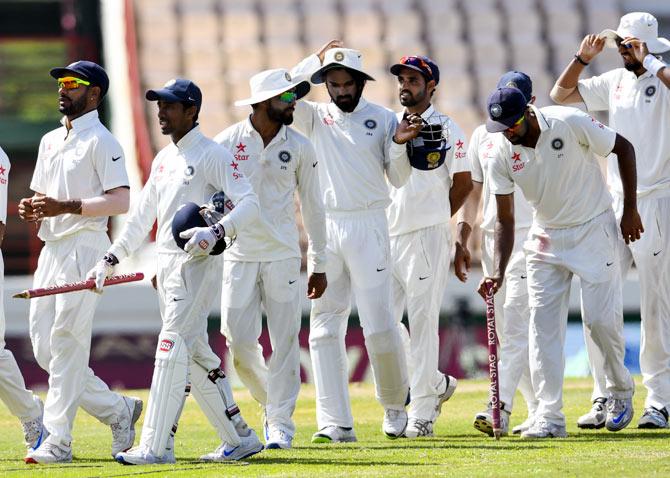 India recorded their biggest Test series win on Caribbean soil with a 2-0 victory over West Indies following a washout in the fourth and final Test match but ended up losing the number one spot in the ICC rankings, in Port of Spain, on Monday.
- Scorecard

Only 22 overs of play was possible in the match, on the opening day after which four successive days were lost to a wet outfield. It is the third shortest match ever in the history of Test cricket.

For the fourth day in a row, not a single ball could be bowled, forcing the umpires to call off the match.

India became the top-ranked Test nation last week after Sri Lanka thrashed Australia 3-0 at home while Pakistan after their creditable 2-2 draw were No 2 in the rankings.

India needed to win the series against the West Indies 3-0 to retain the number one spot but inclement weather along with deplorable drainage facility at the Queens Park Oval prevented play.

The draw benefitted Pakistan, who replaced India at the top of the ICC Test rankings, reaching the coveted position for the first time ever.

The West Indies Cricket Board and local authorities in Trinidad came in for some criticism after the ground could not be made ready for play due to absence of proper drainage and other facilities.

August is considered to be a rainy season in Trinidad and Tobago and there was heavy rainfall prior to the Test match.

The groundsmen also did not cover the entire field after a heavy downpour on Day 1 which led to the bowlers' run-up being very soggy and it could not be dried up in the remaining four days despite there being bright sunshine with a few spell of rain in between.

The other inexplicable factor was absence of a Super sopper, which is a mandatory feature in all top international cricket ground across the globe.

For India, Virat Kohli with 251 runs including a maiden double hundred was the top-scorer followed by Ajinkya Rahane and KL Rahul with 243 and 236 runs respectively with a century each.

The best all-round performer was Ravichandran Ashwin, who scored 235 runs with two centuries and claimed 17 wickets.

Pacaman Mohammed Shami also had a successful comeback post his knee surgery and 16 month hibernation getting 11 wickets in the process.

The two teams will next move to Florida in the United States to play two T20 Internationals on August 27 and 28.
Image: Team India during the third Test against West Indies in Gros Islet.
Photograph: WICB Media/Randy Brooks of Brooks Latouche Photography