Shane Watson will captain Australia in the fourth and final Test against India in Delhi on Friday after Michael Clarke was withdrawn from the match following a back injury.
Watson will become Australia's 44th Test captain.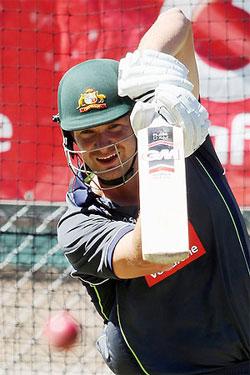 Australia's team physiotherapist Alex Kountouris said Clarke will retire to Sydney, where he will undergo a series of scans and further treatment.
"Michael injured his lower back during the third Test. Whilst there has been some slow improvement, he is still well short of full function so was unable to train and will not be available to play the fourth Test.
"The plan is for Michael to return to Sydney as soon as possible to have a series of scans and we will monitor his progress over the coming days before deciding on the best course of action.
"We will be taking the opportunity to investigate and manage his ongoing hamstring injury that has been intermittently troubling him since the Australian summer. A decision on his return to cricket will be made once we have evaluated the scans and considered the possible management options," Kountouris said.
Interestingly, Watson was dropped from the team for the third Test after breaching team discipline, after which he flew back to Australia for the birth of his first child.
The all-rounder said captaincy role, wicketkeeper Matthew Wade was named as his deputy. it is an honour to be appointed captain.
"It's really a dream come true to be asked to captain your country. I've captained some one-day internationals, but to be asked to captain a Test will be the ultimate honour.
"It's obviously very disappointing that Michael hasn't come up, his batting and leadership will certainly be sorely missed, but I'm looking forward to the challenge and responsibility over the next five days," he said.
While Watson takes over the
He also missed the last match because of injury.