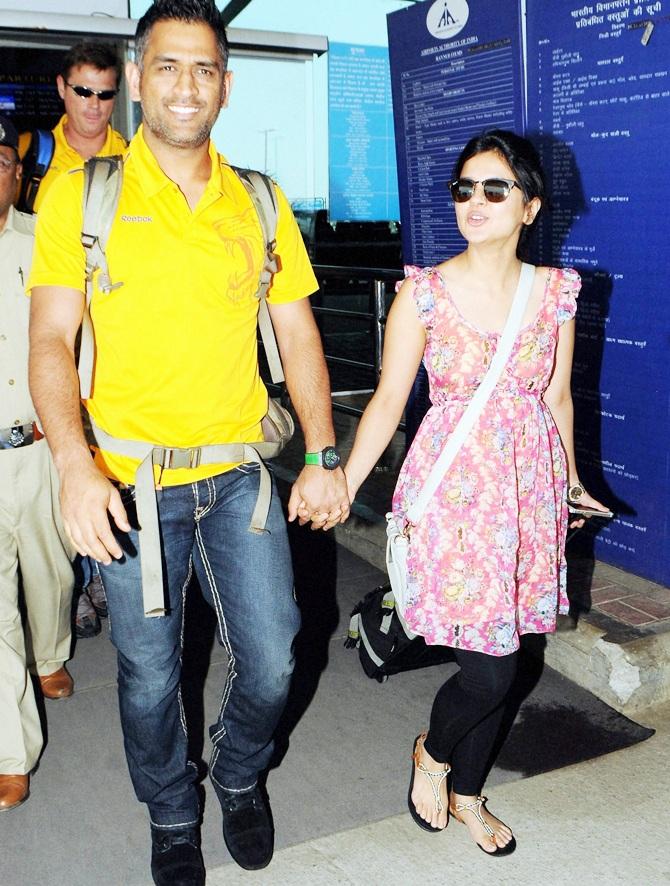 File photo of Mahendra Singh Dhoni and wife Sakshi. Photograph: PTI Photos
India captain Mahendra Singh Dhoni has retired from Test cricket with immediate effect after his side's draw with Australia at the Melbourne Cricket Ground, after a series loss Down Under with the tourists 2-0 down with one Test match remaining.
Dhoni is likely to abandon the rest of the Australian Test tour following his sudden retirement from Test career for reportedly taking a vacation in between before returning to Australia for the One-day tri-series in mid-January.
An Indian spokesman said that Dhoni, who still remains the country's 50-over captain, might return home to India before returning in time for the launch of their One-day campaign against Australia on January 18 in Melbourne, News.com.au reported.
Newly appointed Test skipper Virat Kohli will be leading India in the upcoming fourth and final Test against Australia at Sydney Cricket Ground after the hosts have taken an unassailable 2-0 lead.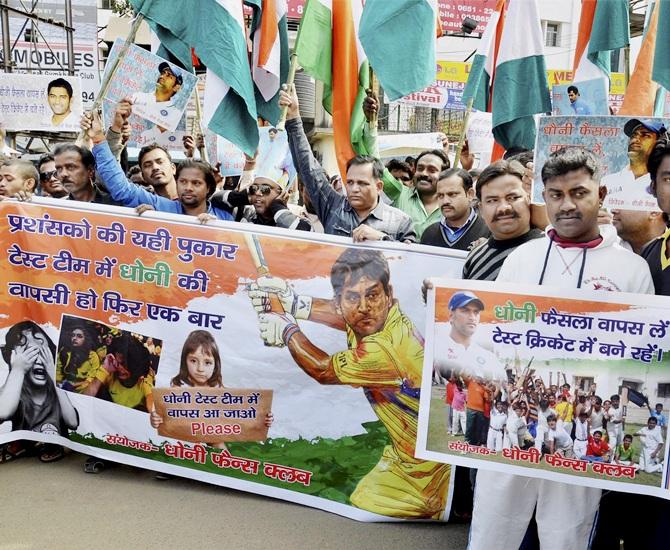 Fans of Mahendra Singh Dhoni. Photograph: PTI Photos
On the other hand, fans of Dhoni took to the streets in Ranchi and Vadodara on Thursday to urge him to reconsider his decision to retire from Test cricket.
"Mahendra Singh Dhoni is not only Jharkhand's, but also India's pride. The players of the Jharkhand State Disabled Cricket Association and other people here are demanding that he change his decision. It is difficult to even think of cricket without him," said Hiten Bharadwaj a fan of Dhoni's who is based in Ranchi.
"Only a lion-hearted man can take this decision. He is a great player and he has taken it with great pride. For me, it was emotional, but he was firm. When I asked him if there is any pressure on him or any compulsion, he denied that saying he wants to concentrate in a different format," said BCCI secretary Sanjay Patel inVadodara.
Meanwhile, former Indian cricketer Kirti Azad said he was disappointed with Dhoni's decision to retire, terming it unfair.
The BCCI, in a statement, thanked Dhoni for his enormous contribution to Test cricket and the laurels that he had brought for India.