India have the chance to go atop the ICC Twenty20 rankings if they blank England in the upcoming T20 internationals at home and a few other international results go their way.
-It's fair to play England on rank turners: Kohli
As many as seven T20 internationals, featuring most of the top-ranked sides, are confirmed to be played across the globe before the turn of the year, and, if Sri Lanka lose in Pallekele, then there can be a change at the top of the table on at least two occasions, the ICC said in a statement.
-Don't rely only on spin, Swann warns England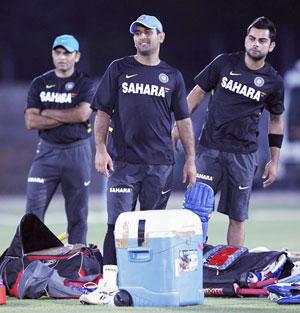 Sri Lanka, the ICC World Twenty20 finalist, will start as the No. 1 ranked side on the ICC T20I Championship table while New Zealand, which lost two ICC World Twenty20 Super Eight stage matches in Super Overs, will begin in eighth position.
While a win will ensure that Sri Lanka will end the year as the No. 1 ranked T20 international side, a defeat for Sri Lanka will give ICC World Twenty20 champion West Indies a sniff of the No. 1 position on the ICC Championship table for the first time since the launch of the current system in 2011.
In the scenario of Sri Lanka losing to New Zealand, Angelo Mathews' side will drop six ratings points and will join Darren Sammy's side on 121 ratings points, which means that if the West Indies beat Bangladesh on December 10 in Dhaka, then the men from the Caribbean will add the No. 1 ranking to their ICC World T20 title.
This may, however, turn out to be a brief stay on top of the ladder as India will leapfrog the West Indies if they defeat England in the T20Is in Pune and Mumbai on December 20 and 22.
If India beat England 2-0, then Mahendra Singh Dhoni's side will earn seven ratings points to move to 127 ratings points and will move five points clear of the West Indies.
A 1-1 result will mean both India and England will retain pre-series ratings points.
Photographs: Dinuka Liyanawatte/Reuters