Sri Lanka media manager Michael de Zoysa, captain Angelo Mathews (centre) and coach Marvan Atapattu address the media in Mumbai on Wednesday. Photograph: Harish Kotian
'We had been focusing a lot on our fitness over the last one-and-half months and suddenly this tour came up, so we had to take it. We will take this as an opportunity to get our combinations right for the World Cup.'
Sri Lanka captain Angelo Mathews addressed the media in Mumbai on Tuesday, ahead of his team's tour opener against India 'A' at the Brabourne stadium. Harish Kotian reports.
India may be weakened by the absence of captain Mahendra Singh Dhoni, but the World champions cannot be taken lightly, especially with a strong batting line-up at their disposal, says Sri Lanka skipper Angelo Mathews.
Dhoni was rested for the first three games of the five-match One-Day International series against the Lankans and Virat Kohli handed the reins of the side.
"Dhoni is a pillar of strength of the Indian team and we all know how dangerous a player he is. And if he is not there in the team then the opposition might think, 'hang on, we have a chance'.
"But you cannot be complacent against a team like India. They are a balanced team, they have good batters, good bowlers. Dhoni is a big factor in the India team," said Mathews, in Mumbai, on Wednesday, on the eve of the Lankans' tour opener against India 'A' at the Brabourne stadium.
"Our past experiences have not been so good in India. We will try and somehow get it right this time," he added.
Sri Lanka are keen to register their first ever bilateral ODI series victory in India. Their best effort so far is the 1-1 drawn series in 1997-98, when the second match in Indore was abandoned because of a dangerous pitch.
The Sri Lankan players were caught unawares after their board, Sri Lanka Cricket, hastily agreed to play the ODI series after the sudden withdrawal of the West Indies team in midst of their India tour following a pay dispute between the players and the board.
Mathews reasoned why his players were not completely in agreement with the sudden scheduling of the current series.
"Not that we were reluctant to play this series. It's not the ideal kind of preparation for a tour to India. India is a tough place to play cricket in and you need preparation to play India in India, especially.
"We had been focusing a lot on our fitness over the last one-and-half months and suddenly this tour came up, so we had to take it. We will take this as an opportunity to get our combinations right for the World Cup," he said.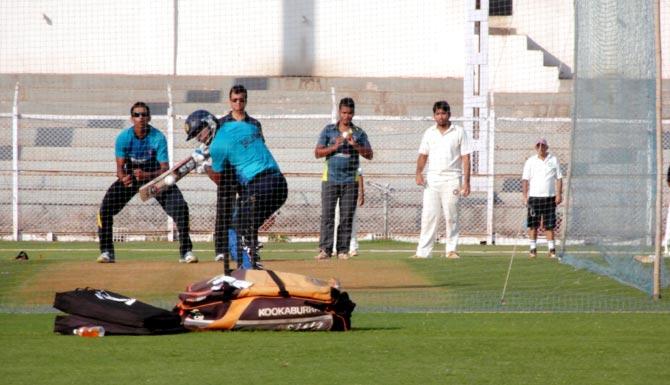 Sri Lanka's senior batsman Kumar Sangakkara bats in the nets at the Brabourne stadium in Mumbai on Wednesday.Photograph: Harish Kotian
After the Pakistan series, we had a good couple of months off. We had ten days' complete rest. We started our physical fitness work because we had played right through and we were wasted. We had started our fitness work. We had hit our peak level during the camp and then we have to make this sudden shift. As players, we need to take those in a positive way. These things happen and as players we need to adapt to the situation and get the maximum out of it," Mathews added.
Sri Lanka are without two of their key bowlers -- Lasith Malinga, who is struggling with his fitness, and veteran spinner Rangana Herath, who was rested keeping next year's World Cup, in February-March, in mind, but they are looking to rotate their players and give all in the squad a chance so that selectors have more options.
"We have to be cautious with our workload, especially all the guys who are important for the World Cup. We don't want any injuries during or before the World Cup. We will get the workloads right and, like I said, this a good opportunity to get combinations right.
"We have 19 games before the World Cup and we will have to give opportunity to some players to rest as well. But, at the same time, we will try to get the combinations right," he said.
Sri Lanka's coach, Marvan Atapattu, stressed that the team needs to improve on bowling and fielding in the ODI format. He also urged the younger batsmen in the team to take more responsibility and ease the pressure on the senior duo of Kumar Sangakkara and Mahela Jayawardene.
"It's easy for me to say all areas, but, specifically, if we can get up to better level in terms of fielding that will be good. Of course, bowling is another area which demands a lot of skill these days with all the restrictions. And if some of the other players in our batting line-up, except the two senior players and captain, can take up the burden, we will do better," he said.