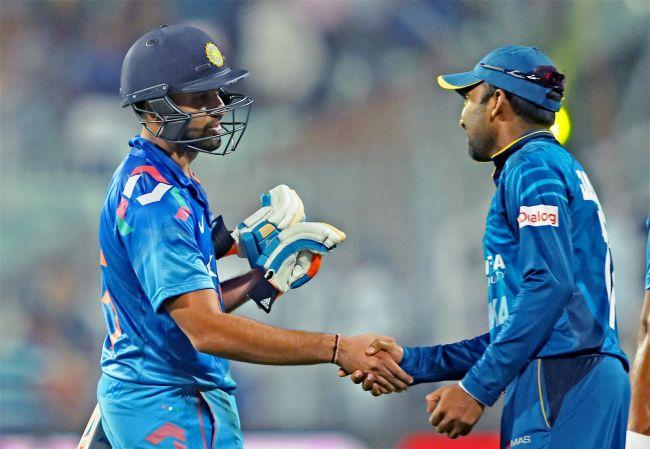 Rohit Sharma is congratulated by Sri Lanka's Mahela Jayawardene at the end of India's innings in the fourth ODI att he Eden Gardens in Kolkata. Photograph: PTI
Despite scoring a world record 264 in India's 153-run victory over Sri Lanka in the fourth One-Day International at the Eden Gardens on Thursday, Rohit Sharma feels he still has a lot more to achieve in the game. An odd failure, he insists, will not check his progress.
"Not relieved I would say. I still have a lot more to do. When I was young and wanted to play international cricket, I never thought this would happen," said Rohit, when asked about his breathtaking innings.
"All the records happen along the way. I probably need to work harder and from here on, as the expectation would be more. I feel I have a lot of responsibilities on my shoulders," added the Mumbai batsman, who also became the first to score two ODI double hundreds.
Rohit, who played his first international game on Thursday after an injury lay-off, had struggled against pace bowling in South Africa, but those failures, he said, will not stop his progress.
"You have to accept the failure and success and you keep moving on. That's what I've done.
"A couple of overseas failures will not stop my cricket. My cricket and my hard work will still remain on the track. I will keep working hard as ever."
'Initial 10-15 overs was not easy'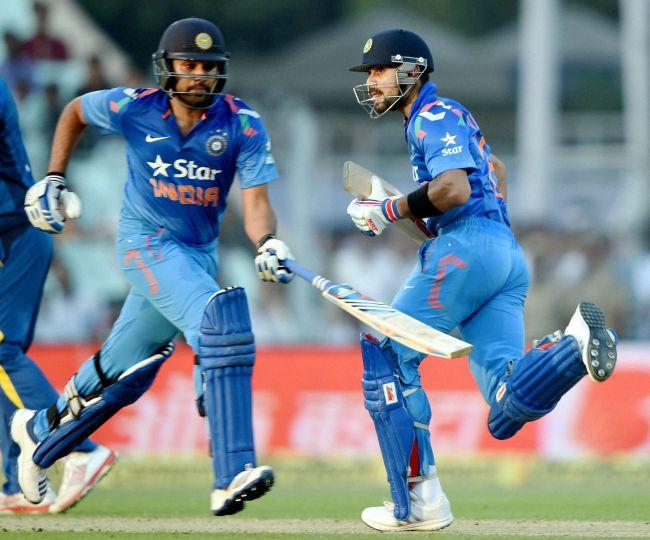 Rohit Sharma and Virat Kohli run between the wickets during the fourth ODI. Photograph: PTI
Rohit started his record-breaking innings slowly, conceding a maiden to Angelo Mathews, before stepping on the gas.
He gave credit to his opening partner, Ajinkya Rahane, for his quickfire 24-ball 28 that took the pressure off him.
Admitting that he was struggling in the beginning, Rohit said: "Playing after two months from an injury lay-off, I was feeling little out of place; I should accept that. The strike-breaking was not happening as naturally as it used to be. I wanted to get stuck in the middle and that required a lot of dedication and determination. I had to build the innings. Initial 10-15 overs was not easy.
"I kept telling myself, no matter what I need to stay there. Luckily, the quickfire innings by Rahane really helped me settle down.
"I needed to stay there because I knew I can make up any time. I just wanted to make it count. I wanted to make this game special one for me and the team. Getting two double hundreds was really special."
'I am happy to bat 50 overs'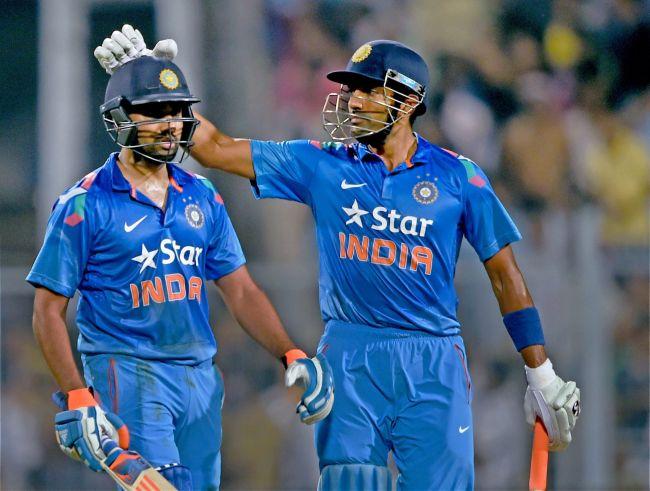 Rohit Sharma is congratulated by Robin Uthappa at the end of Indian innings. Photograph: PTI
He also gave credit to BCCI physio Vaibhav Daga for working overtime with him.
"I am sure he will be a really happy man today. It was A very difficult two months. I would like to thank the BCCI physio, Mr Vaibhav Daga. For both of us it was a big challenge; he really worked hard with me."
Asked whether he had Sehwag's record 219 in mind when he completed the double ton, Rohit replied: "The last time I scored 209 someone said you missed it by 10 runs. I was not looking at that while batting. I was little surprised and shocked seeing the teammates giving me the ovation; then I realised I must have surpassed it."
He said he was happy to bat till the last ball.
"Most importantly, I am happy to bat 50 overs. To bat till last over is really pleasing for me."
Australian challenge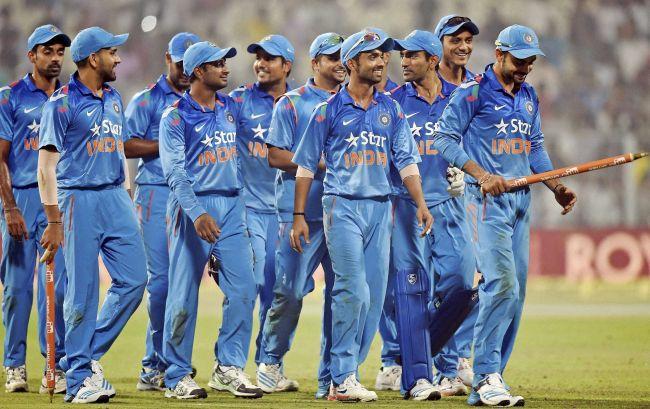 The Indian team leaves the field after beating Sri Lanka in the fourth ODI. Photograph: PTI
The reigning World champions will leave for Australia for a Test series in December, followed by a tri-series, also involving Australia and England, that will kick-start their World Cup campaign.
Rohit felt it would be a challenging series.
"It's too early to talk about it right now. Once we finish the series, we go back and see... Australians are playing some really good cricket. So we will be up for a big challenger in Australia. The guys are in good nick and performing really well. I hope it would be an interesting one.
"It will be a big advantage to get used to the conditions, the wickets. Playing a Test series, followed by a tri-series will really help us. We all are up for the challenge."
'This place is really special to me'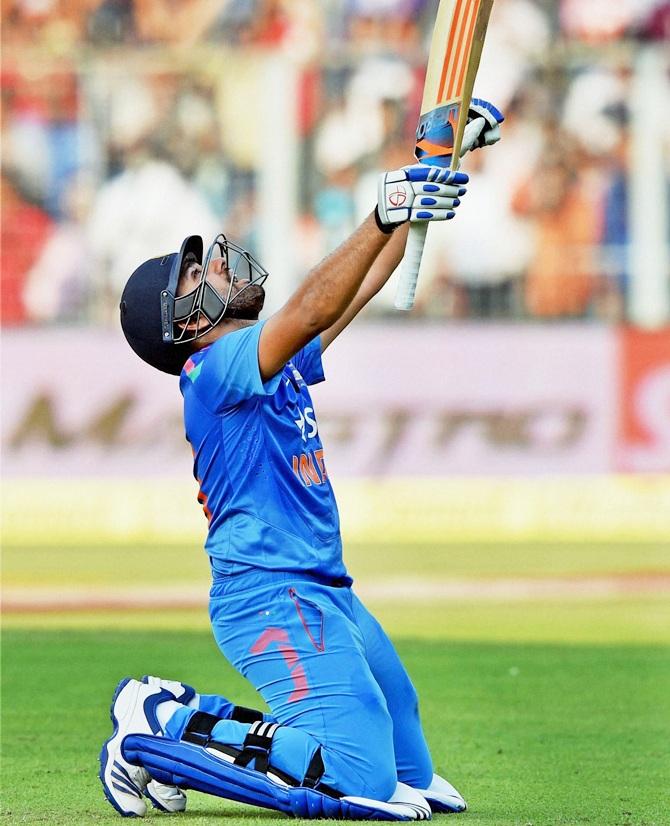 Rohit Sharma celebrates his hundred in front of the players' pavilion. Photograph: BCCI
Terming the Eden Gardens special, Rohit further joked that he would not mind buying a flat in Kolkata.
"If you will help me getting a flat I would definitely (buy one here)... People love their cricket here. This place is really special to me. I have really fond memories here. I love playing here," he said of the ground where he started his career by making his Ranji Trophy debut and went on to score a hundred in his maiden Test.
Rohit also has a Ranji double at the venue besides scoring a hundred in T20 for the Mumbai Indians.