'If you look at it from the cricketing perspective, it is always exciting to play against Pakistan'
Former India captain Rahul Dravid shares his thoughts on Pakistan hosting India in a series in the UAE in December. Harish Kotian reports.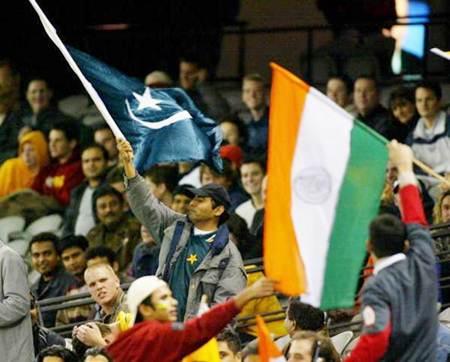 Former India captain Rahul Dravid says resumption of cricketing ties with Pakistan depends largely on political relations between the two countries.
"You have a lot of issues, including security, the political situation in the two countries, and it cannot, unfortunately, be ignored. So decisions like that, in my belief, are best left to the boards, to the concerned ministries," said Rajasthan Royals' mentor, in Mumbai on Thursday, on the sidelines of an event where the Indian Premier League franchise pledged two percent of its annual profits towards development and welfare of the girl child in India through tie-ups with two NGOs – Educate Girls and Aangan.
- Should India play cricket with Pakistan in the UAE?
Last week, Pakistan Cricket Board chief Shaharyar Khan had a series of meetings with Board of Control for Cricket in India president Jagmohan Dalmiya and secretary Anurag Thakur during which resumption of cricketing ties between the countries was discussed.
Khan said as part of a Memorandum of Understanding signed between the two Boards last year, Pakistan is ready to host India in a series, involving three Tests, five One-dayers and two Twenty20 internationals, in the UAE in December.
Dravid, who was part of India's team that last toured Pakistan in 2004, says a lot of off-field things need to be considered before cricket is given the go-ahead.
"If you look at it from the cricketing perspective it is always exciting to play against Pakistan. It is terrific to play against the Pakistan team and the Pakistan cricketers. But, obviously, a series between India and Pakistan is more than cricket. You have to be realistic about it.
"In an ideal Utopian world, yes, we would like to see cricket and never like to see cricket affected by anything, but we don't live in an Utopian world," said Dravid.
Since 2007, India hasn't played a proper bilateral Test series with Pakistan mainly due to political reasons, particularly the 2008 Mumbai terror attacks which led to suspension of cricketing ties.
The two countries played a short series of three ODIs and two T20s in India in December 2012, otherwise they have faced each other only in ICC-organised events or the Asia Cup.
Image: India and Pakistan fans at a cricket match between the two countries.
Photograph: Scott Barbour/Getty Images