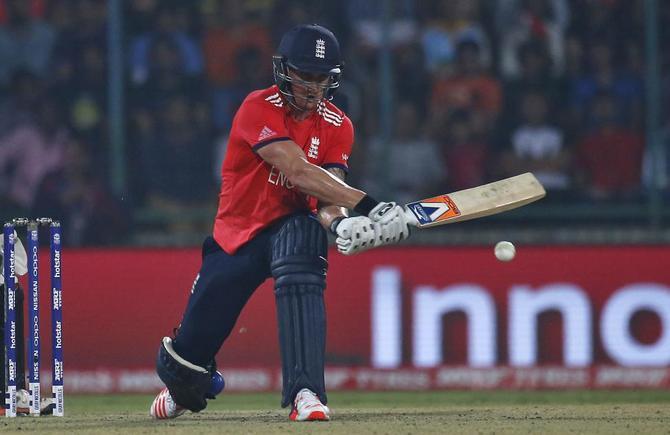 IMAGE: England opener Jason Roy plays a shot during the ICC World Twenty20 semi-final against New Zealand at Feroz Shah Kotla. Photograph: Gareth Copley/Getty Images.
Opener Jason Roy, the hero of England's semifinal win has issued a warning to semi-finalists India and West Indies ahead of the all-important final at the Eden Gardens in Kolkata.
When asked which team would he like to face in the final? India or the West Indies?
"We prefer any side to be honest. Whoever it is, we will come out all guns blazing," warned Roy.
The opener who smashed 44-ball 78 in the semi-final against Kiwis says the team is improving with every game and they are excited to play the ICC World T20 final at the iconic Eden Gardens on Sunday.
He said it is great to be in the final, especially after the loss to the West Indies in the first game.
"It sounds pretty cool (being finalists). After the first game it seemed pretty far away. After that, the amount of effort we put in has paid off," said Roy.
Asked to rate his match-winning effort, Roy said: "Yeah, that's right up there. It is pretty special for me. To get this group to the final, obviously the bowlers played their part as well. Their skill set was amazing in the death overs.
"It was good as it gets in a T20 game. There are obviously few things we need to work on but credit to the boys for dragging it back. The momentum we carried from the end of their innings to our innings was outstanding," said the attacking batsman.
The 25-year-old hopes the team gains more supporters post the effort last night as not many gave them a chance of doing well in the biennial event.
"With that sort of side, we had lot of negative feedback from a few people. To be in a World Cup final now, hopefully we will get few more people on our side."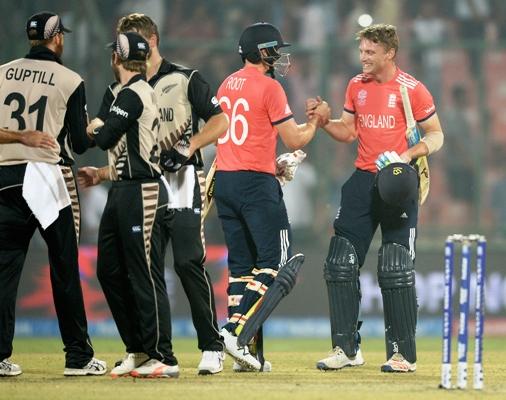 IMAGE: Jos Buttler and Joe Root of England celebrate winning the ICC World Twenty20 semi-final against New Zealand at Feroz Shah Kotla. Photograph: Gareth Copley/Getty Images.
He can't wait to turn up at the Eden Gardens and play in front of a huge crowd, not 100 thousand anymore now but it can still be overwhelming with the screams of around 67,000 people.
"We are getting better with every game but we take the final as just another game of cricket. It just happens to at the Eden Gardens in front of hundred thousand people. It is going to be an incredible experience but we go out and play our natural game.
"All the boys were extremely chilled out before the semifinal. We know we will have bad days and good days. It has gone our way in the last few games and we are hugely excited. It is mind blowing," reckoned Roy.
Talking about the mindset of the team, Roy said the boys like to keep it simple.
"We are not a big talking side. Like we are going do this, we are going to do that. We just rely on all players to do the right thing. If you get wickets on full tosses, you get wickets of full tosses (like it happened against Kiwis). It is not something you practice in the nets. I would say we don't over talk things. We are just very simple."
Roy attacked the bowlers from the first ball in the semifinal and said he too likes to keep it simple when it comes his batting approach.
"My batting philosophy is very simple. Watch the ball and hit the ball if it is in my area. Very simple philosophy, especially in T20s. I have not got a huge amount of role models. I don't model myself on anyone.
"I just try and be the best player I can be, work on stuff that works for me. There is obviously a huge amount of talent around the world but I do what I need to do. My strengths are different from others," he explained.