Arvind Pujara, who usually does not go to watch any Test in which his son Cheteshwar plays, says he is "very keen" to be at the SCA Stadium from Day One.
Haresh Pandya reports from Rajkot.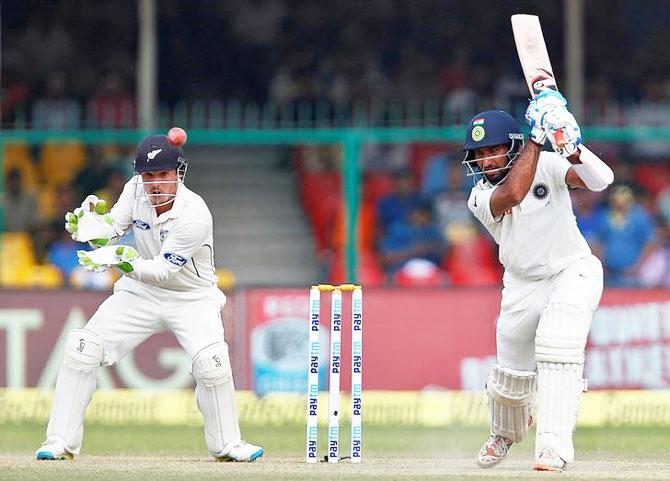 IMAGE: Cheteshwar Pujara bats during the first Test against New Zealand in Kanpur. Photograph: Danish Siddiqui/Reuters
A visibly delighted Arvind Pujara "can't wait" for the first-ever Test match in the history of Saurashtra to begin in Rajkot from November 9 and see "some exciting fare" from both the Indian and England teams.
The former Saurashtra player, who is both father and coach of India's leading middle order batsman Cheteshwar Pujara, told Rediff.com that he "never expected," during his playing days, that Rajkot would ever become a Test centre.
"Those days, in the 1970s, the facilities and resources were limited to say the least. Let alone a Test match, we never thought that even a One Day International would be played in Rajkot," Pujara Senior said.
"But things have changed for the better over the years. Today, Rajkot can boast of having one of the finest cricket stadiums in the world. And it would have been surprising if this cricket crazy city had not got a Test match," he added.
Arvind, who usually does not go to watch any Test in which Cheteshwar plays, said he is "very keen" to be at the SCA Stadium in Rajkot from Day One.
"No, not just because my son will be in action, but because it is a great moment in the history of Saurashtra cricket. As a former Ranji Trophy cricketer, I would love to be a witness to the historical event," he emphasised.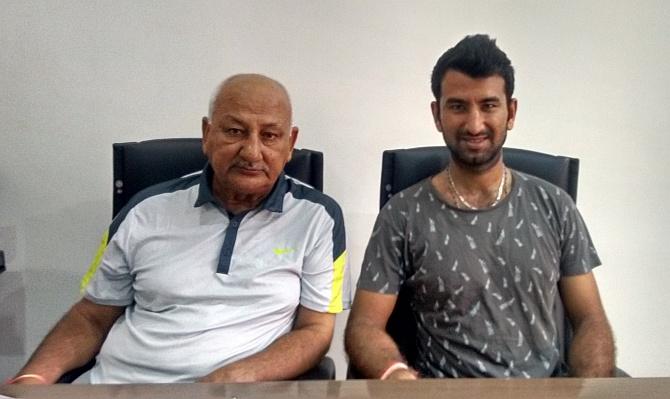 IMAGE: Arvind and Cheteshwar Pujara. Photograph: Haresh Pandya
What does he expect from his illustrious son as Cheteshwar will play in front of spectators who have seen him grow and rise to the stature he enjoys today?
"Like everyone else, except the English team, I want Chintu (his son's nickname) to plunder runs here," he said.
"I would be happier if India takes a 1-0 lead in the series from the Rajkot match itself. And I do not think it will be a difficult task for Team India."
Asked how he, as a former first-class cricketer and coach, objectively assesses the progress Cheteshwar has made so far in his Test career, Arvind said: "He is in good form of late. He performed satisfactorily against New Zealand and scored runs at a brisk pace. He has had some dry spells by his own high standard of run-making. But then it happens with the best of players."
"What is important and satisfying is that he has never allowed the failure to get the better of him and has bounced back strongly," Pujara Senior added.
"There is nothing wrong with Chintu's technique or approach to batting. There never was. It was just one of those things. His confidence level is too high and he is very strong mentally to be able to withstand any challenge and pressure."