The Pakistan Cricket Board (PCB) is reportedly hoping to convince their Indian counterparts, the Board of Control for Cricket in India (BCCI), to host a tri-series later this year during an Asian Cricket Council meeting in Chennai.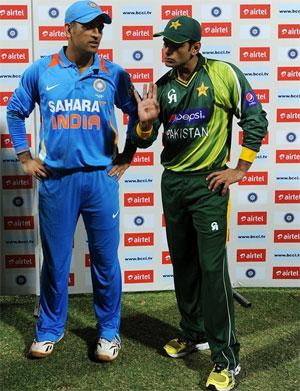 The BCCI is presently having a dispute with Cricket South Africa (CSA) over the number of matches to be played in the series, although the ICC has come out in the favour of the South African board.
According to the Daily Times, a source has said that there is a strong chance that the BCCI might propose to have a tri-series sometime in December in India with Pakistan and Sri Lanka after having decided to curtail its tour to South Africa late in the year, adding that the PCB is ready to accept the invitation.
The source also said that the PCB and the Sri Lankan Cricket (SLC) would work out a joint solution if the tri-series led to some rescheduling of Pakistan's home series against Sri Lanka in the UAE in December-January, adding that the tri-series will guarantee good money for both Pakistan and Sri Lanka.
The source further said that the PCB hopes that their chief operating officer Subhan Ahmad can convince the Indian board to also talk in terms of a bilateral cricket series soon.
Pakistan had last toured India in December 2012 to play a short One-day series that marked the revival of bilateral series between the two nations after 2007.
Photograph: BCCI