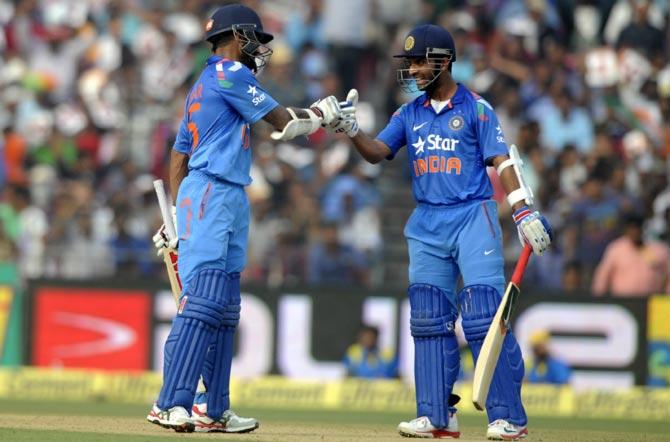 India's openers Shikhar Dhawan (left) and Ajinkya Rahane during the first ODI against Sri Lanka in Cuttack. Photograph: BCCI
Shikhar Dhawan feels India is "fortunate" that they have three options for the opening slot in him, Ajinkya Rahane and Rohit Sharma, which will help in gaining the much-needed consistency required at the top of the order, with the 50-overs World Cup just a few months away.

"We are very fortunate that we three are there with the Indian team, who can give the consistency. It's a very good sign for the team that our openers are scoring runs consistently. It's very important to have a strong base whenever batting first or chasing," Dhawan said in Cuttack after the first ODI against Sri Lanka, which India won by 169 runs.

However, the Delhi left-hander refused to be drawn into comparison between who is a better opening partner among Rohit and Rahane.

"I really enjoyed batting with both of them (Rahane and Rohit). Hopefully, they too enjoy batting with me. Both have their own styles. As far as my opening partner is concerned, it's team's call and I can't answer that. I love batting with both of them. When myself and Rohit used to open, we used to do the same thing," said Dhawan.

Dhawan found his touch during the final leg of the ODI series in England and then got a half century against West Indies in the truncated home series followed by the three-figure mark against Sri Lanka in the first ODI in Cuttack, on Sunday.

"When you play such a knock, the self confidence gets a big boost and involve yourself in such a big partnership, it's a happy feeling," Dhawan added.

Even as the Indian bowlers had the luxury of defending a huge total of 363 for five, Dhawan was effusive in his praise for the manner in which pacers intimidated the opposition.

"They bowled with lot of discipline and good to see Ishant (Sharma) taking four wickets in his comeback match. They bowled really good line and length with great pace. I really appreciate the way they generated pace."

Dhawan said that it was not easy for the Sri Lankan batsmen as the Indian pace trio of Umesh Yadav, Varun Aaron and Ishant Sharma worked up good speed.

"It was not easy for the batsmen. It's a very good sign that India is producing good fast bowlers, we are fortunate to have bowlers clocking 145kph. It brings fear on the opposition batsmen."

On his century that came almost after a year, he said: "I wanted to get set and play the bowlers on merit. It's a very good feeling. First match and we won by a big margin. It gives a lot of confidence to the team. It's good to see openers scoring got a two hundred partnership."

India had a watchful start with 43 from the first 10 overs of Powerplay which Dhawan pointed out was because of the pitch which offered a bit of assistance to the fast bowlers early on.

"At the start it was seaming and swinging a bit. It wasn't easy like the usual Indian wicket, that's why we gave a bit of time and waited for the ball to get old before taking it forward."