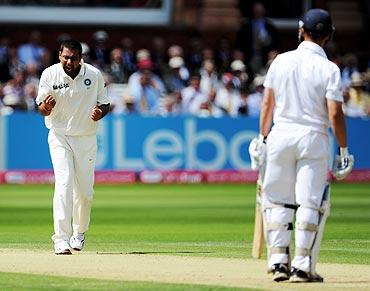 Bikash Mohapatra reports on an unusual friendship -- between the English star and the Indian newcomer.
 
As Kevin Pietersen walked off the ground after hitting a scintillating, unbeaten, double hundred that would eventually put the Lord's Test out of reach of the touring side, one of the Indians ran up to KP and hugged him.
 
It was Praveen Kumar, who had taken a rare five wicket haul at Lord's.
 
The body language between the tall Englishman and the Indian medium-pacer with an endearing grin radiated friendship, unusual for two teams contesting the Test championship of the world. 
 
"I congratulated him because a 200 is a 200," Kumar, left, said later. "We have played together for the Royal Challengers Bangalore (in the Indian Premiership League) and were having a bit of fun."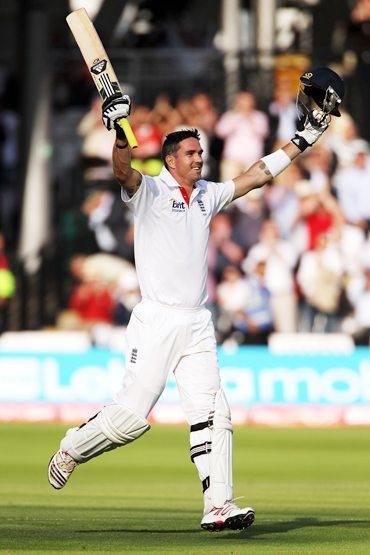 Asked about the language barrier -- PK doesn't speak English and KP doesn't understand Hindi -- the Uttar Pradesh-born native grinned again, saying, "He (Pietersen) understands what I am trying to convey."
 
"PK is a very good friend of mine," KP, who was born in South Africa, said. "I captained him for a year at RCB."
 
"He never listened to me," KP added, with a smile. 
 
"He is a skilled bowler," Pietersen, left, said, adding, "If there's one bowler in the Indian team who I would like to see take a five-wicket haul, it's PK."
 
"He is a fantastic guy. I really like him."
 
The feats of both men -- KP's double hundred and PK's fiver -- will forever be commemorated at Lord's, where, incidentally, even the names of Sachin Tendulkar, Shane Warne and Muttaiah Muaralitharan are missing. You need to score a Test hundred or take five Test wickets to feature on the hallowed honours board at the home of cricket.