Bikash Mohapatra reports on the fourth day's play in the second Test from Trent Bridge.
When the going gets tough, the tough get going, they say.
The going couldn't have been any tougher for India than chasing 478 to win in the fourth innings of the second Test at Trent Bridge, with more than five sessions to play for.
And their batsmen got going. Well, literally!
The Indian frontline made their way back to the pavilion in quick succession, being reduced to 55 for six at one stage.
Thereafter, it was just about finding an answer to the question: How long could Sachin Tendulkar wage a lone battle?
To his credit, the Master Blaster, in the august company of bowler-turned-batsman-turned-all-rounder Harbhajan Singh, put on 52 runs (off just 63 balls) for the seventh wicket. In the process, the 38-year-old registered his 60th Test half century, his 11th against England.
More importantly, it was his first significant score in the series. However, the return of James Anderson -- a bowler who got his wicket on six occasions hitherto -- from the Pavilion End ensured the demise of Tendulkar.
On this occasion, the batsman was guilty of not offering a shot to a delivery that kept straight and umpire Marais Erasmus had no hesitation in raising his finger up.
Tendulkar's 86-ball 56 was inclusive of eight boundaries.
On this occasion, though, his dismissal wasn't a massive blow for India; that had already been dealt by the English batting in their second innings. Nonetheless, it was the final nail in India's coffin.
Harbhajan (46) did what he usually does when there is no pressure, swing his bat around. He helped himself to three boundaries in a Bresnan over. The bowler had the last laugh, though, having him caught by substitute (Elstone) at fine-leg.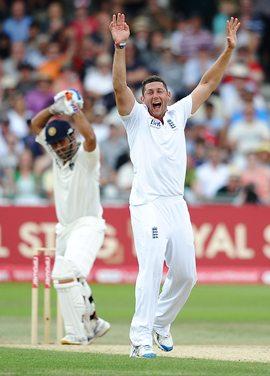 The wicket helped Bresnan complete a well-deserved five-wicket haul, his first in Test cricket. He finished with 5 for 48 off 12 overs
Having contributed 90 with the bat in England's second innings, the 26-year-old proved he was an apt replacement for the injured Chris Tremlett.
The Indian batting eventually folded up for 158, England winning the Nottingham Test by a whopping 319 runs to take an unbeatable 2-0 lead in the four-match series.
The defeat is India's biggest against England by runs.
In the final analysis, the home team lost the toss and handed an early advantage to the visitors. However, they scored when it mattered the most, and won the Test.
Morning session:
England (103 runs, 19.2 overs, four wickets):
The question was when.
An early declaration was what the Indian team was hoping for, having embraced themselves for a tough battle ahead. It never came.
England was sitting pretty with a lead of 374 going into the fourth day, having scored a whopping 417 runs on Day Three.
The home team's incentives on the fourth morning was probably two-fold: to ensure Matt Prior (64 not out overnight) got a hundred, and along the way have Tim Bresnan (unbeaten on 47 overnight) reach his half century.
The latter was achieved off the third ball of the day's first over (bowled by Sreesanth), as Bresnan's shot flew over gully to the third man for a boundary.
It was the 26-year-old's second Test fifty -- he scored 91 against Bangladesh at Mirpur last year.
Bresnan and Prior made English intentions clear off the first few balls, scoring as many as four boundaries.
However, Praveen Kumar struck with the fourth ball of his second over, having Prior caught behind for 73. The English stumper's contribution came off just 60 balls and comprised 10 hits to the fence and one over it.
It was the third significant contribution (in four innings) from Prior in the series. His wicket ended a 119-run partnership for the seventh wicket, that came off just 120 balls.
In came Stuart Broad and combined well with Bresnan to increase India's cup of woes.
The duo added a further 82 runs for the eighth wicket (off just 78 balls) to further consolidate their team's advantage.
Kumar came back in the 116th over and India made successive breakthroughs in the over. Broad, having made a quickfire 32-ball 44, was brilliantly run out by substitute Wridhimann Saha. Off the next ball, Kumar had Bresnan caught by Dravid at gully.
Bresnan's 118-ball knock was inclusive of a whopping 17 boundaries. He was unlucky to miss out on a hundred.
Ishant had Graeme Swann (3) caught by Saha soon after to end the England second innings at 544.
India 2nd innings (8 runs, five overs, one wicket):
Chasing an improbable target (478), Abhinav Mukund, on a golden pair, was fortunate first ball, when Bresnan dropped him at second slip off Anderson.
Broad provided the home team a vital breakthrough in the penultimate over before lunch, having Rahul Dravid (6) caught behind.
India had scored eight for one (after five overs) going into the break. 
Post-lunch session (60 runs, 25 overs, five wickets)
Having lost Dravid before lunch, it was imperative for the visitors that VVS Laxman took over the sheet anchor's role.
A snorter from Anderson though, in the second over after resumption, sent Laxman's stumps cart wheeling. He was dismissed for just four.
Tim Bresnan came in to replace Broad (6-3-10-1) in the attack in the 14th over and got into the act immediately.
His fifth ball, a bouncer, had Mukund (3) edging to Strauss at first slip.
In his second over, the 26-year-old had Suresh Raina (1) caught by substitute SL Elstone at fine leg.
Tendulkar and Yuvraj Singh (8) added 18 runs for the fifth wicket, surviving 10 overs in the process.
However, Bresnan made a double breakthrough in his seventh over. A short-piched bouncer first up witnessed a clueless Yuvraj fending it to Cook's hands.
And with MS Dhoni not even offering to play a shot next ball, the umpire had no hesitation in raising his finger.
India's captain had made a golden duck -- a valuable contribution coming at a time when his team so desperately needed him to perform.
India were reduced to 55 for six. And the writing was on the wall.
Having scored a valuable 90 with the bat, Bresnan also delivered with the ball, his opening spell figures in the second innings making for an impressive read: 8-2-17-4.
If the opening session was bad for India, the second was worse -- with five of their batsmen flattering to deceive.
Photograph: Getty Images