Bikash Mohapatra reports from The Oval, on the third day's play in the fourth Test.
Impossible is something!
We aren't trying to tweak the catchphrase of a sportswear manufacturer, but describing the mental state that the Indian team finds itself in at the moment, where rising to the occasion seems a clichéd phrase and succumbing to pressure is the prevailing norm.  
There isin't anything more forgettable in Indian cricket's recent history as the ongoing tour of England.
Suffice to say, it's been a period where in the inadequacies of the team have been laid threadbare, their weakness exposed. The body language was suggestive, the attitude, rather the lack of it, apparent and the resignation blatant.
Not once in the four Tests has India seemed capable of making a match out of it, let alone win. There have been only brief periods of respite, and hope.
However, what followed those phases were long stretches of disappointment, emerging from a severe lack of confidence. The advantage was surrendered in this phase; thereafter, it's been the same old struggle.
The third day of the fourth and final Test at The Oval on Saturday was no different.
The visitors made early inroads, akin to what they had done a day earlier, only for the home team to hit back and reassert its dominance.
At stumps, India had scored 103 for five, 488 runs adrift of England's total. Rahul Dravid, fighting a valiant battle yet again, was unbeaten on 57.
Even though they got a helping hand from the weather gods -- two of the three days being hugely affected by rain -- the Indians haven't done themselves any favour by capitulating without a semblance of resistance.
Morning session (134 runs, 30 overs, three wickets):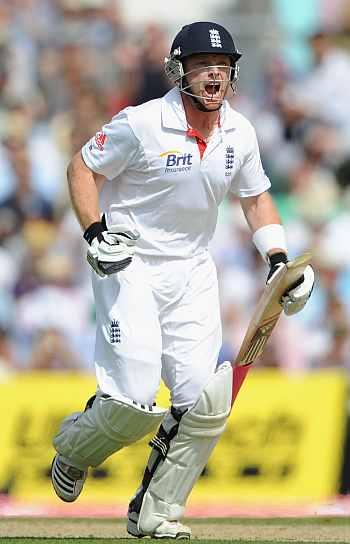 It was deja vu, so to speak.
India began the morning in a manner they had 24 hours earlier, picking two early wickets.
S Sreesanth was responsible for the dual breakthrough, first having James Anderson (13) caught by VVS Laxman at second slip, and then getting Eoin Morgan (1) caught behind.
It wasn't entirely Indian dominance.
Ian Bell duly completed his maiden Test double hundred, with a flick off Sreesanth that went to the fine leg fence -- his 20th boundary of the innings.
The knock marked a personal gratification for the batsman, whose previous Test best was 199, against South Africa at Lord's in 2008.
Besides, for the first time since 1938, it saw three England batsmen record double centuries in the same series -- Kevin Pietersen (202 not out at Lord's) and Alastair Cook (294 at Edgbaston) being the other members in the list.
Bell celebrated the same with another boundary, in front of square, two balls later. This scoring shot helped him reach another landmark -- 5, 000 Test runs. The 29-year-old is the 21st England batsman and the 79th overall to achieve the feat.
With Bopara finding his range as well, the duo put on 61 runs for the sixth wicket (off just 78 balls). When they were batting in tandem, the field placements by Dhoni made it seem like a one-day game, with no slip, five men guarding the fence et al.
The third breakthrough eventually came, courtesy Suresh Raina. The part-timer had Bell out leg before for 235.
Forced to over bowl, Raina responded by claiming England's two highest scorers – he accounted for Kevin Pietersen (175) a day earlier. Bell's 364-ball knock was inclusive of 23 hits to the fence and two over it.
Bopara (44 not out) and Matt Prior (18 not out) ensured England retained their advantage at lunch, the home team going into the break at 591 for six.
India did well to get the breakthroughs in the morning session. They, however, had failed to stop English consolidation.
Afternoon session (103 runs, 33 overs, five wickets):
A light drizzle during lunch that subsequently transformed into a heavy downpour ensured no play was possible in the second session.
A total of 170 minutes were lost owing to the inclement weather, and when play did resume, at 1650 (BST), 33 overs were supposed to be bowled in the remaining period.
England wasted no time in declaring their innings.
Even as India came out to bat there was some bad news -- Gautam Gambhir had a mild concussion, owing to the fall he had while attempting to catch Pietersen, and did not come out to open. Dravid filled in yet again.
Virender Sehwag achieved what he couldn't at Edgbaston.
First, he survived Anderson's first ball, and, then, conveniently dispatched the third and the fourth to the fence, both past point. That was just about it, though.
The opener couldn't survive the first over, Anderson's final ball of the over caught him on the wrong foot and umpire Simon Taufel had no hesitation is raising his finger.
India suffered a second blow three overs later when Laxman (2) couldn't keep his bat away from a swinging delivery from Broad, and Prior made no mistake with the catch.
Early on in his innings, Tendulkar was struck on the helmet by a Broad bouncer. The Master Blaster responded by playing a wonderful on-drive, the resultant boundary ensuring him his first runs, off the 11th ball he faced.
Dravid also got into stride with a slew of boundaries and the veteran duo, slowly but surely, steadied the Indian innings -- putting on 55 runs for the third wicket.
However, just when things were beginning to look hunky dory for the visitors, Swann handed them a telling blow. Tendulkar's mistimed sweep was comfortably taken by Anderson, running backwards from the slip cordon.
Swann helped himself to a second wicket when he had Raina stumped by smart piece of work from Prior. Raina hung around for 29 balls but didn't trouble the scorers.
Ishant Sharma (1) was sent in as a night-watchman. However, the ploy boomeranged, as Swann had him caught by Cook at short leg.
Dravid lived to fight another day. He will expect support from his captain (MS Dhoni, unbeaten on five) when India comes out to bat on the fourth day.