Virat Kohli and Rohit Sharma cracked half-centuries as India recorded their maiden win of the England tour with a six-wicket thumping of Sussex in a rain-affected practice game at Hove on Thursday.
The duo put on 104 runs for the third wicket in impressive style as Indians chased down the 235-run target with 4.1 overs to spare after the game was reduced to 45-over-a side affair due to two rain interruptions.
Put into bat, Sussex were 236 all out with seamer RP Singh snaring four wickets but the Indians needed 235 to win due to the revised target under Duckworth-Lewis system.
The Indians looked in control even though Sachin Tendulkar (21) did not last long as the other opener Parthiv Patel (55), Kohli (71) and Sharma (61 not out) played around with an average home attack.
Kohli's knock came from 83 balls and included six fours and a six. Sharma's unbeaten 61 came from 65 balls and studded with eight fours and a six.
Tendullkar played some gorgeous strokes before he spooned up a catch at mid-off against left-arm paceman Chris Liddle.
As many as four fours were hit by Tendulkar in his brief 17-ball knock.
Patel was similarly aggressive, relying a great deal on chipped shots behind square before he played back to off-spinner Chris Nash and missed the line completely. He made his 55 runs from 65 balls and slammed nine fours.
But Kohli and Sharma then took over and literally toyed with the home side attack, running their singles crisply and hitting big shots at will.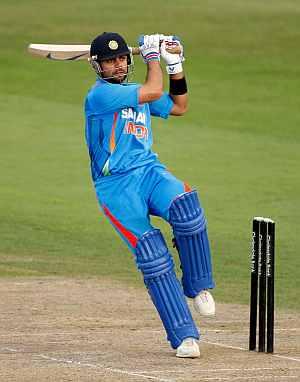 Sharma was effortless in his drives through the off-side and a driven six over mid-off was as exciting as it come. He hit the winning runs off Luke Wells.
Much welcomed as the Indians' win was, it still would bother the tourists that the bowling attack was not looking up to a scratch and that Suresh Raina failed once again.
Left-hander Raina, a miserable presence at the crease during the Tests, came into bat with only token runs required by the visitors for a win. He survived a near-catch at the square leg ropes and was bowled off the next ball for a personal score of 12.
Earlier, RP Singh took four for 44 but two of his wickets came in the final over when batsmen were attempting to slog and the first two when the conditions were overtly favourable to swing bowling under overcast conditions.
Munaf Patel was disappointing and conceded 52 runs from his seven overs for a wicket and generally was slogged around the park.
Praveen Kumar was a heartening return to bowling crease after his ankle injury which made him miss out the final Test at the Oval last week. He bowled his eight overs for 28 runs and picked up a wicket.
The two spinners, leg-spinner Amit Mishra and off-spinner Ravichandra Ashwin bowled economically without appearing threatening at any stage.
Scoreboard:
Sussex:
Luke Wells c Dhoni b Kumar 2
Chris Nash c Kohli b RP Singh  24
Lou Vincent c Dhoni b RP Singh 14
Joe Gatting b Ashwin 46
Matt Machan c and b Raina 56
Ben Brown c Raina b Patel 48
Kirk Wernars c Ashwin b Mishra 21
Will Beer c Dhoni b RP Singh 2
Amjad Khan run out 6
Naved Arif not out 5
Chris Laddle c Sharma b RP Singh 3
Extras: (lb-3, w-5, nb-1) 9
Total: (All out in 45 overs) 236
Fall of wickets: 1-6, 2-27, 3-58, 4-105, 5-170, 6-218, 7-221, 8-228, 9-232
Bowling: Praveen Kumar 8-0-28-1, RP Singh 9-0-45-4, Munaf Patel 7-0-52-1, Amit Mishra 9-1-45-1, R Ashwin 7-0-37-1, Rohit Sharma 2-0-17-0, Suresh Raina 3-0-9-1.
India:
Parthiv Patel b Nash 55
Sachin Tendulkar c Naved Arif b Liddle 21
Virat Kohli c Machan b Naved Arif 71
Rohit Sharma not out 61
Suresh Raina b Khan 12
MS Dhoni not out 1
Extras: (b-4, w-10, nb-3) 17
Total: (for 4 wkts in 40.5 overs) 238
Fall of wickets: 1-41, 2-104, 3-208, 4-231
Bowling: Amjad Khan 9-1-33-1, Naved Arif 8-0-55-1, Chris Liddle 5-0-36-1, Kirk Wernars 2-0-18-0, Will Beer 9-0-55-0, Chris Nash 5-0-18-1, Luke Wells 2.5-0-19-0.