'I thought if he was around may be we could have ended up snapping one or two wickets.'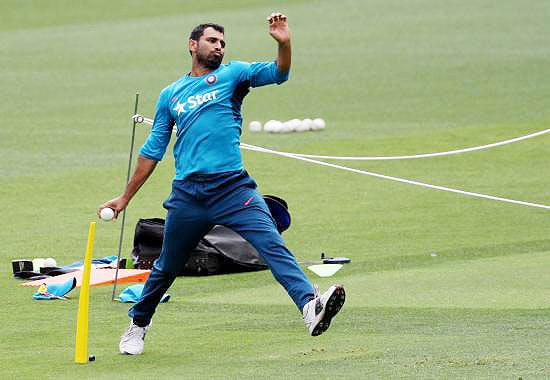 IMAGE: Mohammed Shami misses the fourth Test in Mumbai due to an injury. Photograph: Vipin Pawar/Solaris Images.
India off-spinner Ravichandran Ashwin was instrumental in keeping England under check after Keaton Jennings hit a century on debut for the visitors on Day 1, on the fourth Test match, at the Wankhede stadium in Mumbai on Thursday.
Ashwin claimed the wicket of Jennings (112) and Moeen Ali (50) in a single after the duo had put on 94 runs for the third wicket as England threatened to build towards a big first innings score.
The off-spinner also got the wicket of England's batting mainstay Joe Root, caught at slip for 21, before he dismissed Jonny Bairstow late in the day.
England ended the first day's play on 288 for five in 94 overs, and Ashwin believes if they can keep the visitors under 400 on Day 2, they could take the upperhand in the contest.
"When we played England last here (in 2012), the morning (session on the) first day was a bit damp, it spun a little and it was absolutely flat on Day 2 and 3, and I see very similar traits here. We got out of jail and got to 330-340 the last time we played them in Mumbai.
"If we can hold them, if we could have got one more wicket, we might were on the course to do that but probably come out tomorrow morning and try and snap couple of wickets and see how quickly we can stall their innings," Ashwin said at the end of play on Day 1.
Ashwin missed the services of fast bowler Mohammed Shami, who was ruled out of the match with a sore knee and was replaced by Bhuvneshwar Kumar, who went wicketless in 11 overs.
"Shami has been one of those go to bowlers for us to try and break partnerships and also close out the innings. He is been fabulous over the last year, 12-18 months and he is someone who we definitely missed, I thought if he was around may be we could have ended up snapping one or two wickets, but that's how the game goes," he said.
The ace off-spinner claimed 4-75 in 30 overs and took his tally to 239 Tests, going past Javagal Srinath (236 wickets) to seventh place in India's all-time wicket-taking list.
He believes that teams batting first do end up with big scores at the Wankhede stadium but India did well to restrict England.
"Generally, Wankhede has been a big bat first and score big kind of a Test match always, so we knew that it will be up against the odds, generally there is some moisture in the morning and we wanted to capitalise on it and we couldn't unfortunately. But the afternoon session wasn't all that bad because we actually gave 90-odd runs and took only one wicket obviously, but that was a big wicket, we got Root," he said.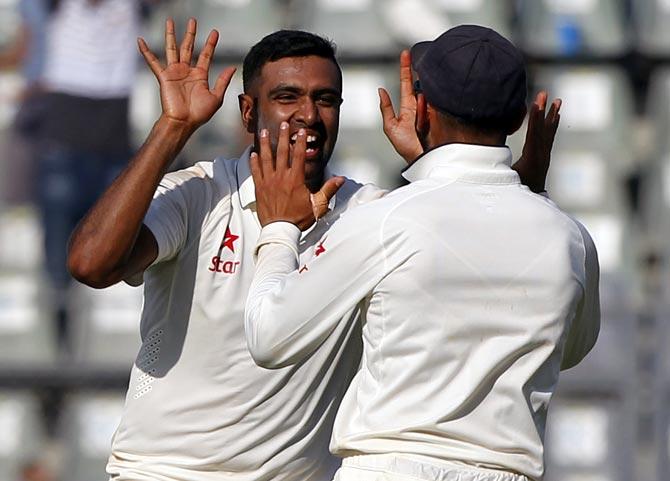 IMAGE: Ravichandran Ashwin celebrates with Virat Kohli after dismissing Jonny Bairstow. Photograph: BCCI.
Ashwin also praised England opener Keaton Jennings, who stole the show on Day 1 with a century on debut.
"Obviously, a debut century is special for him. He might have a good day because he had a great season for Durham, he just continued from where he left off, I guess, He has got a good tight defence, looks a very very good player," he added.
Ashwin also revealed how he worked on a plan to get Root's wicket, who was caught in the slips by captain Virat Kohli.
"I must say, I reworked that dismissal in my head, because he has got out lot of times in the slips.
"In the last three Test matches we have played, he nicked one in Vizag, I thought he nicked one and it was reviewed over and turned over, but he has got a tendency to nick spinners to the slip cordon, I saw him nick Dane Piedt in South Africa, he has done it quite a few times to Nathon Lyon as well , so I was just imaging on the first day, this is one of the wickets out of the 4 Tests matches , where actually edges do carry to slips, so I was just mentally working it over and it happened," he said.