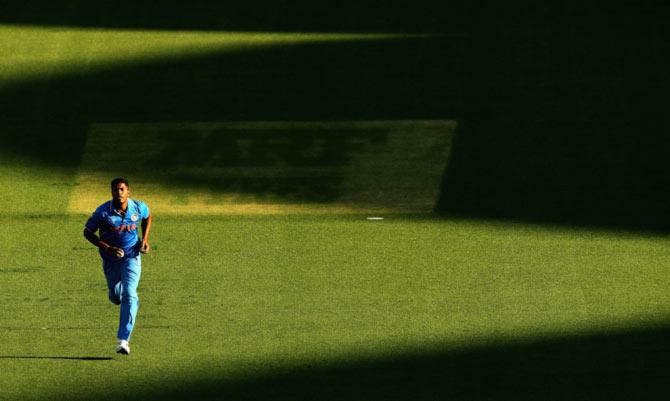 India pacer Umesh Yadav runs in to bowl. Photograph: Daniel Kalisz/Getty Images
Defending champions India have the best batting line-up and they should not lose heart despite a poor run up to the ICC World Cup, feels former speedster Javagal Srinath, who also urged the bowlers to make a difference in the mega-event, starting on February 14 in Australia-New Zealand.
- ICC World Cup 2015 Schedule

"We've the best batting line-up in MS (Mahendra Singh Dhoni), Virat Kohli, Rohit Sharma and Shikhar Dhawan. They're all absolute match winners and big match players. It's a great line-up that we have," the cricketer-turned-match referee said.

Having landed in Australia in the last week of November in 2014, India are yet to win an official match and it took a World Cup warm-up game against Afghanistan on Tuesday to taste their first success.
- Why sub-continent bowlers will struggle in Australia during World Cup

India lost the four-match Test series against Australia 0-2 and then crashed out of the ODI tri-series also involving England without a win, but Srinath said the past results would count little.

"We must understand that it's a not a bilateral or a tri-series. Every match is like a final. It's a mega event, the whole world will be watching and irrespective of their performance, they would strive to do well. You've to do well on the given day," said the former pacer, who has played in three World Cups.

"All the top teams will see to get through to the quarters and semi-finals first. That will be the main target."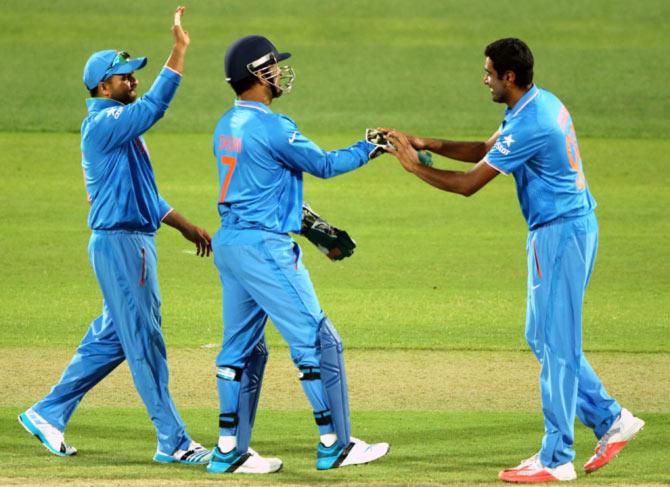 Ravichandran Ashwin (right) celebrates with captain Mahendra Singh Dhoni (centre) and Suresh Raina after taking a wicket. Photograph: Daniel Kalisz/Getty Images
Prescribing a mantra for India's success in the event, Srinath, who was part of the Indian team in the 1992 World Cup in Australia, said Indian bowlers would have to make the difference.

Putting the onus on the under-fire Indian bowling attack, the 45-year-old added, "If we've to win the World Cup, the bowlers will have to make the difference. We have to find our combination right, sooner the better. We need three fast bowlers to do the job."
- Know the 2015 ICC World Cup teams

With Pakistan first up, India could not have had a better start to the campaign as they have an all-win record against their historical rivals at the World Cup.

"The law of average always comes into consideration. But you can't always approach the match with that sort of attitude. Yes it does give a psychological edge but I'm sure India will get the best out of them taking on their arch-rivals first up," Srinath said.

He, however, did not want to rate any team or pick his favourite to win the quadrennial event.

"Every team will have equal opportunity, be it the teams who have not been doing well or the ones who're in form. World Cup is played with different mindset, so it will be an even playing platform for all the teams."