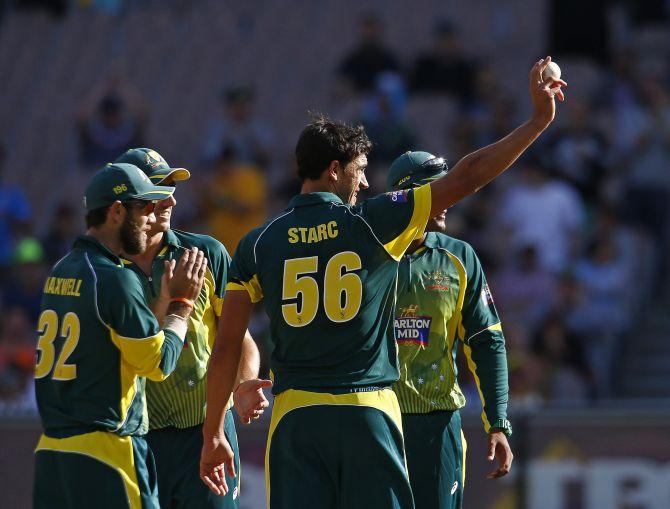 Australia's Mitchell Starc shows the ball to the crowd after taking his fifth wicket for the innings during their one day international tri-series cricket match against India. Photograph: David Gray/Reuters
After bagging back-to-back man of the match awards in the ongoing cricket tri-series, left-arm fast bowler Mitchell Starc said he is relishing the opportunity of leading Australia's bowling attack in the absence of pace spearhead Mitchell Johnson.
After a match-winning 4-42 against England in the series opener, Starc registered his best bowling figures of 6-43 in Australia's four-wicket victory over India at Melbourne.
"We all know our roles really well. When Mitchell Johnson is back, he will bowl fast and will be aggressive, so we are all trying to pick up the slack. It will be great to have him back but in his absence I like this role. It is great to take wickets while trying to bowl fast and doing my role for the team," Starc said.
"When Mitch comes back at some point, our roles might change, some guys might miss out and some others might come in. In the meantime though I am taking it game by game," he added.
"India played some good cricket tonight. But we took some key wickets at key moments to restrict them to under 300 and it was a good bowling effort from us
"They pulled it back during the chase after we were 200-odd for 2 and they got on top of us. But it was a fantastic finish to the game and it is good to finish on the right side," he said.
'It is important to win games for the team'
Mitchell Starc of Australia celebrates taking the wicket of Shikhar Dhawan of India during the One Day International match between Australia and India at Melbourne Cricket Ground. Photograph: Darrian Traynor/Getty Images
Asked about Australia's middle order collapse in two consecutive matches, Starc said: "Against England we were trying to get the bonus point, so we aren't too worried about that.
"And when you have James Faulkner at the bottom doing the job for us, we don't put too much pressure on us, especially today."
"We were in some bother today as India are a good side but we pulled through. So it's good for us."
Australia fell behind on the over-rate and with stand-in skipper George Bailey already on a warning, it is quite possible that he might be banned afterwards making Steve Smith the new ODI skipper.
"We knew in the last game about it. But today we didn't talk too much about it. It is important to win games for the team and for that you have to set the right fields. It takes time sometimes and we did overstep the mark today. It might cost us at some stage," Strac said about Australia's slow over-rate.
'Just glad that South Africa are not in our group'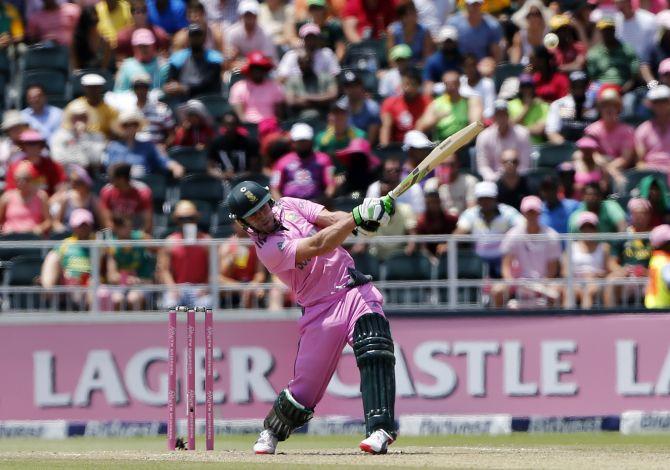 South Africa's captain, AB de Villiers, hits a delivery during the second One-Day International (ODI) against the West Indies. Photograph: Siphiwe Sibeko/Reuters
Just during the fag end of the press conference, came the news of South Africa's AB de Villiers hitting the fastest century in ODIs against the West Indies and Starc heaved a sigh of relief that the Proteas are in a different group in the upcoming World Cup.
"He (de Villiers) is a fantastic batsman and a delight to watch when in full flight. We are just glad that South Africa are not in our group in the World Cup, so there is not much to worry about at the moment," Starc said.