'I agree that there is a lot of work to do with the bowlers and they must realise their responsibilities at the Test level'
'I think we have a good chance to win the World Cup after the way the team has been building over the last three-four years'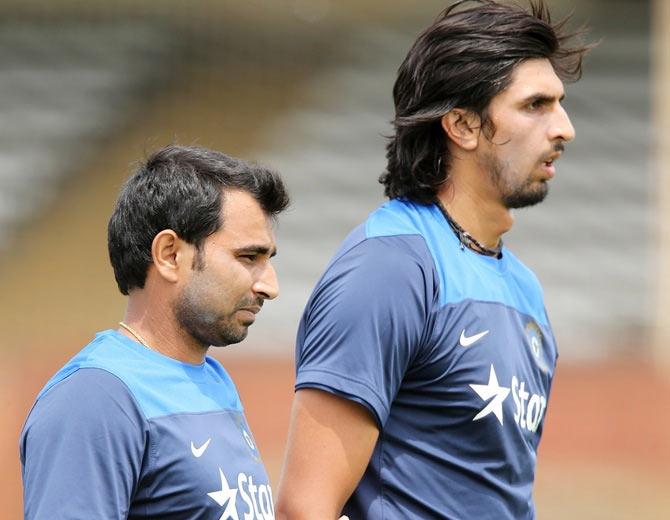 India pacers Mohammed Shami and Ishant Sharma during a training session. Photograph: Morne de Klerk/Getty Images
India's bowlers may have come under severe criticism for a below-par showing in the recent Test series in Australia but head coach Duncan Fletcher has defended them, saying the thrashing they got from the home side's batsmen was due to the inexperience of some of them.
Asked for an assessment of India's bowling in the 0-2 loss to Australia in the four-Test series, he admitted that the bowlers required improvement, but said some of the criticism directed against them was "unwarranted".
"I agree that there is a lot of work to do with the bowlers and they must realise their responsibilities at the Test level. But I also think the Indian pacers get a lot of unwarranted flak," Fletcher, who has often been criticised for India's poor run in overseas Tests in recent years, said.
- Click for complete World Cup schedule
"For these bowlers it's just a matter of gaining experience of bowling in these conditions. It was something that Ishant (Sharma) showed right through the series," Fletcher was quoted as saying by bcci.tv.
The 66-year-old, whose contract as India coach ends after the World Cup, to be jointly hosted by Australia and New Zealand from February 14, also sought to defend the performances of Mohammad Shami and Umesh Yadav, saying that the pace duo did better than some of their Australian counterparts.
"You look at the highest wicket-takers in the Test series. Shami (15 wickets at 35.80) has taken more wickets than (Mitchell) Johnson (13 wickets at 35.53) at a similar average. And this was Shami's first tour here (Australia).
"Umesh (11) has only one less wicket than Josh Hazlewood (12). And this is after being in and out of the Test and ODI teams on a regular basis, which is not good for the confidence and rhythm of any bowler," said the Zimbabwean.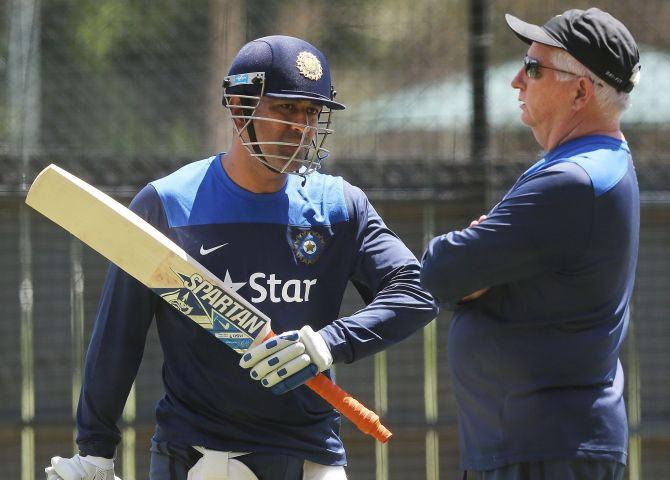 Mahendra Singh Dhoni and Duncan Fletcher. Photograph: Michael Dodge/Getty Images
He was pleased with the performance of the Indian batsmen, but said they need to work on shot selection.
"It's good to see almost all the batsmen among runs, especially that outstanding performance by Virat (Kohli). He has also done well in Australia in ODIs and I hope that continues. He is such a positive individual and has a positive influence on the side. The other batsmen, at times, have shown good form.
"The one area they need to work on is their risk assessment. In the Test matches, at times, I felt like they got themselves out. Now they need to understand what shots are on in certain situations. That will be one important aspect for us to work on in the tri-series," said Fletcher, who took charge of the Indian team in April 2011.
Talking about the upcoming World Cup, he said the Indian players know how to win big tournaments and can defend the title they won in 2011 as they have been doing well in all conditions in the limited-overs' formats of late.
"This will be my third World Cup as a coach and I am very excited, especially given the side we have. I think we have a good chance to win after the way the team has been building over the last three-four years," he said.
"A big reason for my belief is our Champions Trophy (2013) victory in England. We played in very foreign conditions that did not suit the side and yet we played so well that we did not lose a single match. That shows that the side is used to winning and that's really exciting."
He said India played three ICC tournaments in the last three years -- the ICC World T20 (2012-13 and 2014) and the ICC Champions Trophy 2013 and only lost two games, of which one was the final.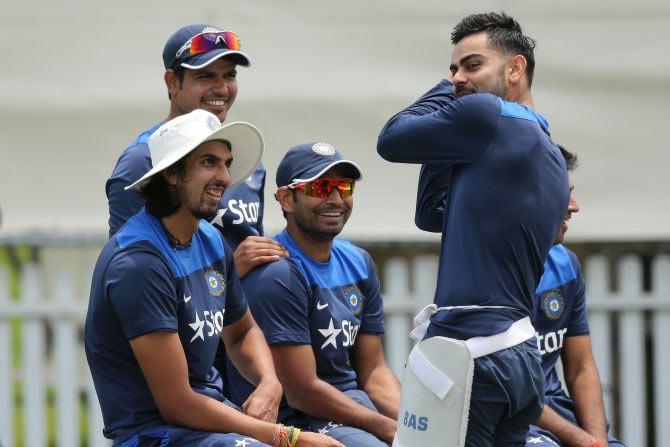 Virat Kohli (right) speaks to his teammates during a training session. Photograph: Morne de Klerk/Getty Images
"That is quite a record to be proud of. And the team in all those tournaments was more or less the same. So these boys do have the experience when it comes to the big tournaments and they do know how to win them.
"What makes this team special is that over the last few years they have faced all kinds of situations in the limited-overs cricket and have shown they are capable of coming out successfully from all of them. That's why I say that we have a good chance to win this World Cup."
He also felt that the team will have an advantage in the World Cup, having acclimatised to similar playing conditions in Australia.
"It is going to be a huge advantage. Also, playing the tri-series just before the World Cup is a great idea for us in getting used to how the white ball behaves here. This series will be a good chance to have a look at them for the advance stages of the World Cup.
"Since most of these boys have played in the Test series, they know the conditions well and how each player approaches his game in these conditions. When too many new players come in, it takes time for everyone to get used to their little idiosyncrasies and how they cope in certain situations. You are doing away with the learning curve and that gives you a chance to hit the ground running."