- India and Australia have played five Tests at the Gabba. Australia won four of them, while one was a draw
- 'The aggressive approach was the right one. The approach will remain the same'
- 'I feel what Kohli did throughout the Adelaide Test was really great'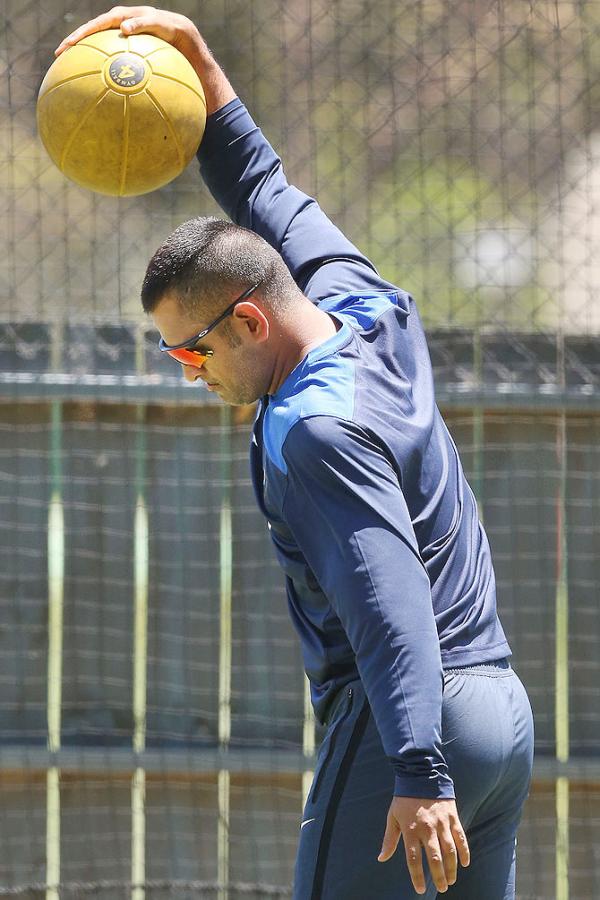 Mahendra Singh Dhoni at a training session. Photograph: Michael Dodge/Getty Images
India will continue to play the same aggressive cricket that was seen in the first Test at Adelaide, said skipper Mahendra Singh Dhoni on Tuesday, as the team aims to erase the 1-0 deficit when the second Test begins in Brisbane on Tuesday.
Led by stand-in-skipper Virat Kohli, India made a bold attempt to chase a huge 364-run target in the fourth innings but fell short by 48 runs.
"The aggressive approach was the right approach. We went for the target, which I felt was very important," Dhoni said on the eve of the second Test.
"Thanks to the partnership between Virat Kohli and Murali Vijay, we were in a position to chase down the number of runs that were given to us. Unfortunately we lost some quick wickets when Vijay got out. It was very difficult for us to come back and draw the game from there. The only approach would have been to win the game from there. It was fantastic.
"The approach will remain the same. A lot depends on the platform you get, what kind of partnerships your batsmen, both openers and the middle order, have provided. Accordingly, you see the number of runs you can put. You exploit what really is there for you. A lot depends on the momentum and how the game is going and then you decide what needs to be done," he added.
'I needed 20-25 days off and the rest was very good for me'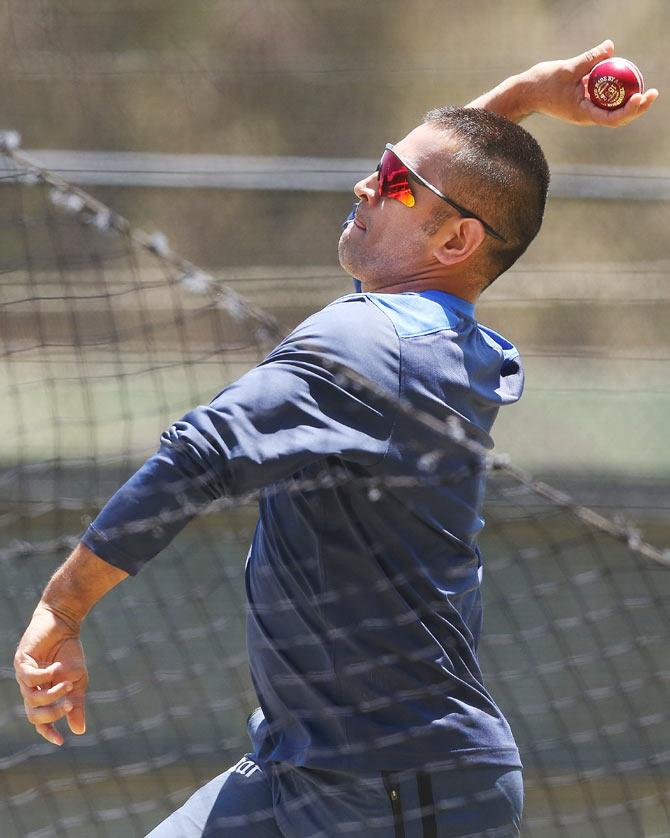 Mahendra Singh Dhoni bowls in the nets during an India training session. Photograph: Michael Dodge/Getty Images
Dhoni returns to the playing eleven at the Gabba, where none of the current squad members have played Test cricket. India's captain said rest was very important for him.
"I had suffered the injury during the England series. I felt that the injury might get settled while I am playing. But when I played the Champions League and ODIs after coming back home, I saw it was getting worse with time. It was an important call at that time because this series is very important and after this we have the World Cup. So I needed 20-25 days off and the rest was very good for me," he said.
'Kohli has been a fantastic leader'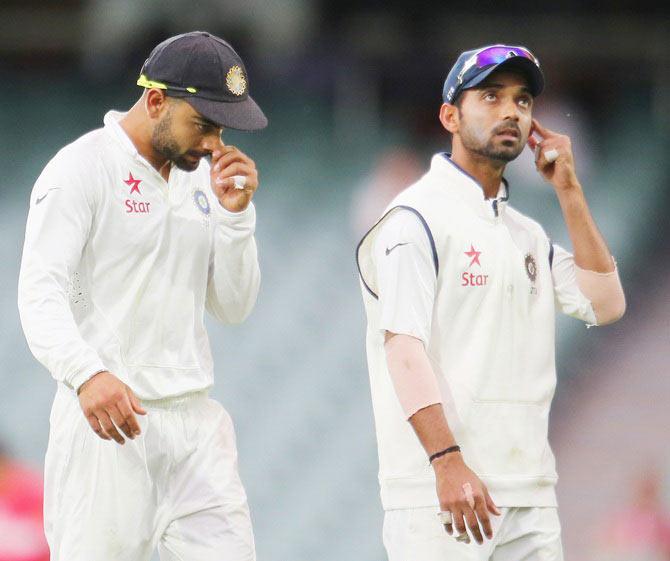 India's Virat Kohli and Ajinkya Rahane leave the field at the conclusion of Day 2 in the first Test against Australia at Adelaide Oval. Photograph: Scott Barbour/Getty Images
Dhoni lauded young Kohli for his leadership skill.
"He has been fantastic not only as a batsman but also as a leader. Even in the ODIs he led against Sri Lanka at home, he was fantastic. He is an aggressive character and slightly different to what I am, but at the end of the day you don't want all individuals to captain the same way," Dhoni said.
"I feel what he (Kohli) did throughout the Adelaide Test was really great. He had a very lean series in England and it was good to see the way he prepared for the match and ultimately how he went after the bowlers. He did a fantastic job."
'Here I feel there will be something extra for the bowlers'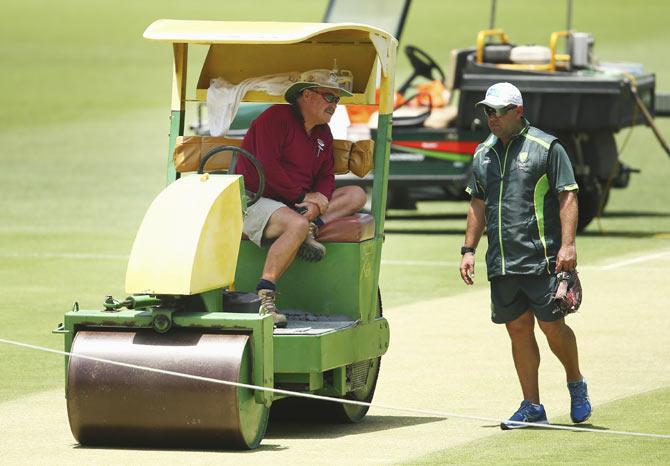 Gabba curator Kevin Mitchell Jr and Australia coach, Darren Lehmann speak on Tuesday. Photograph: Ryan Pierse/Getty Images
Talking about the pitch for the second Test, he said, "The wicket will be different to the one in Adelaide. It was a drop-in wicket and at times it's a bit difficult to judge how exactly a drop-in wicket will conduct over a period of time. But here I feel there will be something extra for the bowlers, especially the faster ones.
"This is a venue which is known for the kind of bounce it generates and it looks like a good wicket, whatever we saw of it yesterday. It seems quite hard and the role of spinners will be slightly less, but as the game progresses because of the foot marks, Mitchell Johnson and Mitchell Starc bowling left-arm over there, will be something for the off-spinner."
Ashwin could get spot in the team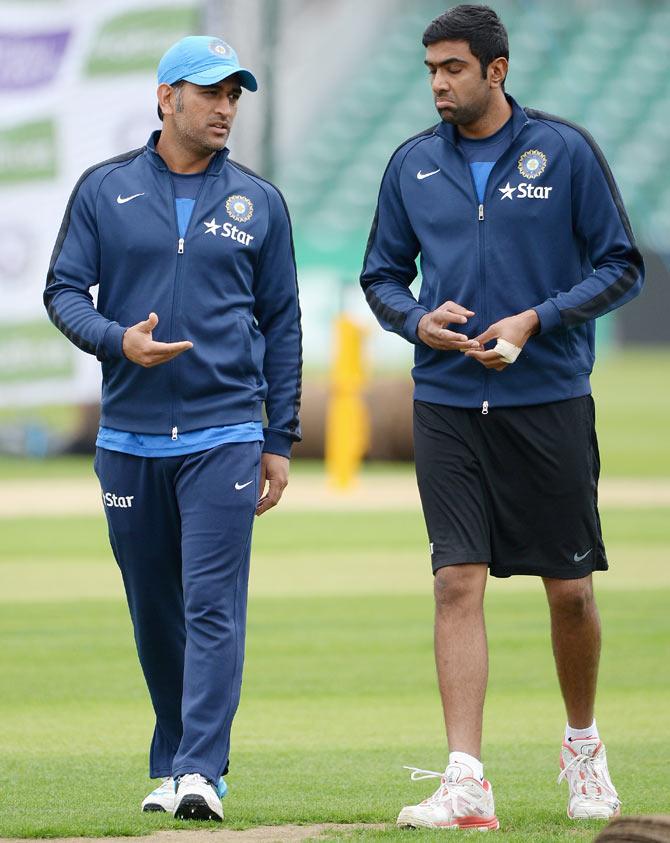 Mahendra Singh Dhoni speaks with Ravichandran Ashwin during a nets session. Photograph: Gareth Copley/Getty Images
Dhoni hinted that there is a possibility of Ravichandran Ashwin making a comeback to the playing eleven after sitting out in Adelaide.
"Ashwin is somebody who can bat lower down the order and it's very important because at times we have seen lower order batsmen get out cheaply and a proper batsman at the other end is not able to accelerate. But with Ashwin, if he is around, he can be a bit of a help. He has spent decent time at the crease," said Dhoni.
It remains to be seen if India will go in with five bowlers though, like they did in England.
Ravindra Jadeja has been ruled out with a left shoulder injury.
'More often than not I prefer wickets that are on the greener side'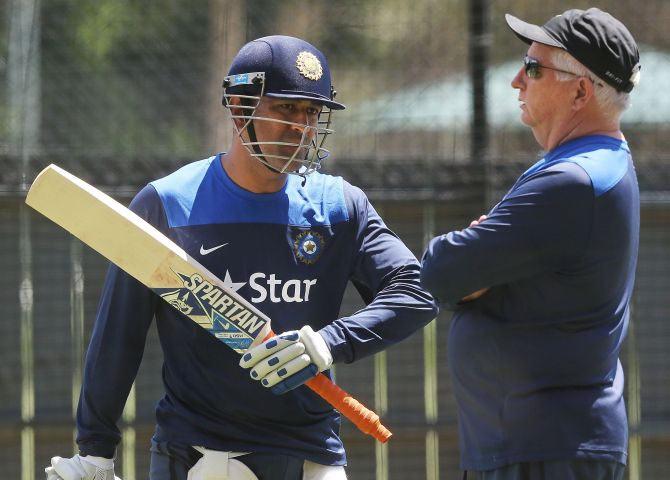 Mahendra Singh Dhoni and Duncan Fletcher at a training session. Photograph: Michael Dodge/Getty Images/strong>
Australia have a near invincible record at the Gabba. Asked if the current Indian players' inexperience at the ground gives the hosts have an advantage, he seemed unconcerned despite India losing to the Aussies in four of the five meetings at the venue.
"We have won Tests on some of the fastest wickets in recent times, whether it is Durban, Johannesburg, Perth or some of the other venues. It will be a nice challenge for the youngsters. More often than not I prefer wickets that are on the greener side. Our bowlers then become much more effective and it makes our job slightly easier to get the opposition batsmen out.
"That's where we have struggled to some extent. In the last 2-3 series we have been in positions to win Tests but we have not really been able to do so. It is a matter of time because with a bit more experience and bit more time this team has the talent to go that extra step," he replied.
'Steve is a fantastic kid'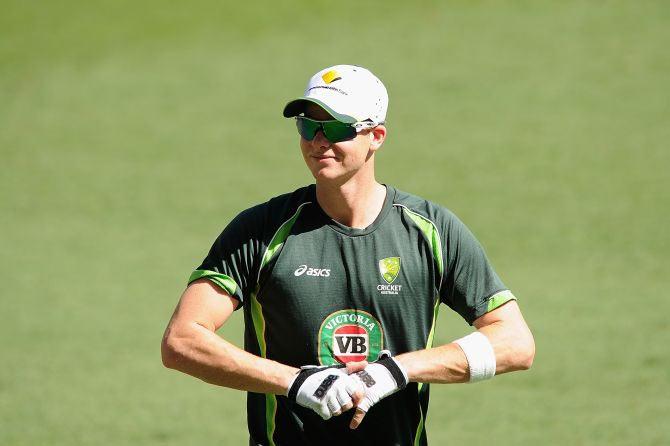 Australian skipper Steve Smith during a practice session. Photograph: Matt Roberts/Getty Images
Stating that Australia will miss Michael Clarke's experience in the batting order, the captain said, "Clarke not being there will be a huge blow for Australia. He has done well against us with the bat, scored a lot of runs, so they will definitely miss him. It is unfortunate that he will not be taking part in the series because of an injury.
"But whatever I have seen of Smith, he is a fantastic kid. He really backs himself to play big shots and plays cricket the normal Aussie way. It will be interesting to see him lead the side."