Australian PM Tony Abbott came in defence of young Australian captain Steven Smith's decision to declare in the third Test at the Melbourne Cricket Ground on Tuesday.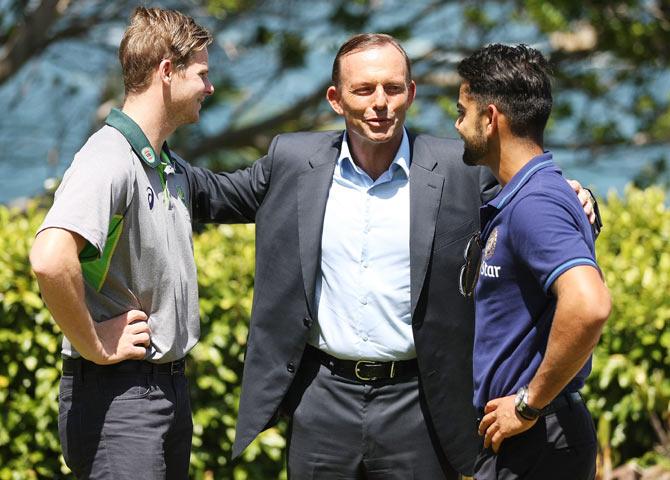 Australian Prime Minister Tony Abbott speaks with Australian captain Steve Smith, and Indian captain, Virat Kohli during the teams' visit to Kirribilli House in Sydney on Thursday. Photograph: Brendon Thorne/Getty Images
If sledging had been the sole criterion to get into a playing XI of a cricket team, Australian Prime Minister Tony Abbott, by his own admission, showed enough expertise in that area to get a berth into the Oxford University team, during his student days.
"I couldn't bat, I couldn't bowl, I couldn't field, but I could sledge, and I think I held my place in the team on this basis, and I promise there'll be none of that today," Abbott said in jest during the High Tea hosted for both India and Australia cricket teams, at the Kirribilli House in Sydney on Thursday.
Abbott was a former captain of Oxford's Middle Common Room team of the Queen's College.
The hosts have already reclaimed the Border-Gavaskar Trophy after the Melbourne draw but many believe that Steve Smith's late declaration at the MCG on Day 5 could have made the scoreline read 3-0 instead of 2-0.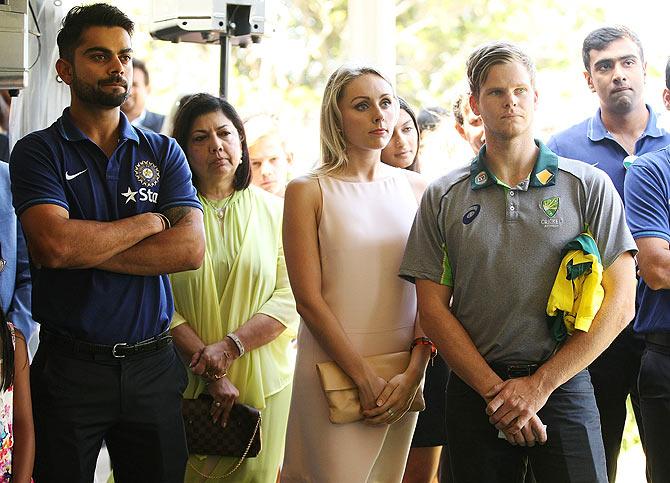 Indian captain Virat Kohli, Australian captain Steve Smith and his partner Danielle Willis at Kirribilli House on Thursday. Photograph: Brendon Thorne/Getty Images
Mr. Abbott though defended his captain on strategy matters.
"When I told people last night that I was lucky enough to be hosting the Australian and the Indian cricket teams here today, the only question that they assailed me with was `What did you think of the declaration?" Abbott was quoted as saying by the Sydney Morning Herald.
"My initial thought was it was none of my business. My further thought was that Steven Smith did absolutely his duty, because it is his duty to put Australia in the strongest possible position because, as India's batsmen have repeatedly demonstrated this summer, you can never take India for granted."